10 Questions With Tim Russell
Managing Broker, Vancouver Region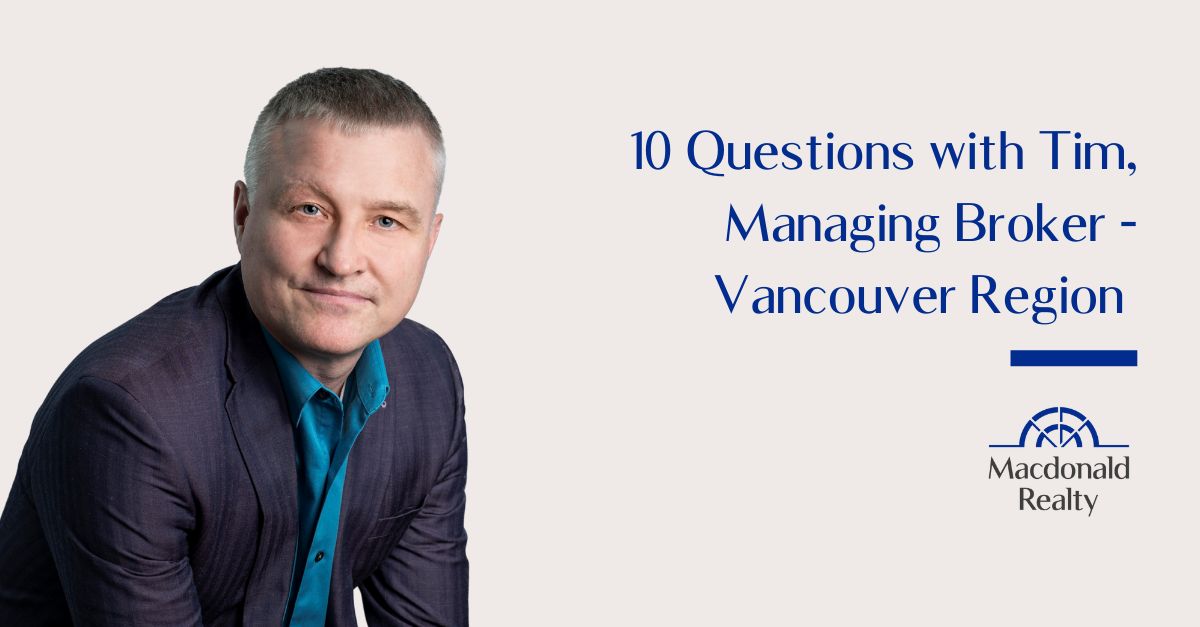 Learn more about Tim Russell, Managing Broker of Macdonald Realty's Vancouver Region, in this 10 Questions interview. 
How did you get into the real estate industry? My father had income properties and it was more affordable to have me fix up the homes to sell. Then I got interested in how the real estate industry worked and became an agent. And when I started, the area that I was covering was going crazy with prices going up and up with multiple offers everywhere.
What led to you to become a managing broker? I was tricked into it by a sly fox. My previous Managing Broker asked if I would be interested in talking about it. At the next wine and cheese he introduced me as a new member of the management team.
What is one thing you wish you knew when you first got into real estate? Time usage. When and how to affectively get the most out of the day. When I was an agent, I would bank time for different things — for example 10 am till noon would be set aside for lead generation and then I'd schedule appointments only between 3-6 pm. Anything that I had to do, I would fit in between or outside of those two time slots. It's also equally important to note that I have kids. As an agent, YOU set YOUR schedule. So if you get a phone call and someone wants to see a place on short notice, you need to be able to NOT jump at those things. Set parameters on what time you should be doing stuff. Now that I'm a Managing Broker, I'm in the office Monday to Friday and have a set daily schedule.
What is your advice to someone who wants to become an agent? Organize your database and look into who is going to be able to bring in business.
What is the best piece of advice you've received (related to real estate industry)? Consistency will build a business faster than anything you can imagine. After talking to a lot of successful agents, the one thing that they do is that they do lead generation EVERY DAY. Most of them do different types of lead generation but they're successful because they do it every day. Consistency here is so important, no matter how you're doing it. Find a method that works and make sure you do it.
Why do you enjoy working in the real estate industry? I love the product and people. This industry works with homes which is one of the greatest purchases that most people make in their lives. It is a big deal.
What is your favorite thing about working at Macdonald Realty? The agents and employees are the best! Very family oriented and driven to make the agents lives better. In addition to that, I enjoy the Monday Sales meetings here because you get to see everybody at the start of the week together, you get to kick the week off together. I love the in-person sales meetings but the Zoom ones are enjoyable too.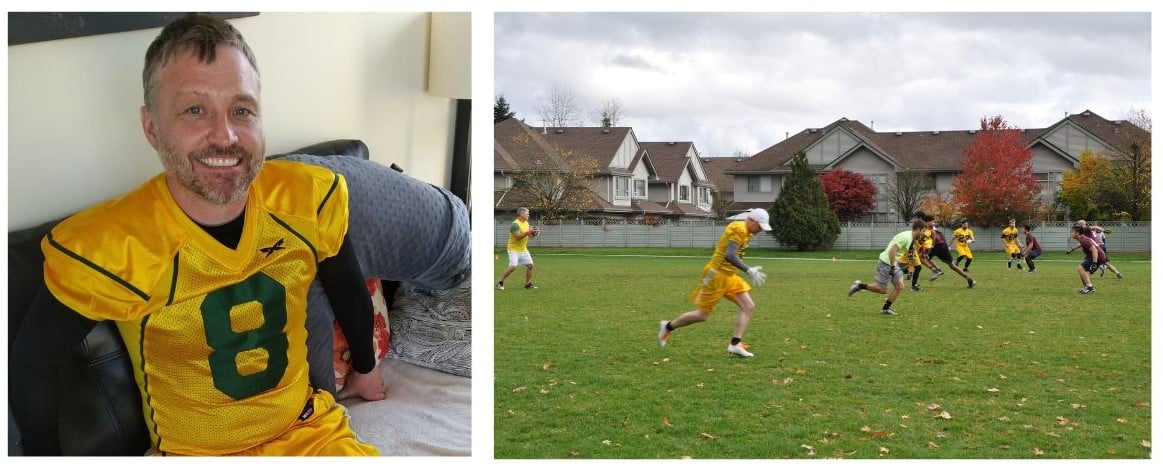 Left (above): Tim in his football kit (2017).
Right (above): Tim and his football team in action on the field (2017).
What is a fun fact about yourself? I tried out for the BC Lions in 2003 as a DB (defensive back). This is a quick story about how I got into football: I started playing hockey when I was four because we didn't have football in my hometown of Williams Lake, in Northern BC. So I had to play hockey when I was little, until I left my hometown at 19. That was also when I went to my first real football game, got inspired by that and started a football camp. When I moved to Vancouver, my football coach (who coached me when I tried out for the Lions) introduced me to some teams and I finally joined a team that I've been with now for years.
What is your favorite quote? Never let the fear of striking out keep you from playing the game. – Babe Ruth
What is a book that everyone should read? Atomic Habits by James Clear. Something that stood out to me from this book is that habits are subconscious; they are not things that we think about and — good or bad — they're very easy to create. I find it interesting that it's not easy to recognize the fact that you're creating a habit; it's easy to do but not easy to recognize. One of the easiest things to do is habit stacking: when you have a habit that you're conscious of and you already do this thing every day then it's very easy to add another habit on top of that because, mentally, you're already doing that one thing all the time, so by adding a second habit to that first one, it's almost like you don't have to work on it. It just gets done. Stack habits on top of good habits that you're doing already. It makes it very easy to add on that new habit as long as you recognize your good habit.