With so many wonderful homes listed by Macdonald Realty, it was difficult to choose a few to feature.
Let's get inspired by these six sophisticated and inviting rooms we'll never want to leave.
Bright & Blue Kitchen
Here is a clean & bright kitchen. The happy blue color invites us to stay here forever. The custom wood cabinetry is classic and we love the way it adds charm and sophistication to this fantastic space.
Listed by Sean Stevens Personal Real Estate Corporation – Price $1,799,000 – Macdonald Realty / MLS® R2389170
Living Room with a Charm
If there's anything that can make us stop mid-scroll on Instagram or Facebook, it's a well-designed living room with a touch of blue! There're so many great little details here, like the blue cushions that don't compete with the rest of the decor and this amazing fireplace. It is all clean, and the natural light brings this feeling of a cozy home.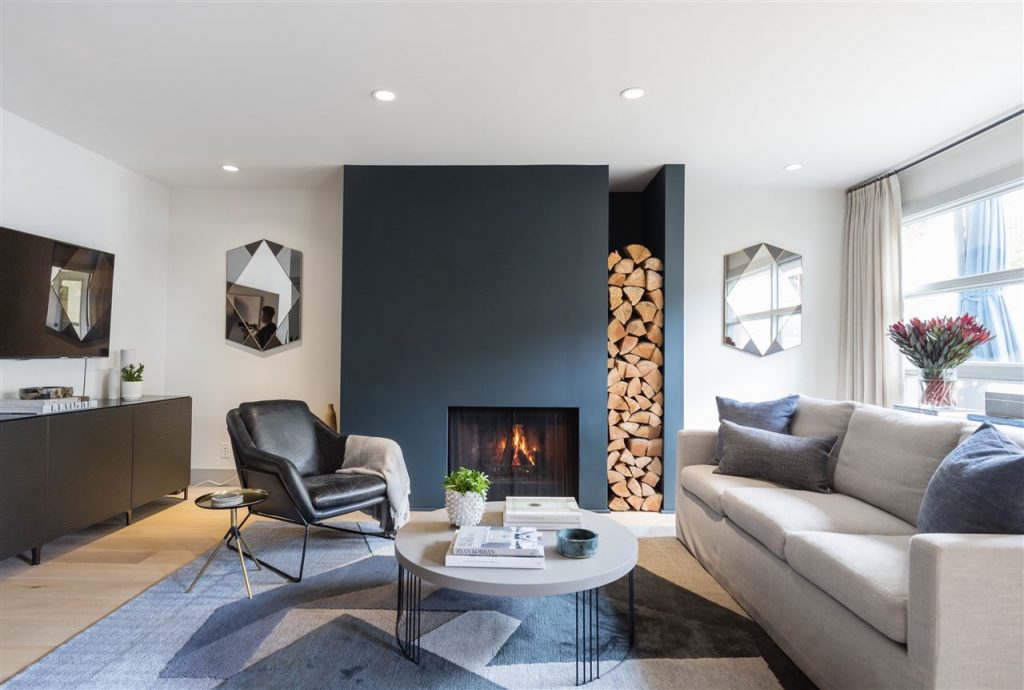 Listed by James McKenny – Price $739,000 – Macdonald Realty / MLS® R2397788
A Palette of Wood & Greys
We love when the color palette of a house works so seamlessly through the entire space. This combination of greys and wood tones gives this space a very warm look! The natural light coming through the window boosts all the tones and textures of the fabric and wood grain. The dining table is also gorgeous and these dark modern chairs bring a touch of classic decor to a contemporary space.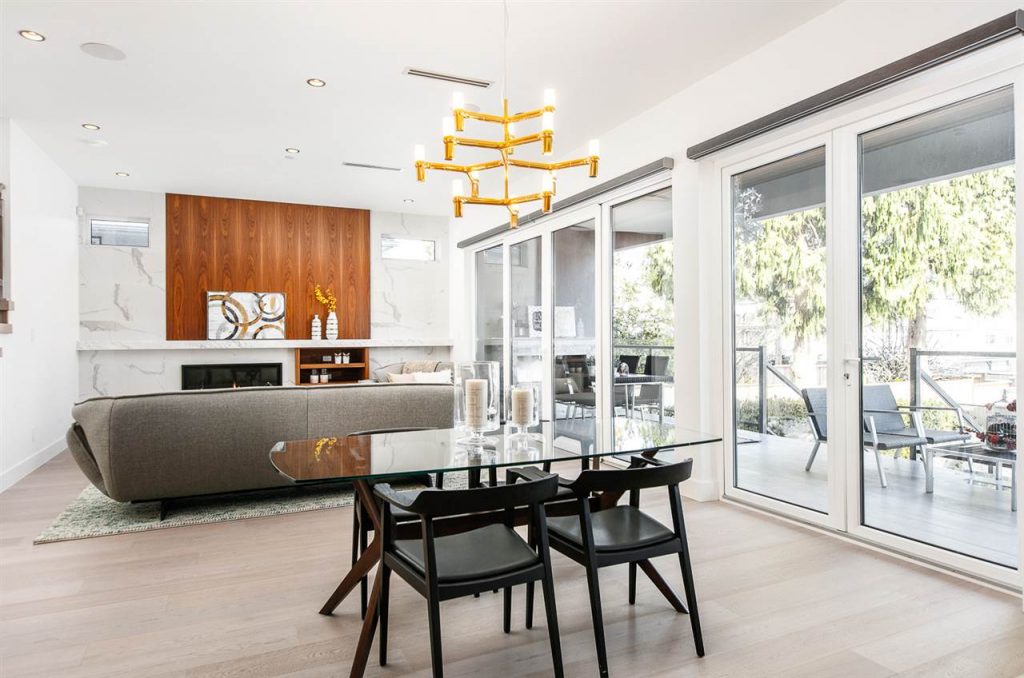 Listed by Richie Huang Personal Real Estate Corporation & Lucia Wang Personal Real Estate Corporation & Jerry Y. Wang Personal Real Estate Corporation – Macdonald Realty / MLS® R2398149
Office & Accessories
All the clean colours work very nicely with the white desk! We love the super soft rug draped across the chair. Accessories can make a big difference and can give a home character and personality. The bright floor and pale grey walls could give to this space an almost clinical look; however, everything in this room is perfect. So clean, so natural, so ready to work!
Listed by Julie Phoenix – Macdonald Realty / MLS® R2365716
Open Plan Kitchen & Living Room
This kitchen looks so luxurious with the white lower cupboards and the custom countertop. The living room is also stunning – it looks straight out of a home magazine. Unique!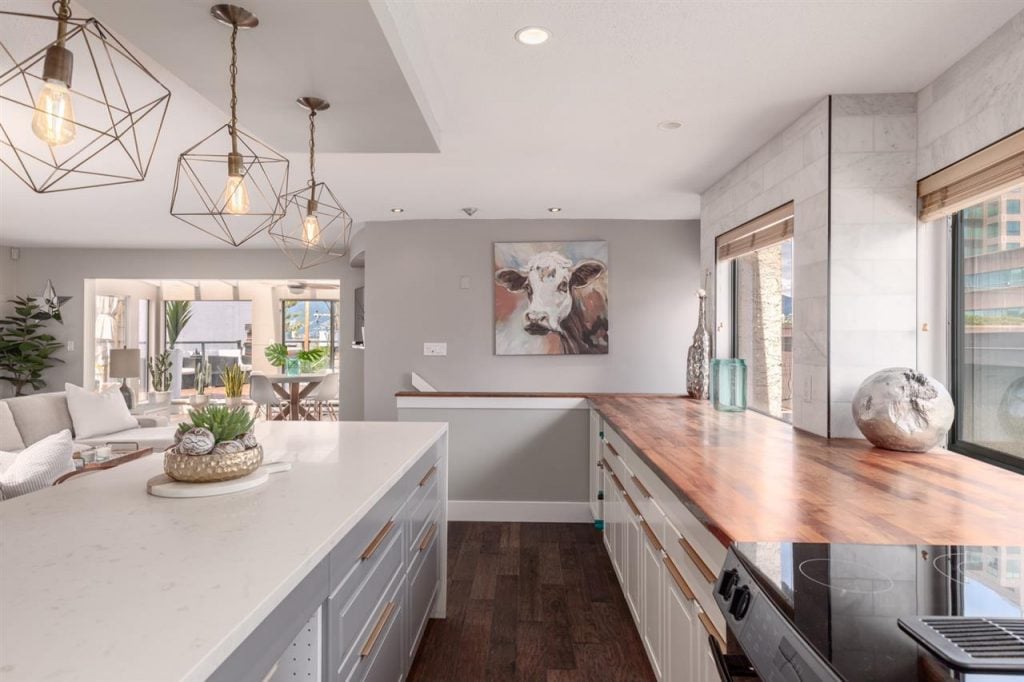 Listed by Emily Sandhack – Macdonald Realty / MLS® R2391231
Gorgeous Bathroom
The neutral floors and walls really stand out! It's simple and sophisticated at the same time. This beautiful bathroom has an open feel of a contemporary space. The bathtub adds charm to the everyday routine, with its minimalist yet functional style.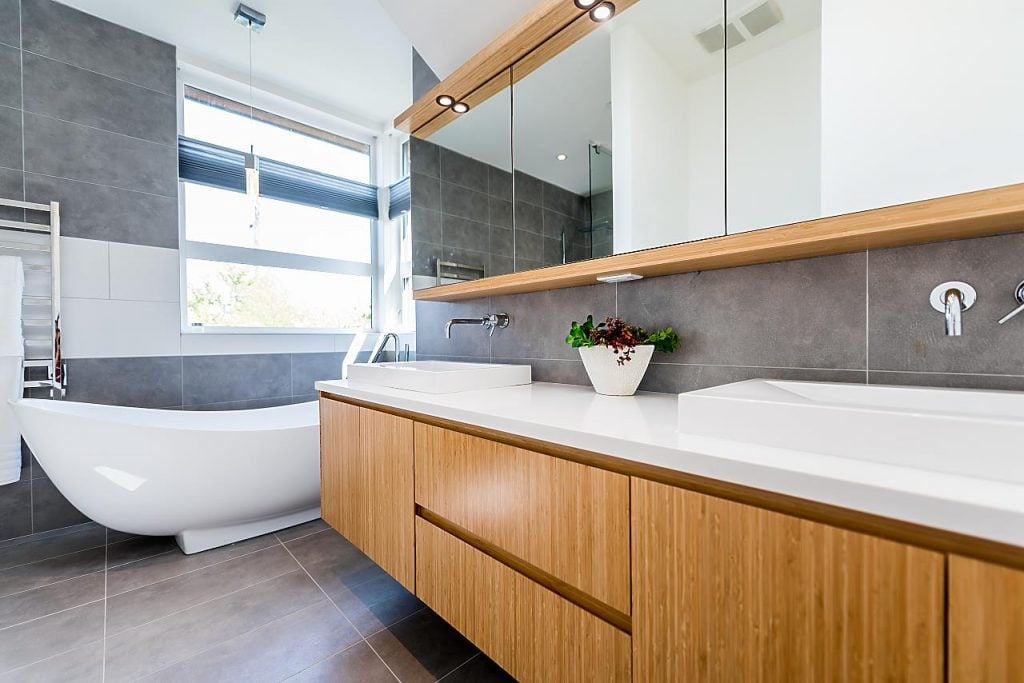 Listed by Lynn Johnson & Vita Kalns Personal Real Estate Corporation & Bruce Warner – Macdonald Realty / MLS® R2390880
Want to see more? Search listings on macrealty.com and find more homes today to inspire you. Partner with one of our agents!