According to the Fraser Valley Real Estate Board's Multiple Listing Service® (MLS®) saw the second-highest number of property sales and the highest number of new listings in August within the last two decades, when 2,298 sales were recorded in August 2005.
The FVREB processed a total of 2,039 sales in August, a decrease of 2.9% compared to sales in July, but an increase of 57.2% compared to the 1,297 sales during August of last year. Last month's sales were 39% above the ten-year average for August, representing the highest August in the last decade and second only to what was recorded back in August 2005.
Chris Shields, President of the Board, indicated that, "we are seeing better sales volumes increase month over month because buyers are recognizing that the Fraser Valley offers increased choice and diversified housing opportunities, while offering more value as well."
"In an unusual situation given the pandemic, we remain cautiously optimistic and are encouraged by the numbers we are
seeing," added Shields.
Find all the infographics related to the May Market Statistics by visiting the Facebook Album.
Abbotsford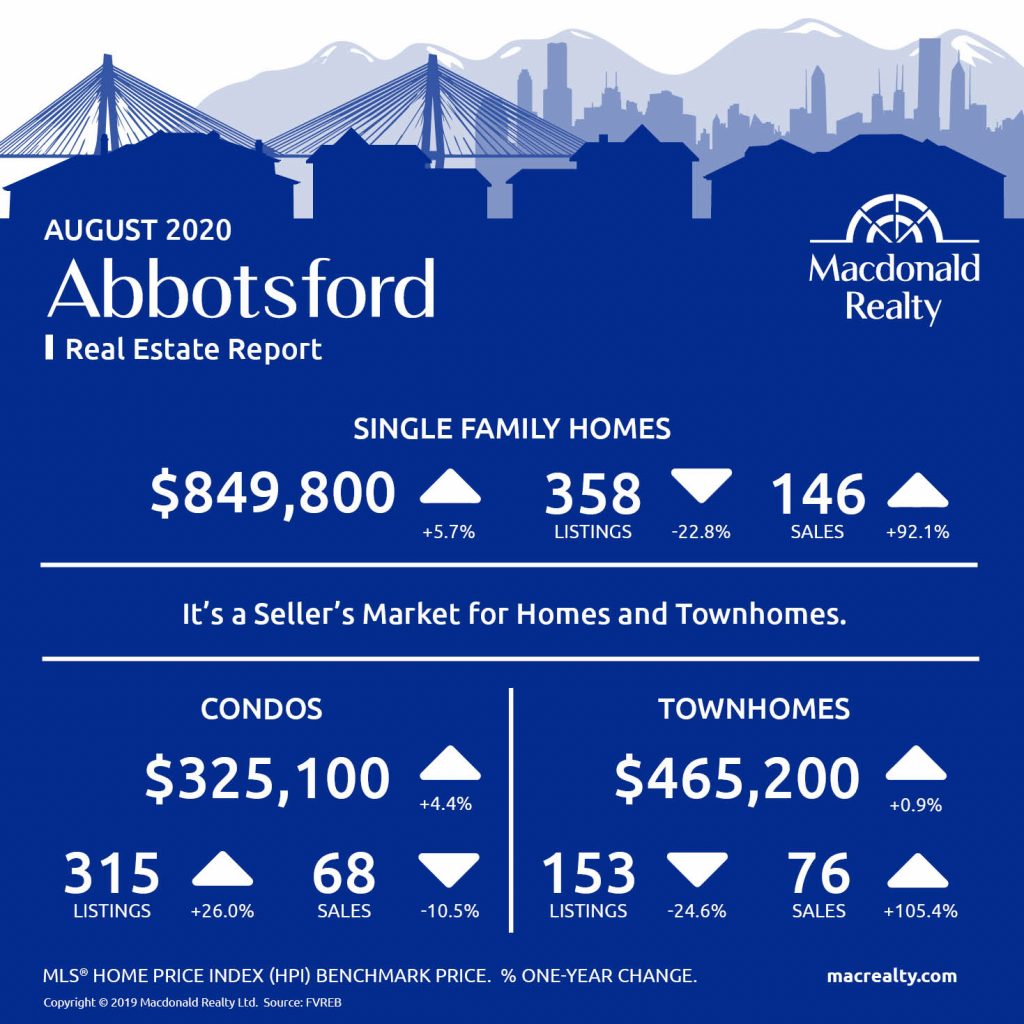 Cloverdale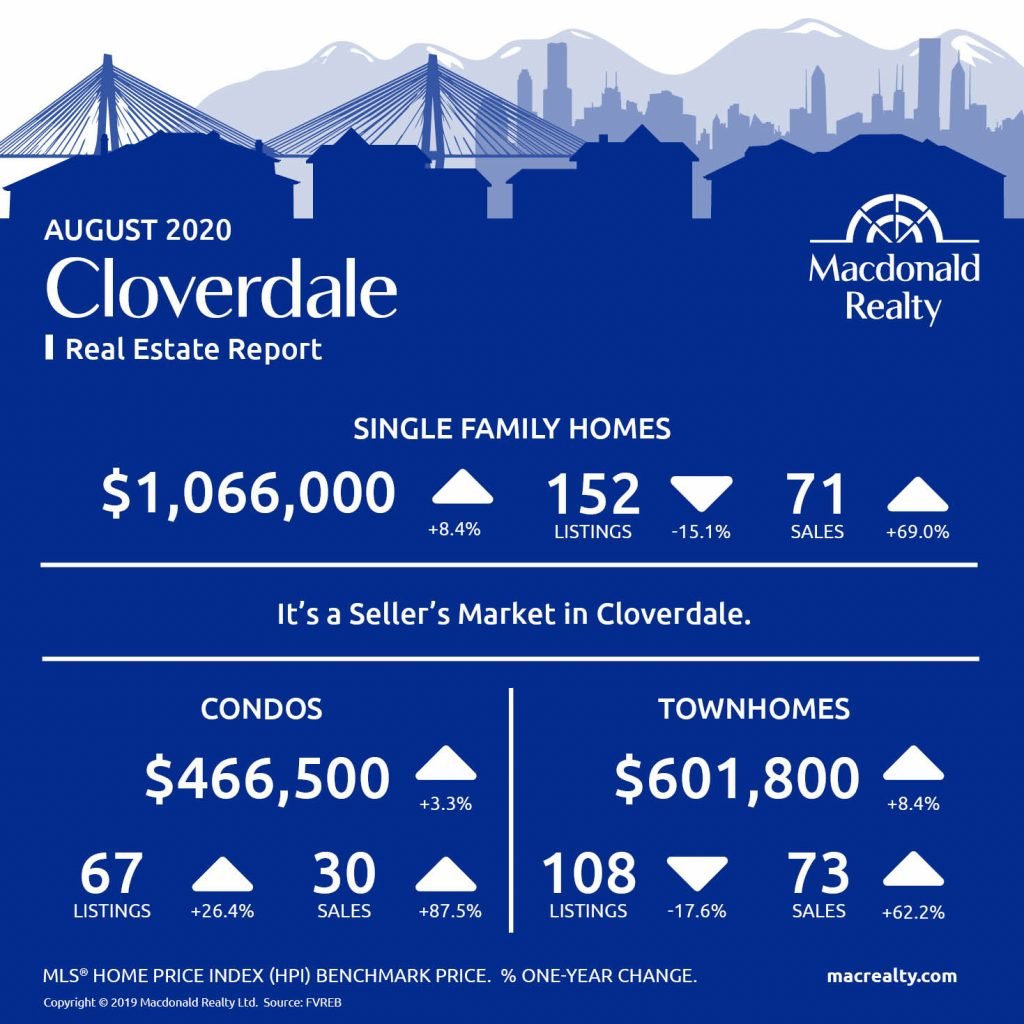 Langley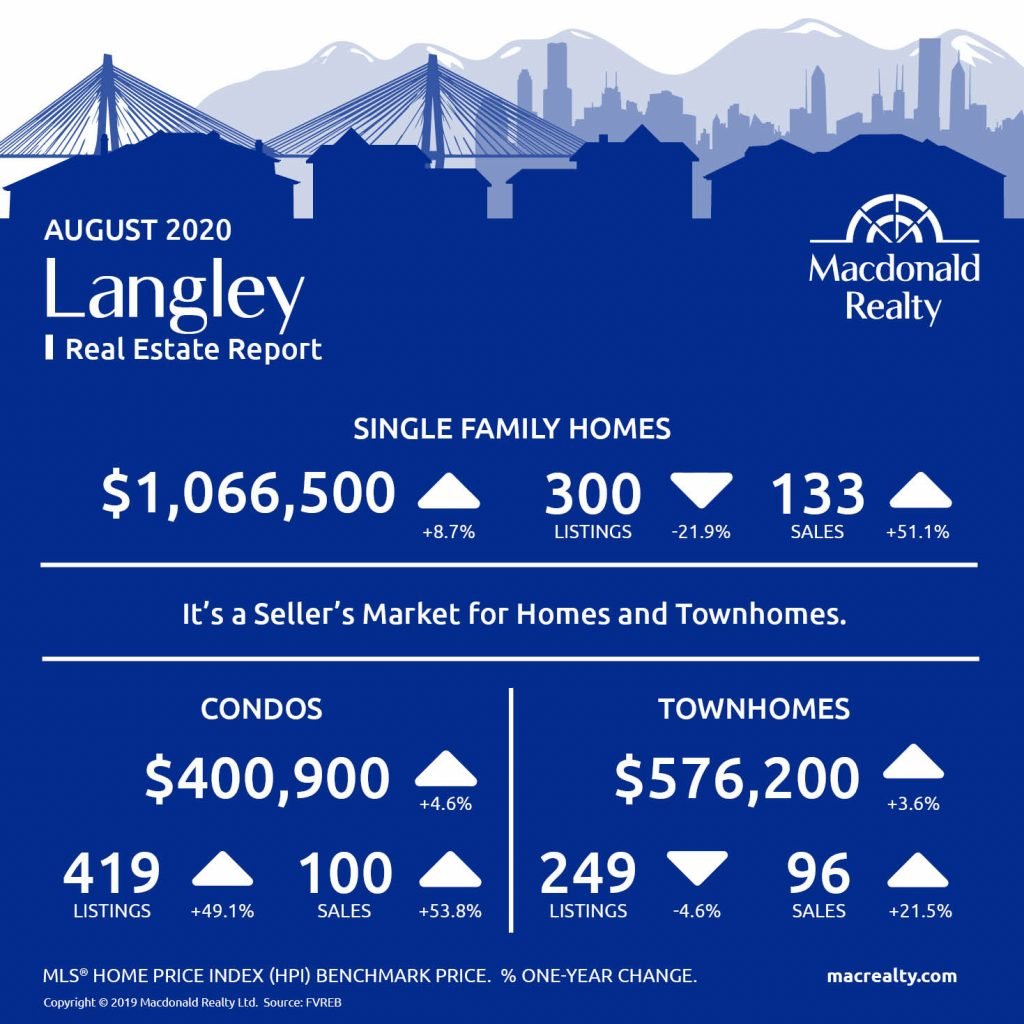 Mission
North Delta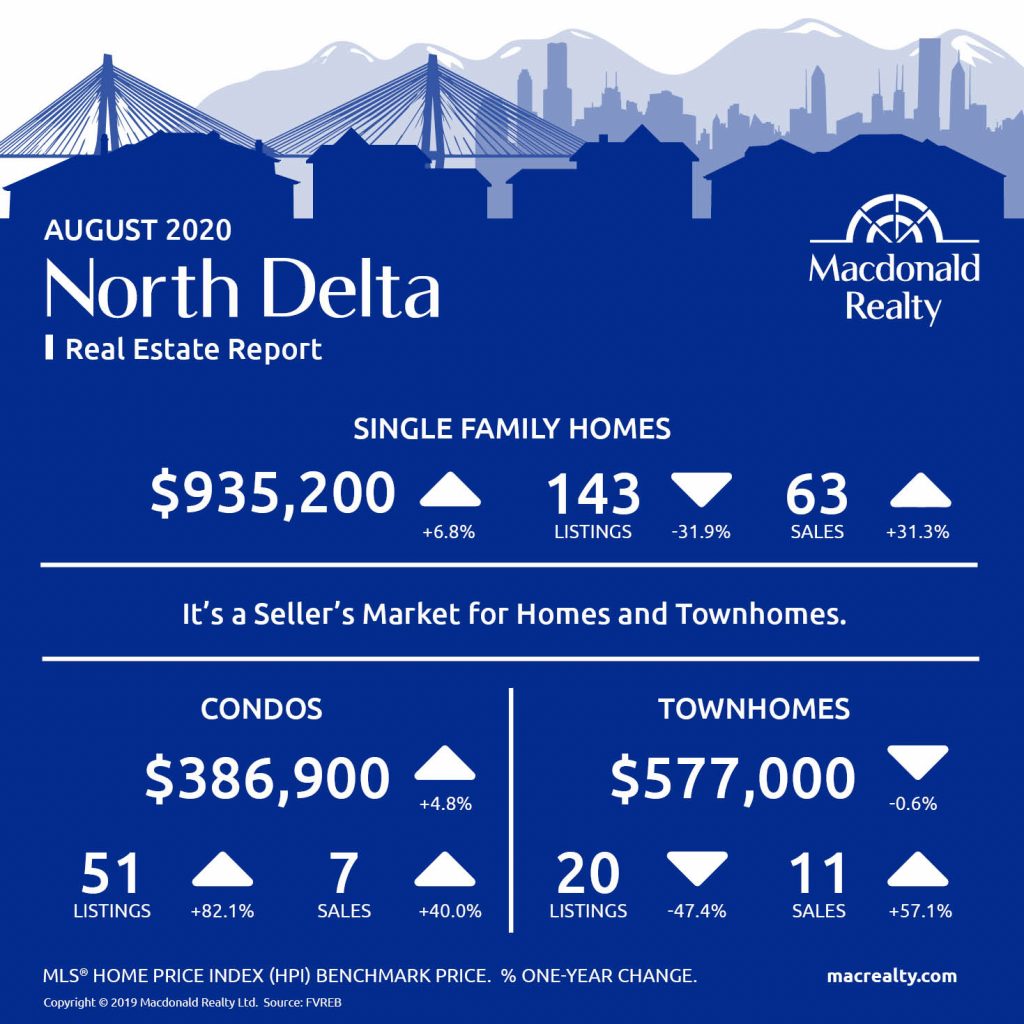 North Surrey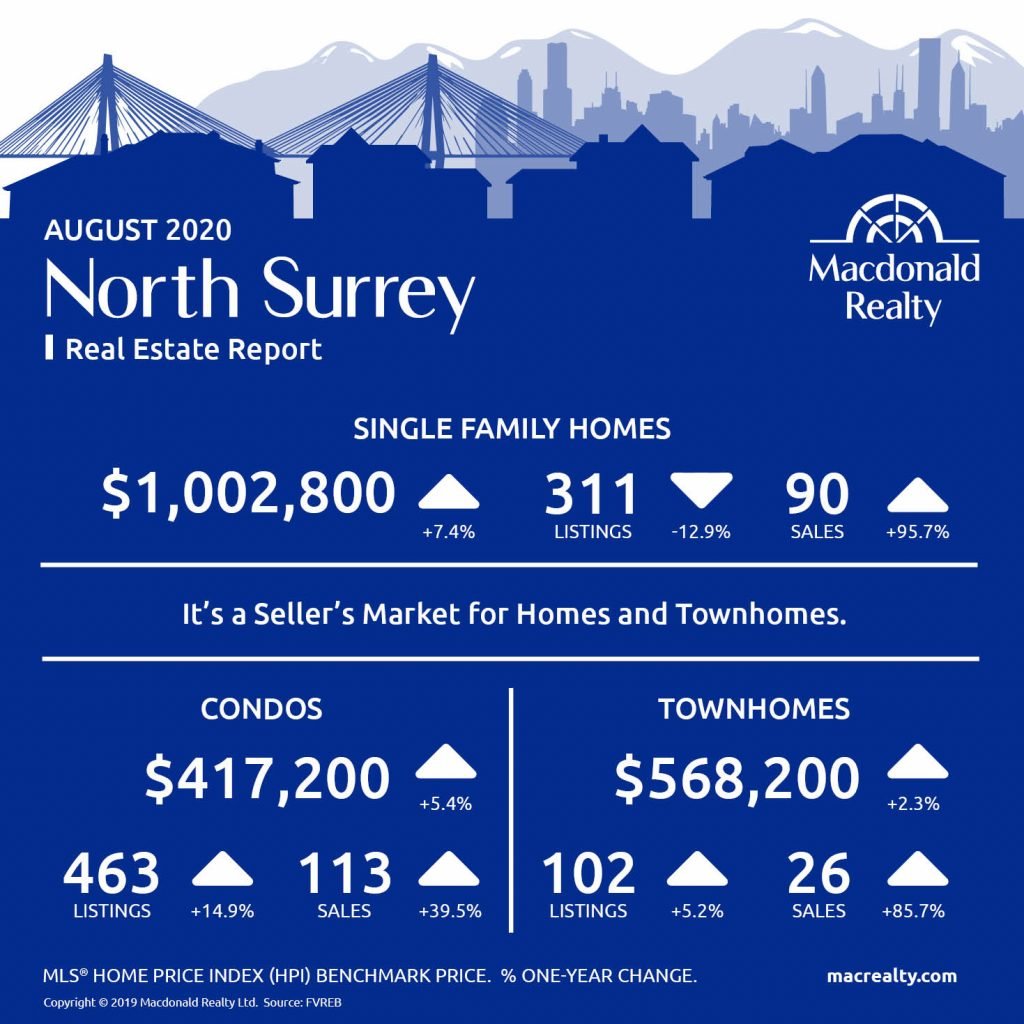 Surrey Central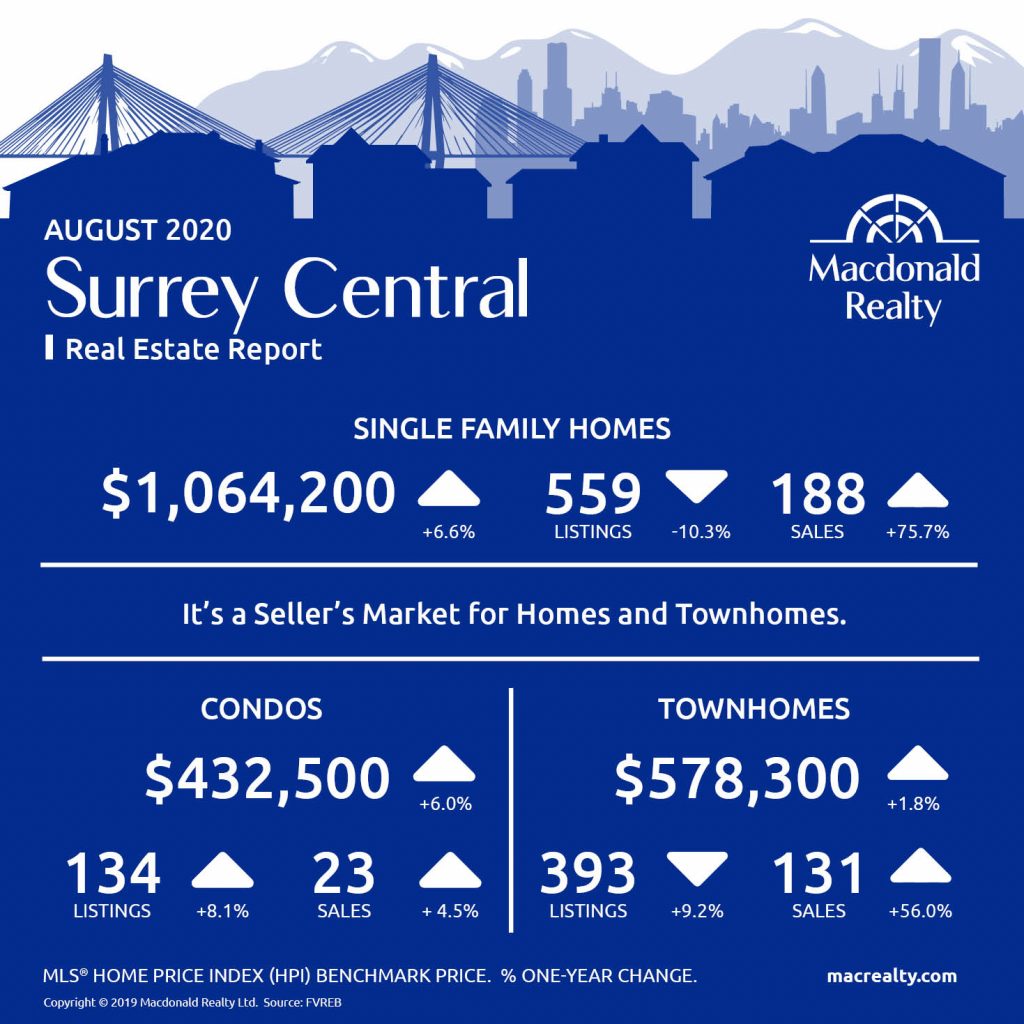 White Rock / South Surrey
Looking for more information about the real estate market in specific neighbourhoods in Surrey, Langley and Fraser Valley? 
Macdonald Realty has offices in North Delta, White Rock/South Surrey, and Langley.  Please email macrealty@macrealty.com or call 1-877-278-3888 to be matched with a REALTOR® working in your area.
MLS® Home Price Index (HPI) Benchmark Price
Average and median home prices are often misinterpreted, are affected by change in the mix of homes sold, and can swing dramatically from month to month (based on the types and prices of properties that sold in a given month). The MLS® HPI overcomes these shortcomings and uses the concept of a benchmark home, a notional home with common attributes of typical homes in a defined area. Visit www.housepriceindex.ca for more information.
This blog post is based on market data provided by the Fraser Valley Real Estate Board (FVREB) www.fvreb.bc.ca