According to the Fraser Valley Real Estate Board, in a year that saw prices peak early on, feeding off the momentum of record-breaking sales in 2021, the Fraser Valley real estate market came back down to earth by the close of 2022, due largely to interest rate increases designed to stave off inflation.
The Fraser Valley Real Estate Board (FVREB) processed 716 sales on its Multiple Listing Service® (MLS®) in December 2022, down 14.7 per cent from the previous month and down by 60.4 per cent compared to the same month last year, making it the lowest December sales recorded in the last 10 years.
The Board received 803 new listings in December, a decrease of 52.8 per cent compared to November, and 37.2 per cent fewer than December of last year. Total active listings for December stood at 3,923, down by 26.4 per cent compared to November, but nearly double (100.5%) compared to December 2021.
The year closed out with a total of 15,273 sales, just over half of 2021's record-setting 27,692 and the ninth-lowest annual tally of the past decade. New listings were down 8.9 per cent at 32,442 compared to 2021.
With a sales-to-active listings ratio of 18 per cent, the overall market closed out the year in balance (the market is considered balanced when the sales-to-active listings ratio is between 12 per cent and 20 per cent.).
"As the market has adjusted to rate hikes, we're starting to see a resumption of interest among the public," said Sandra Benz, President of the Fraser Valley Real Estate Board. "For some time, buyers and sellers alike have delayed decisions in somewhat of a watch-and-wait mode. This has dampened sales as well as supply since fewer new listings come onto the market. We expect activity to pick up in the coming months as this pent up supply and demand starts to emerge."
Benz added that, under more stable market conditions, there will be strong opportunities for well-priced, well positioned properties across all categories.
Across Fraser Valley in December, the average number of days to sell a single-family detached home was 34 days and a townhome was 28 days. Apartments took, on average, 27 days to sell.
Find all the infographics related to the November Market Statistics by visiting the Facebook Album.
Abbotsford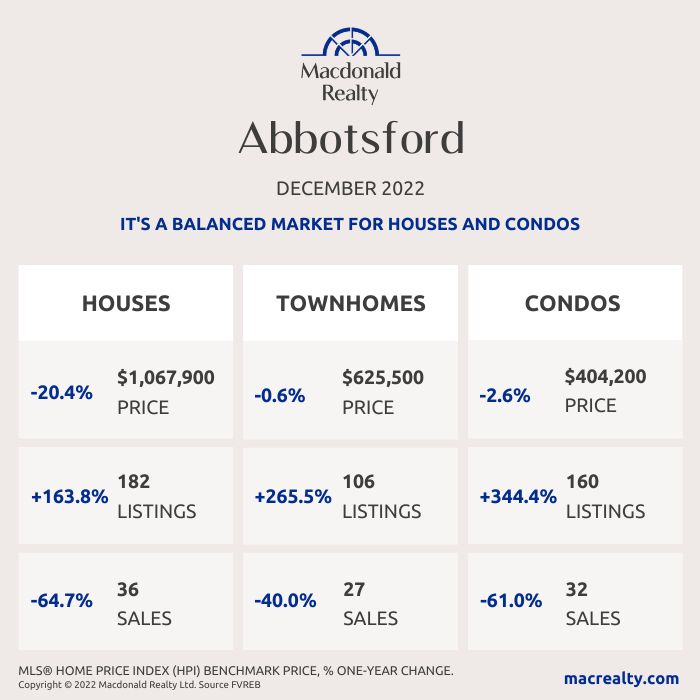 Cloverdale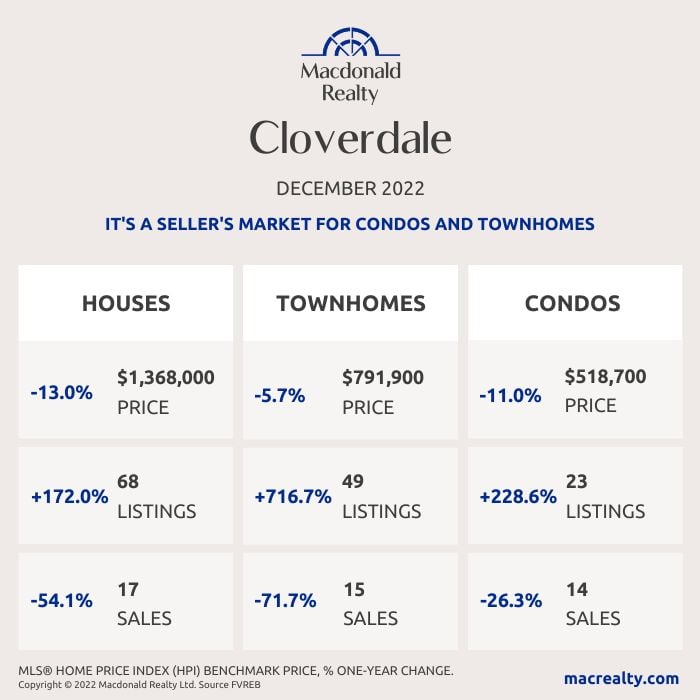 Langley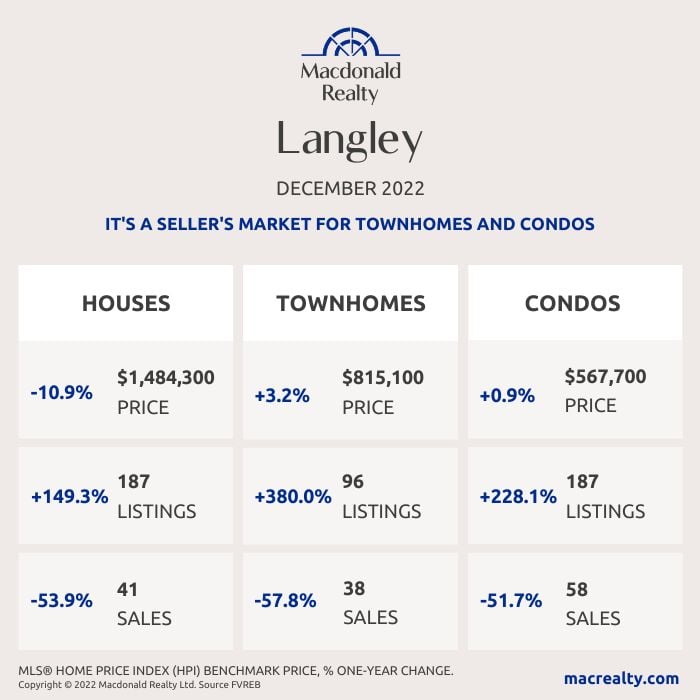 Mission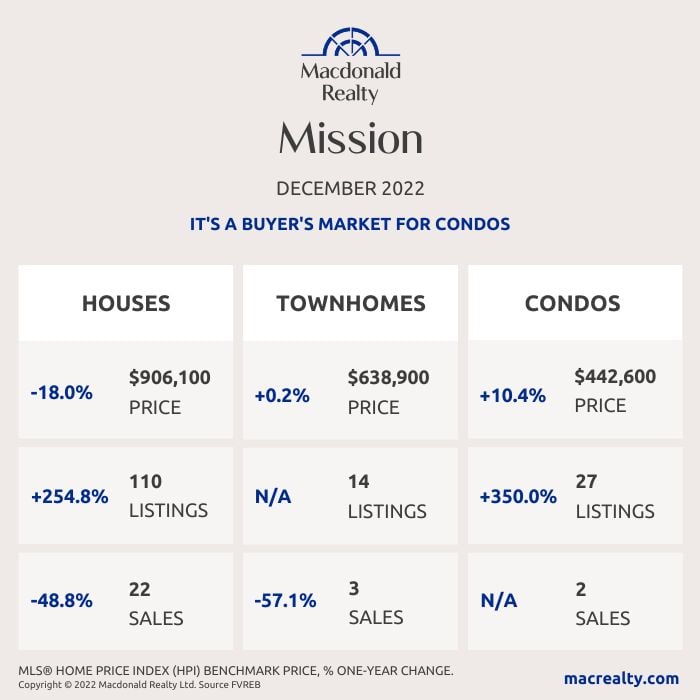 North Delta
North Surrey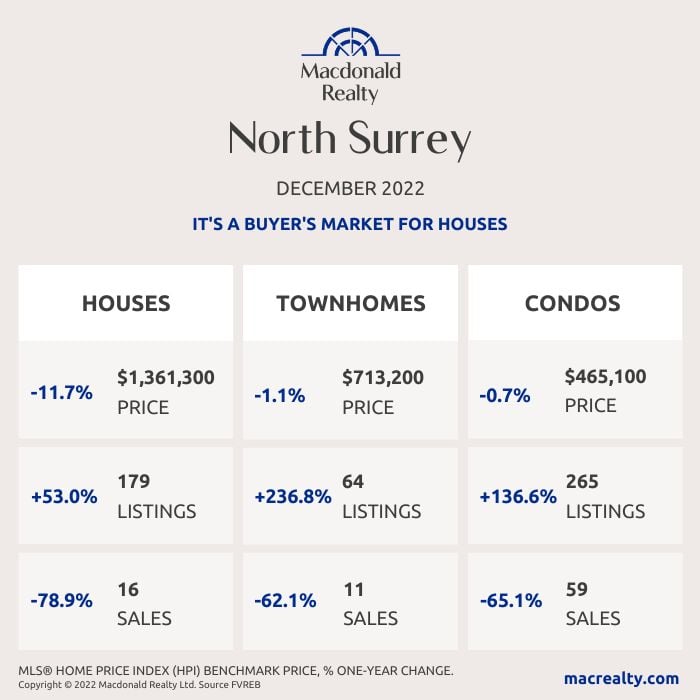 Surrey Central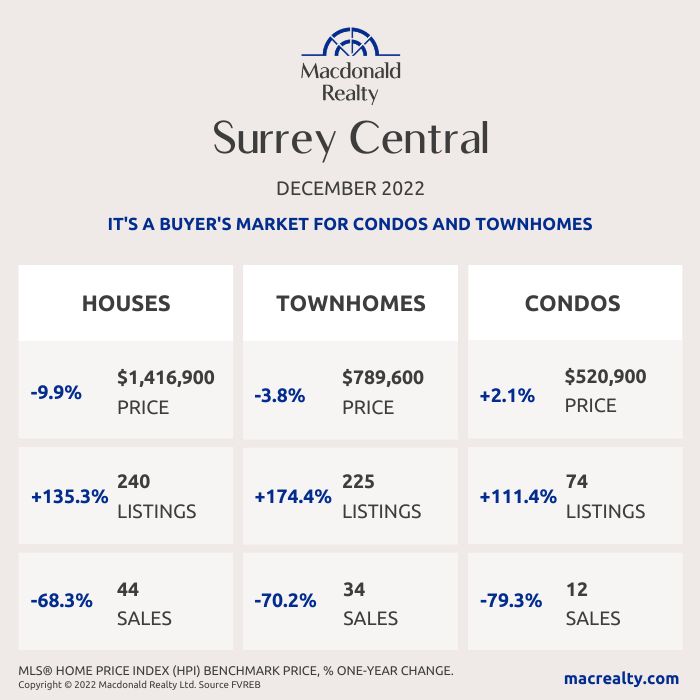 White Rock / South Surrey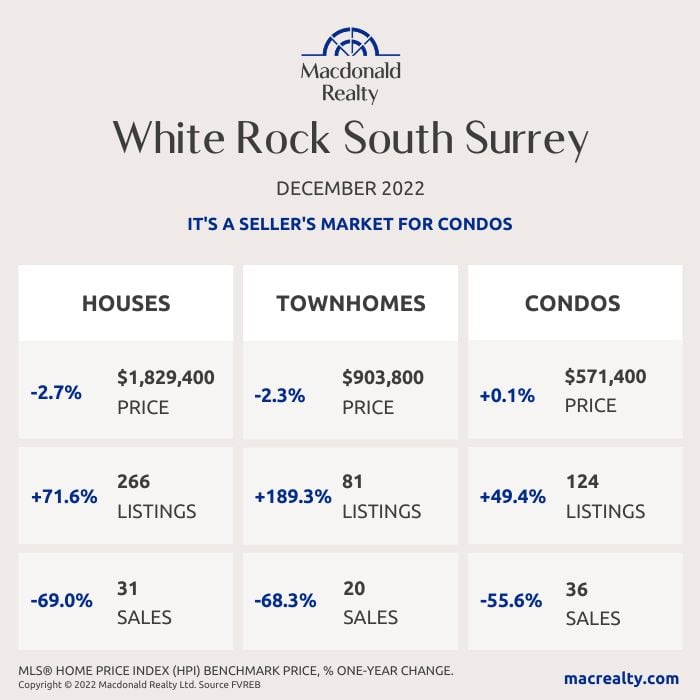 Looking for more information about the real estate market in specific neighbourhoods in Surrey, Langley and Fraser Valley? 
Macdonald Realty has offices in North Delta, White Rock/South Surrey, and Langley.  Please email macrealty@macrealty.com or call 1-877-278-3888 to be matched with a REALTOR® working in your area.
MLS® Home Price Index (HPI) Benchmark Price
Average and median home prices are often misinterpreted, are affected by change in the mix of homes sold, and can swing dramatically from month to month (based on the types and prices of properties that sold in a given month). The MLS® HPI overcomes these shortcomings and uses the concept of a benchmark home, a notional home with common attributes of typical homes in a defined area. Visit www.housepriceindex.ca for more information.
This blog post is based on market data provided by the Fraser Valley Real Estate Board (FVREB) www.fvreb.bc.ca