According to the Fraser Valley Real Estate Board, on the heels of the busiest year in history for Fraser Valley real estate, January activity saw the beginnings of a market rebalancing. Overall property sales – still the third highest ever for January – cooled compared to December while the volume of new listings improved significantly.
The Fraser Valley Real Estate Board processed a total of 1,310 sales of all property types on its Multiple Listing Service® (MLS®) in January 2022, a decrease of 23.7 per cent compared to January 2021, and 27.5 per cent lower compared to December 2021.
"It's early days yet, but if this trend continues into spring, we could see an easing of the supply‐demand dynamic in our region. We have a long way to go to replenish our housing stock and bring much‐needed balance to the market, but this is a step in the right direction."
Baldev Gill, Chief Executive Officer of the Board, said, "For almost two years, Fraser Valley REALTORS® have worked hard to help their clients navigate safely during the longest, most intense seller's market in our Board's history. This protracted pandemic market has resulted in considerable upward pressure on home prices. We anticipate the seasonal influx of new inventory, such as we're already seeing, could provide a welcome, albeit far from fully adequate, easing of price growth moving into 2022."
In January 2022, the average number of days to sell a single‐family detached home in the Fraser Valley was 25, compared to 35 days in January 2021; 12 days on average to sell a townhome and 17 days for apartments, compared to 28 and 37 days respectively, in January of last year.
Find all the infographics related to the January Market Statistics by visiting the Facebook Album.
Abbotsford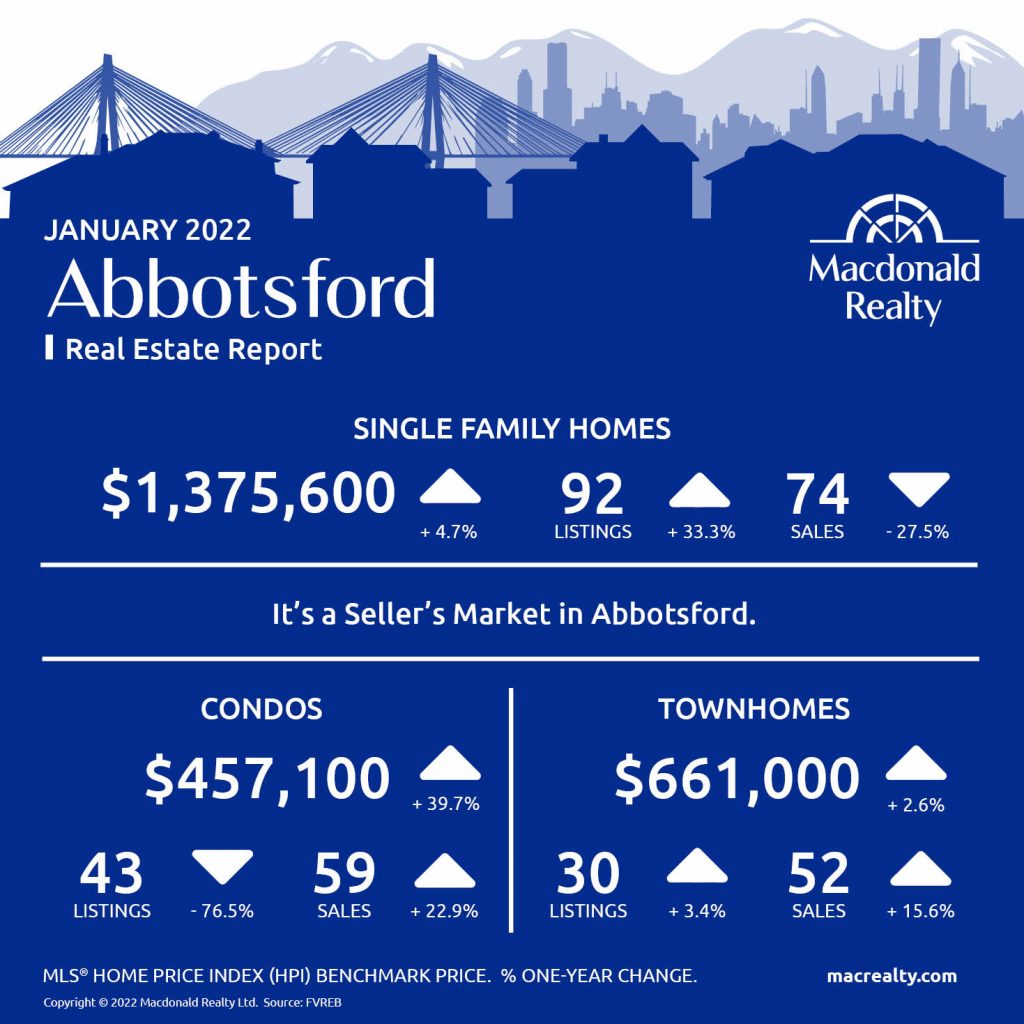 Cloverdale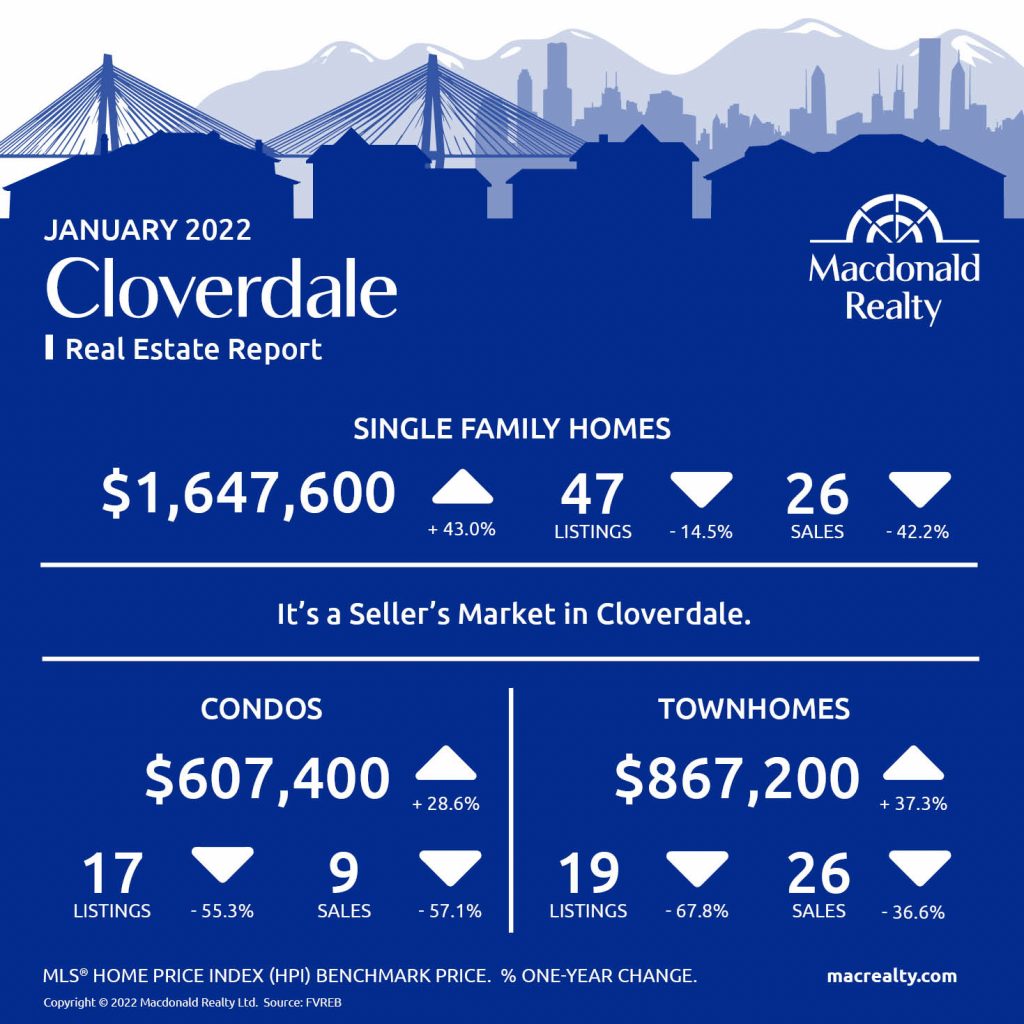 Langley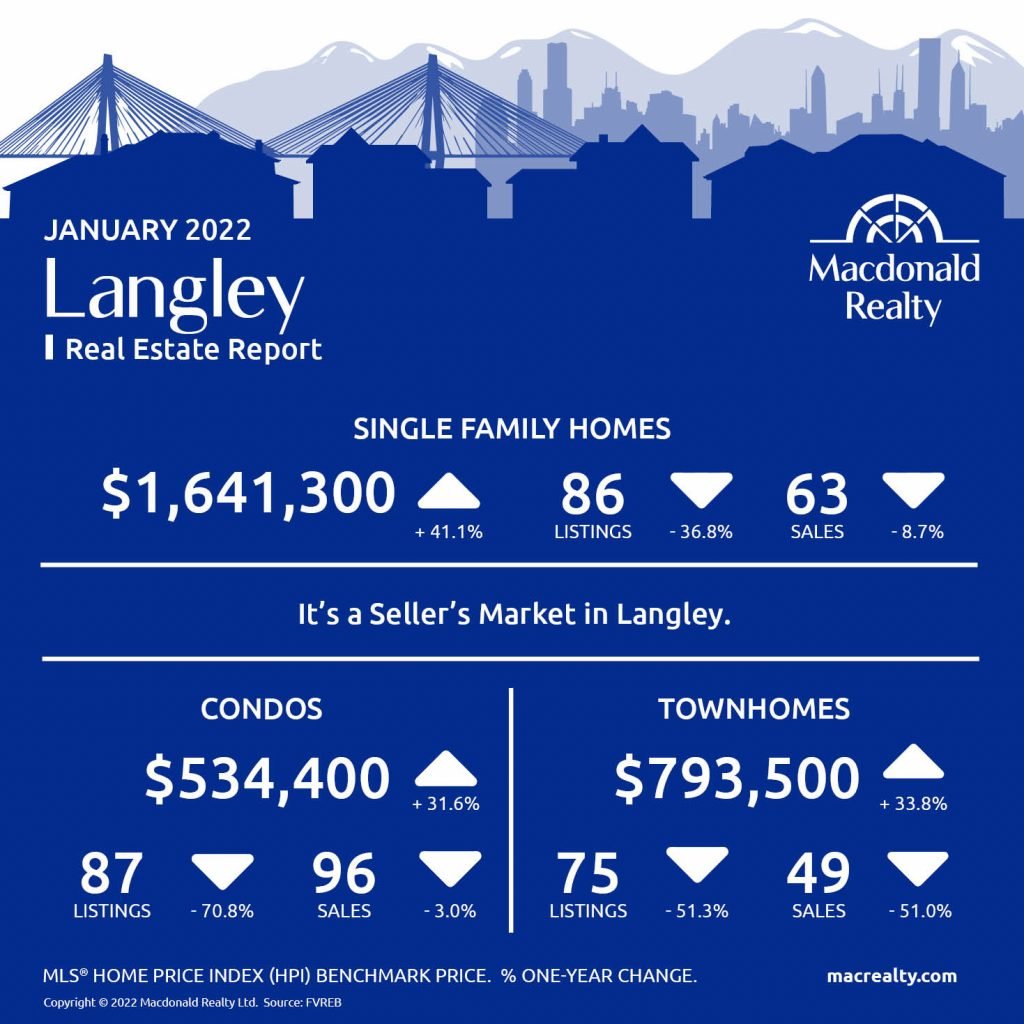 Mission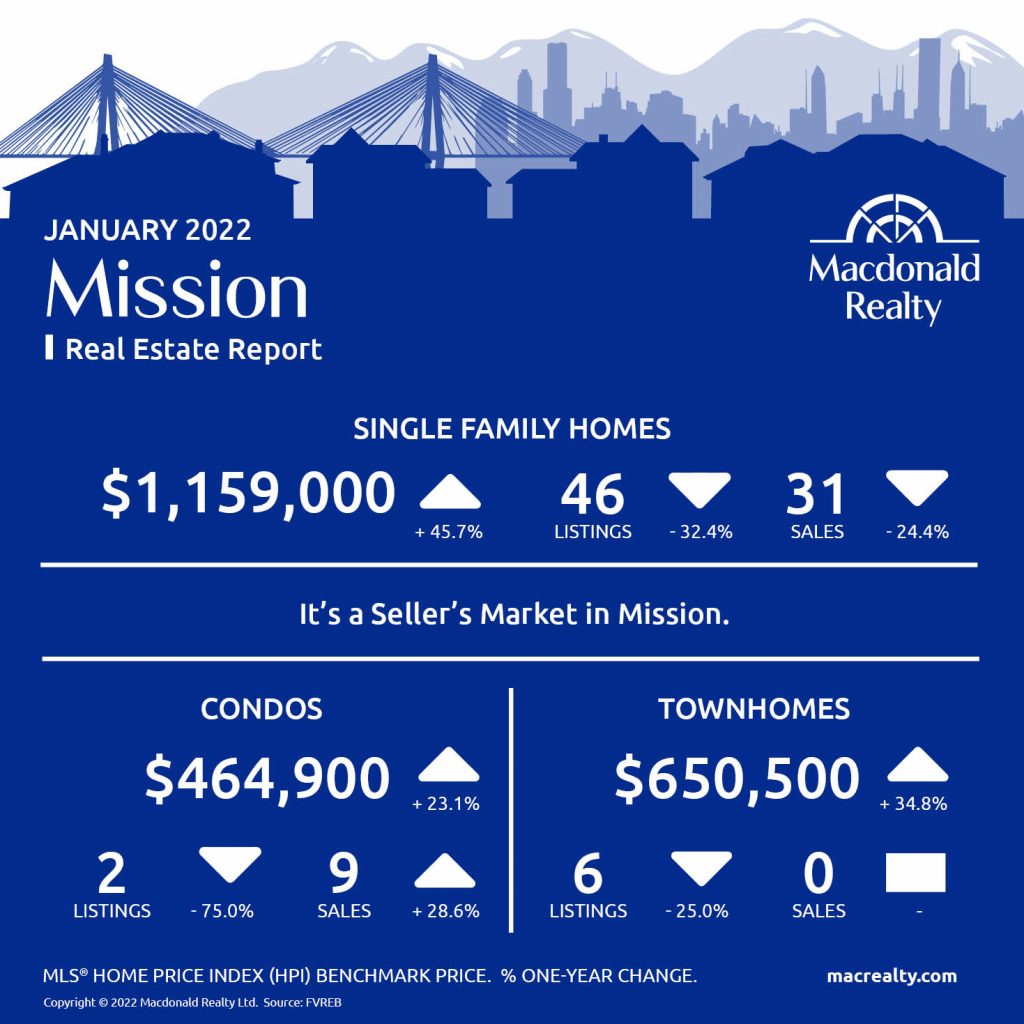 North Delta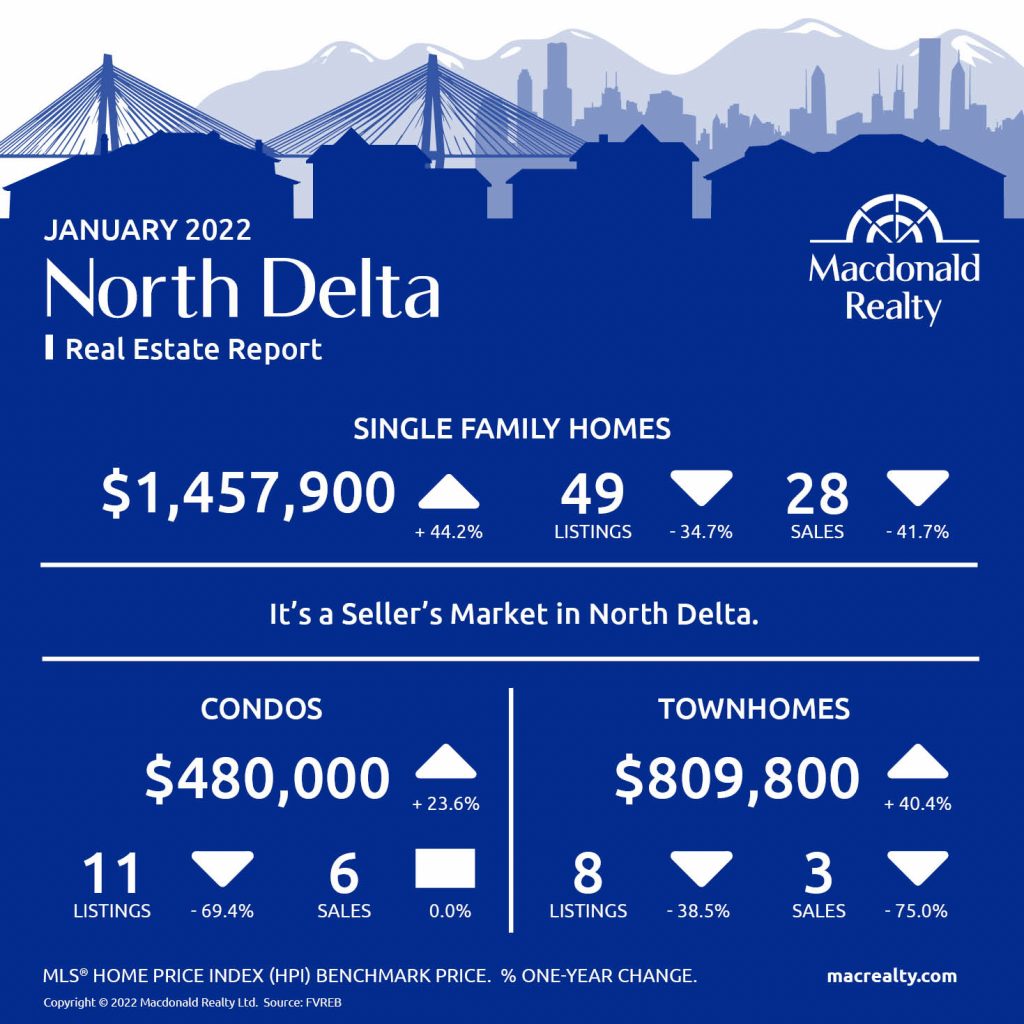 North Surrey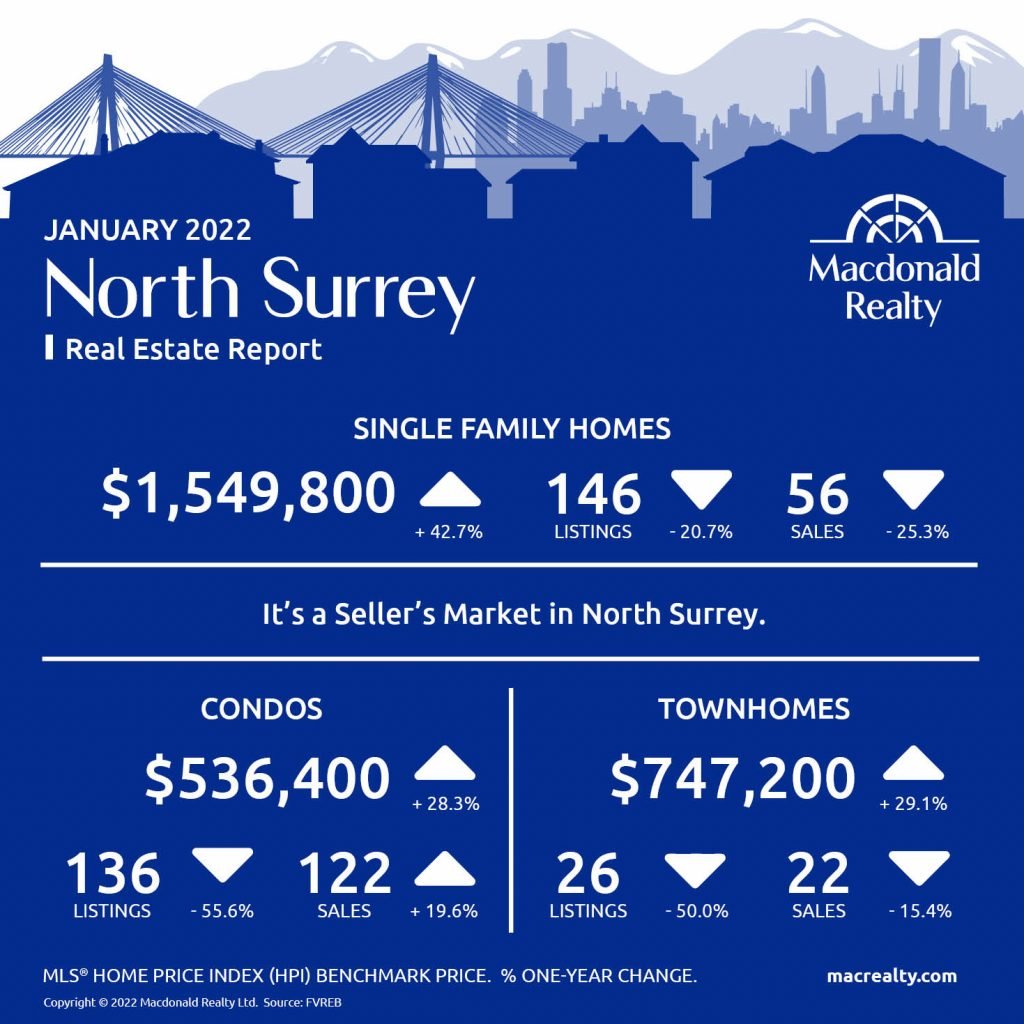 Surrey Central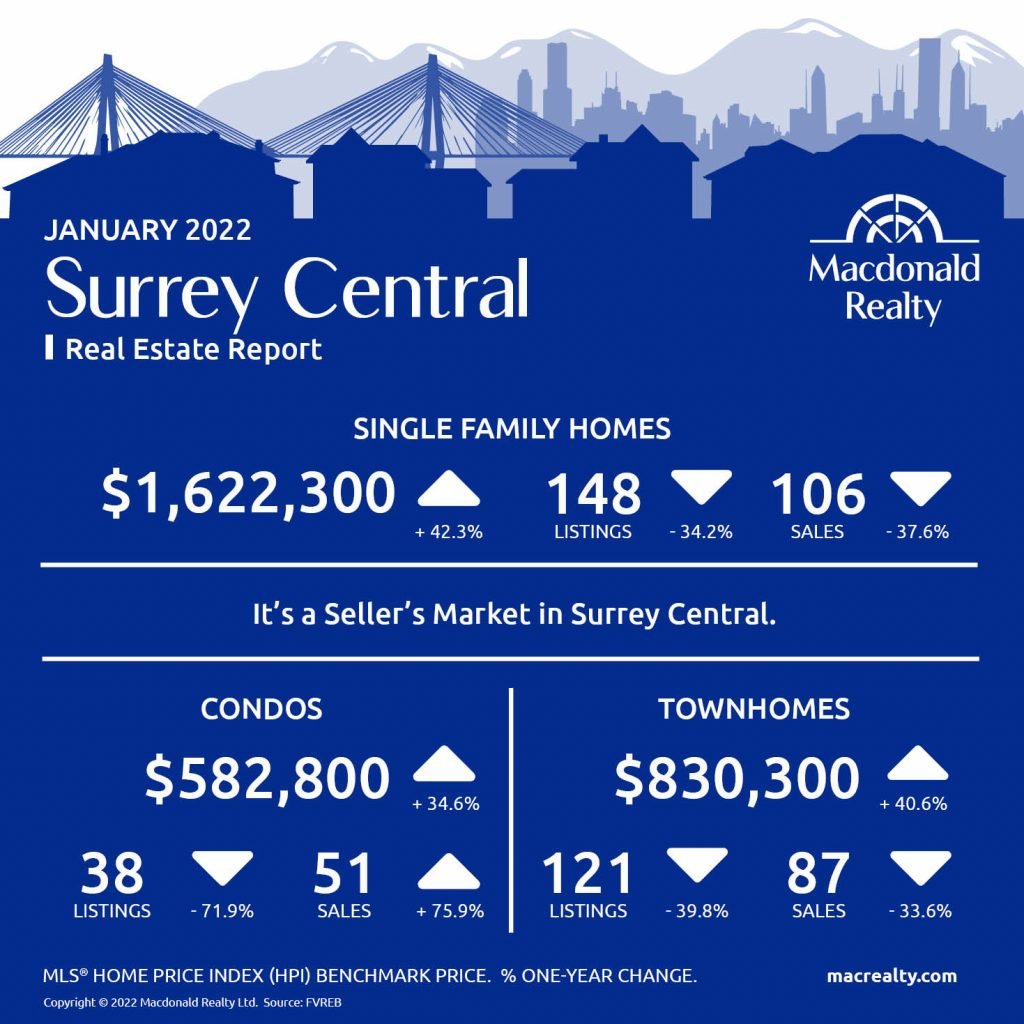 White Rock / South Surrey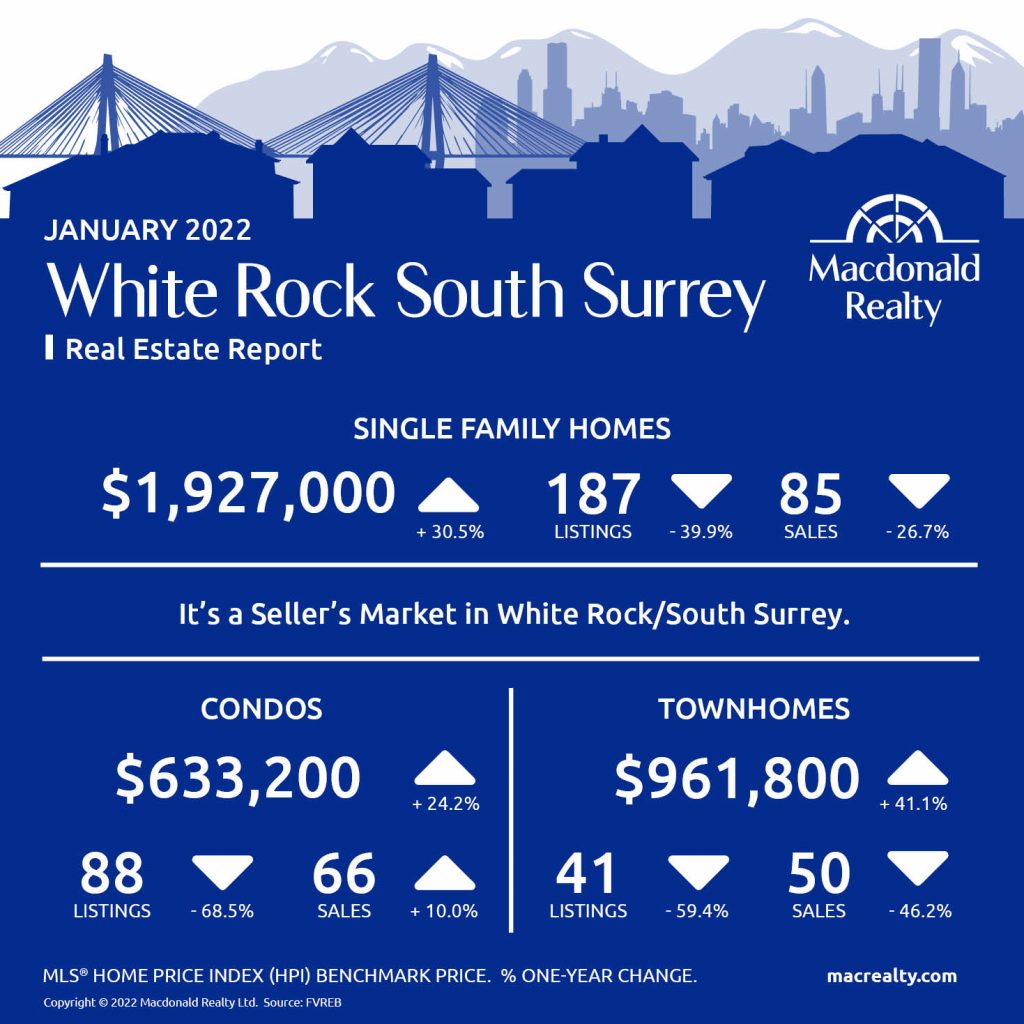 Looking for more information about the real estate market in specific neighbourhoods in Surrey, Langley and Fraser Valley? 
Macdonald Realty has offices in North Delta, White Rock/South Surrey, and Langley.  Please email macrealty@macrealty.com or call 1-877-278-3888 to be matched with a REALTOR® working in your area.
MLS® Home Price Index (HPI) Benchmark Price
Average and median home prices are often misinterpreted, are affected by change in the mix of homes sold, and can swing dramatically from month to month (based on the types and prices of properties that sold in a given month). The MLS® HPI overcomes these shortcomings and uses the concept of a benchmark home, a notional home with common attributes of typical homes in a defined area. Visit www.housepriceindex.ca for more information.
This blog post is based on market data provided by the Fraser Valley Real Estate Board (FVREB) www.fvreb.bc.ca