According to the Fraser Valley Real Estate Board, the downward trend in Fraser Valley real estate sales continued in January as further interest rate hikes kept buyers sidelined.
With 626 transactions processed on the MLS®, sales were off by 12.6 per cent compared to last month and down by 52.2 per cent compared to this time last year. The last time January sales were this low was in 2013 at 617 sales.
"Buyers are understandably cautious, which explains the slow start to the year," said Sandra Benz, President of the
Fraser Valley Real Estate Board. "That said, the pent-up demand that has been building since the last quarter of
2022 will likely give rise to a sales uptick, especially if rate hikes subside, which we expect will be the case."
Although new listings saw an increase of 128.3 per cent over last month to 1,833, they are at the lowest level of
new supply for January since 1984. Active listings rose slightly up 5 per cent to 4,118 over December 2022 and up
by 76.6 per cent compared to this time last year.
"We also expect inventory to start increasing over the coming months as sellers act on decisions that have been on
hold, waiting for rates to peak" added Benz. "As we start to see greater selection across all property categories, we
should see demand pick up."
At $942,200, the composite Benchmark home price continued to edge downward, slipping by 1.4 per cent from
December and off by 15.1 per cent compared to January 2022.
"After a market slowdown for the past several months, the Board is expecting a return to seasonal activity leading
into spring," said FVREB CEO Baldev Gill. "With rates still elevated, however, buyers and sellers would be welladvised
to seek out the guidance of a professional REALTOR® to determine the best strategy and timing to take
advantage of the anticipated market upswing."
Across Fraser Valley in January, the average number of days to sell a single-family detached home was 48, and a
townhome was 40 days. Apartments took, on average, 41 days to sell.
Find all the infographics related to the November Market Statistics by visiting the Facebook Album.
Abbotsford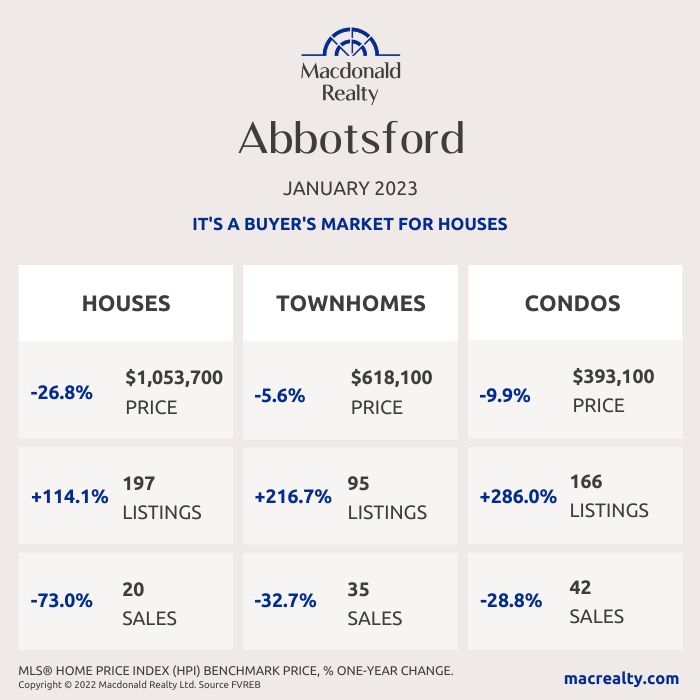 Cloverdale
Langley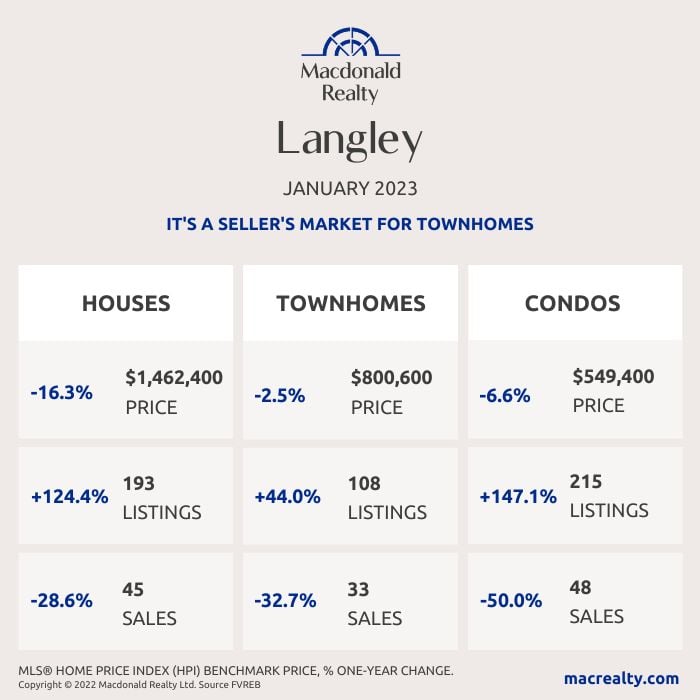 Mission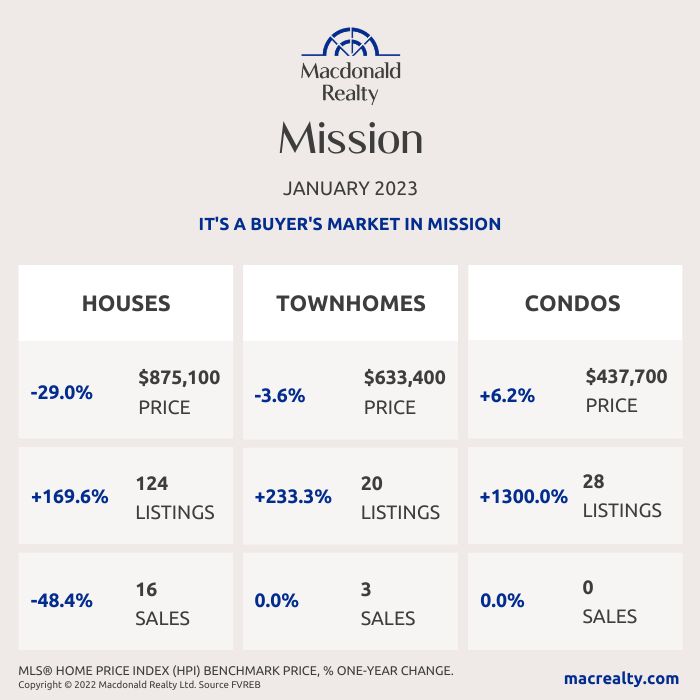 North Delta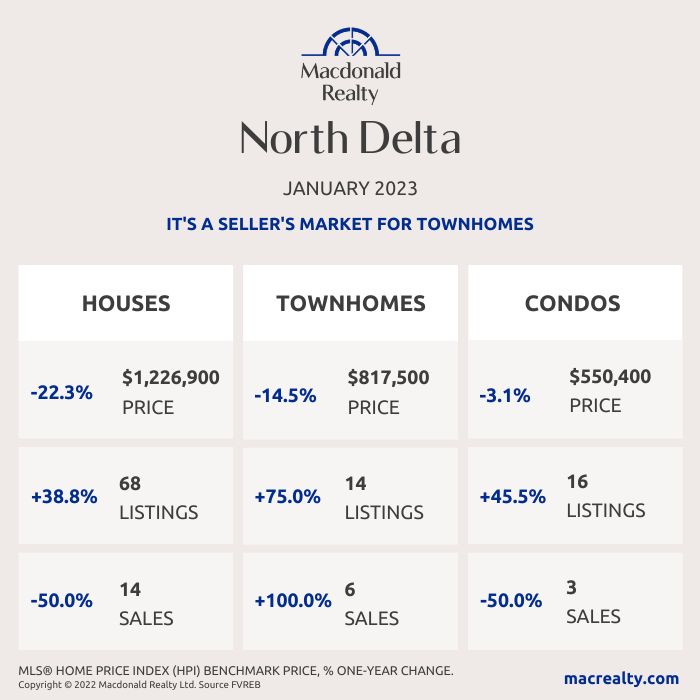 North Surrey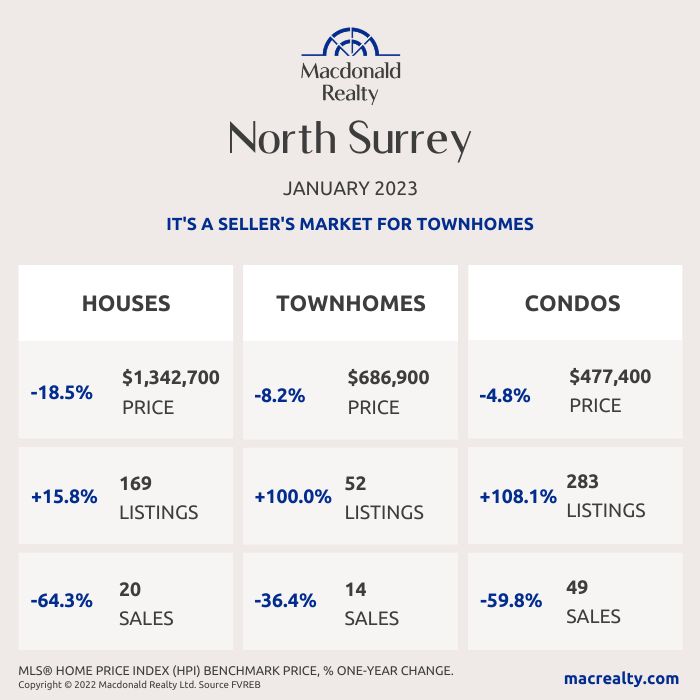 Surrey Central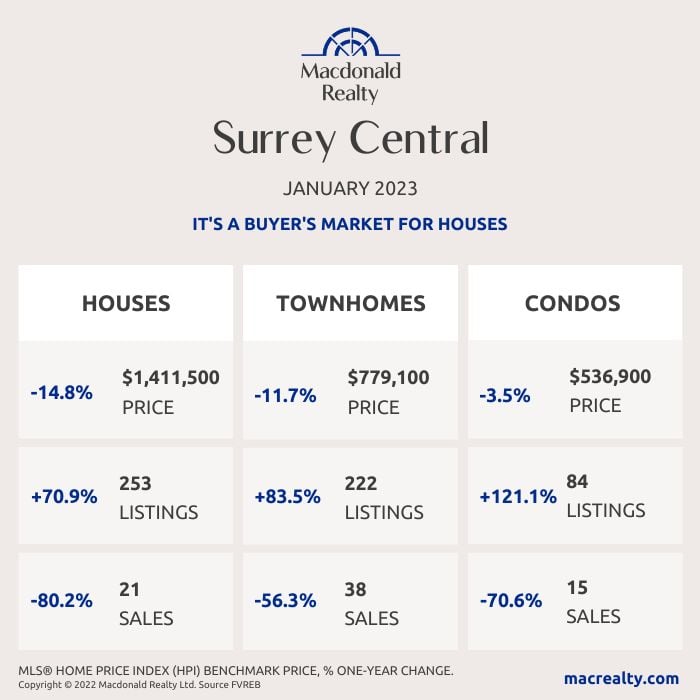 White Rock / South Surrey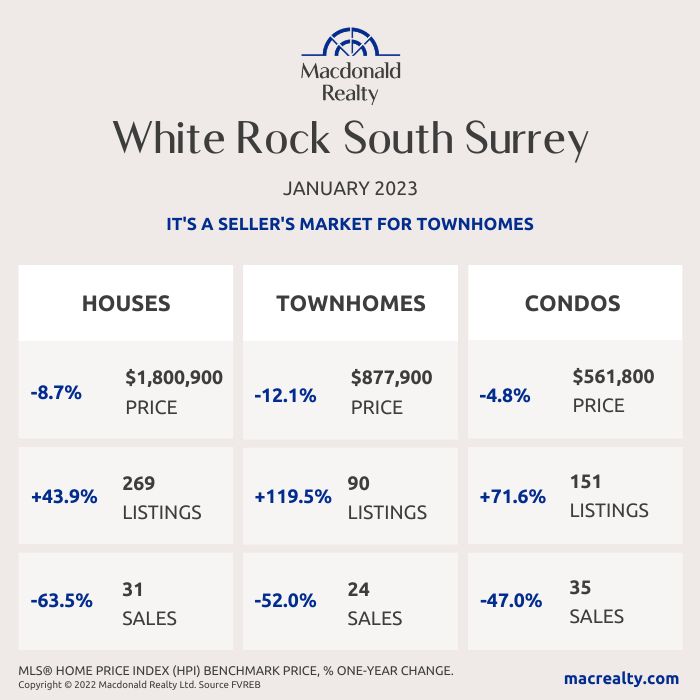 Looking for more information about the real estate market in specific neighbourhoods in Surrey, Langley and Fraser Valley? 
Macdonald Realty has offices in North Delta, White Rock/South Surrey, and Langley.  Please email macrealty@macrealty.com or call 1-877-278-3888 to be matched with a REALTOR® working in your area.
MLS® Home Price Index (HPI) Benchmark Price
Average and median home prices are often misinterpreted, are affected by change in the mix of homes sold, and can swing dramatically from month to month (based on the types and prices of properties that sold in a given month). The MLS® HPI overcomes these shortcomings and uses the concept of a benchmark home, a notional home with common attributes of typical homes in a defined area. Visit www.housepriceindex.ca for more information.
This blog post is based on market data provided by the Fraser Valley Real Estate Board (FVREB) www.fvreb.bc.ca