According to the Fraser Valley Real Estate Board, momentum continues to build in the Fraser Valley real estate market.
March 2023 saw the second consecutive month of growth in sales in the Fraser Valley, and although still below seasonal norms, the trend is an encouraging sign that the region continues to head towards increased market stability.
At 1,550, property sales posted on the FVREB's Multiple Listings Service (MLS®) were 72.6 per cent higher than sales recorded last month. Although 39.9 per cent lower than a year ago and nearly 25 per cent below the ten-year average, it marks the first time since August that monthly sales exceeded the 1,000 level.
"After months of uncertainty made it difficult for buyers and sellers to re-enter the housing market, we may well be seeing a turning point," said Narinder Bains, Chair of the Fraser Valley Real Estate Board. "The pause in rate hikes has helped to restore a much-needed sense of predictability, which is building consumer confidence. As a result, we're starting to see more traffic at open houses along with more multiple offer situations."
As in all regions across the province and the country, low supply is still an issue and a primary factor driving price growth. New listings, at 2,559, were 32 per cent higher than in February, but still 44.1 per cent below last year, while active listings were up by 2.8 per cent over last month and 3.5 per cent below last year. However, both are well off the ten-year average and among the lowest March listings recorded in a decade.
As a result, the aggregate sales-to-active listings ratio grew to 34 per cent, shifting the market into sellers territory, with demand for townhomes even more pronounced, at a 62 per cent ratio. (The market is considered balanced when the sales-to active listings ratio is between 12 per cent and 20 per cent.)
Benchmark prices continued to edge upward with roughly two per cent month-over-month growth across all categories. The composite Benchmark price was $965,100 in March.
"While market demand continues to trend up, we still face an uphill battle on the supply side, which is keeping prices elevated," said FVREB CEO, Baldev Gill. "The province will require sustained inventory growth of at least 25 per cent over each of the next five years in order to normalize inventories. Until then, we strongly advise buyers and sellers to consult with a REALTOR® to plan the best strategy."
Find all the infographics related to the February Market Statistics by visiting the Facebook Album.
Abbotsford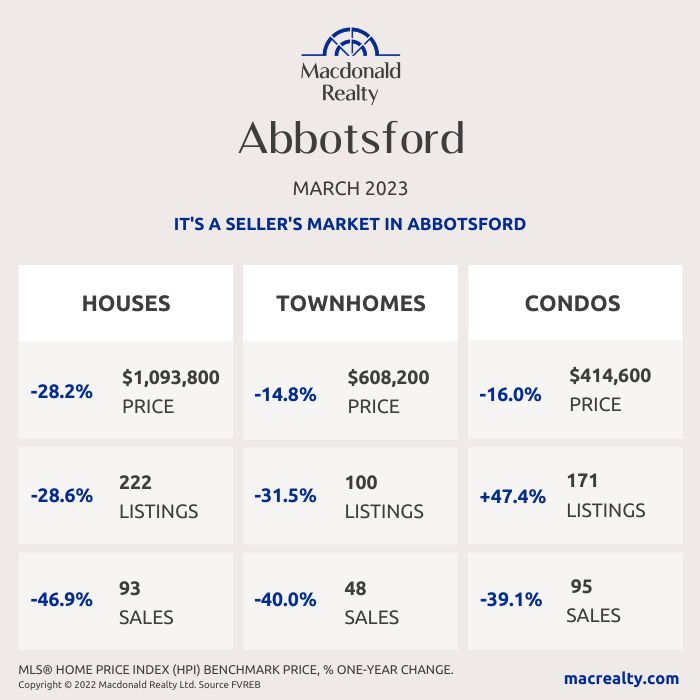 Cloverdale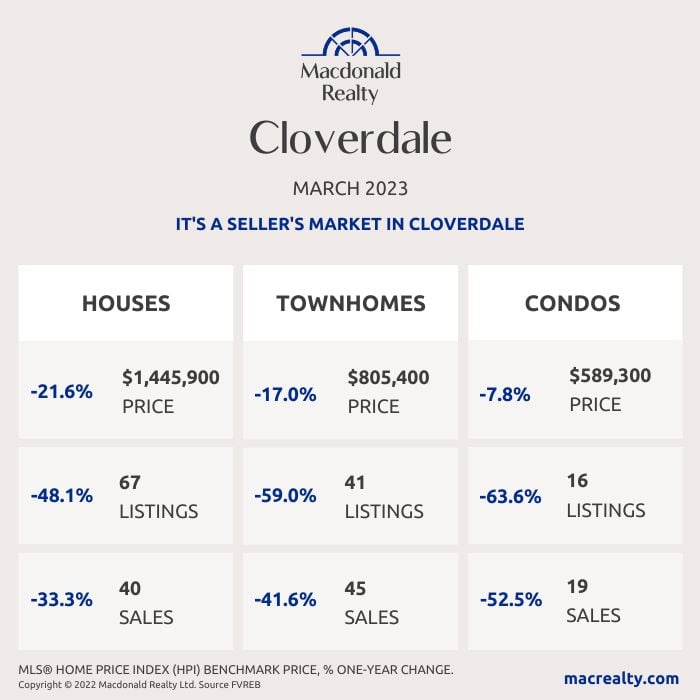 Langley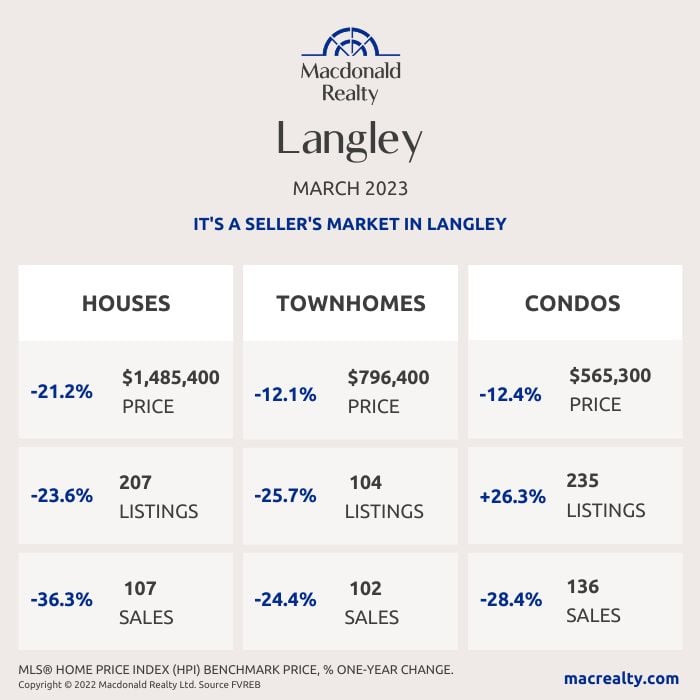 Mission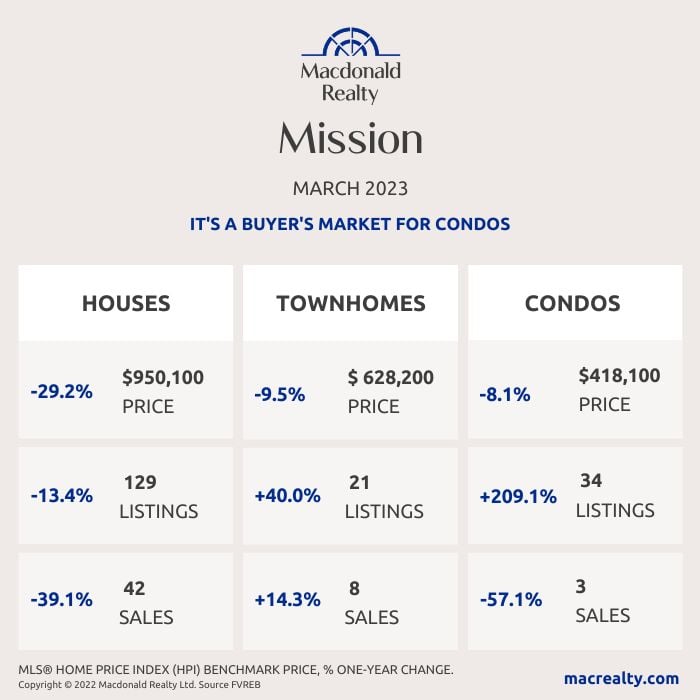 North Delta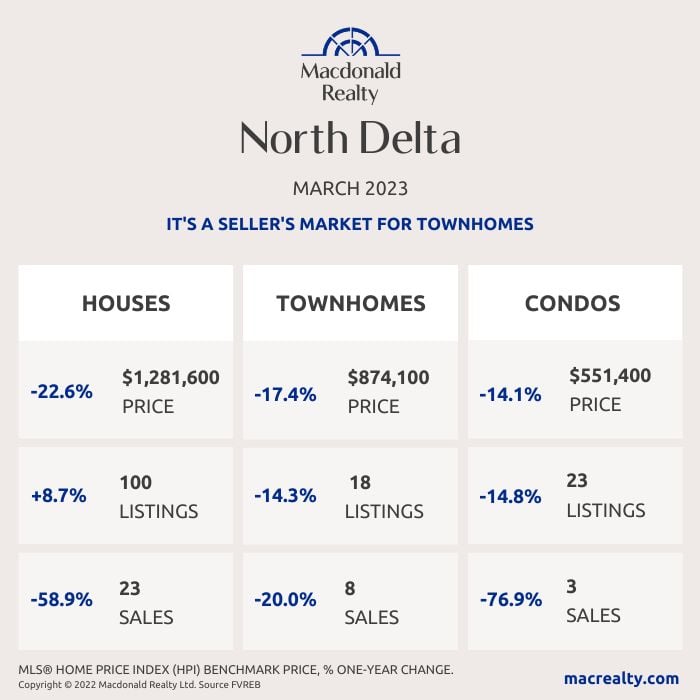 North Surrey
Surrey Central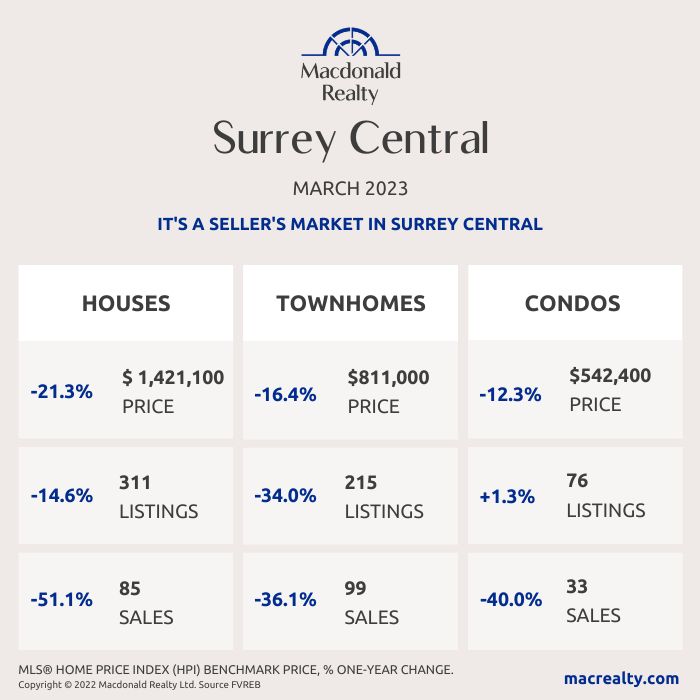 White Rock / South Surrey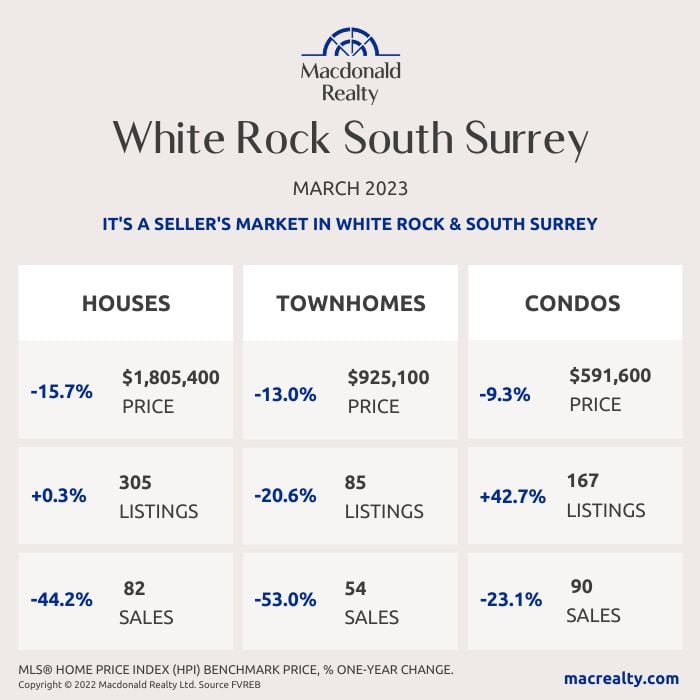 Looking for more information about the real estate market in specific neighbourhoods in Surrey, Langley and Fraser Valley? 
Macdonald Realty has offices in North Delta, White Rock/South Surrey, and Langley.  Please email macrealty@macrealty.com or call 1-877-278-3888 to be matched with a REALTOR® working in your area.
MLS® Home Price Index (HPI) Benchmark Price
Average and median home prices are often misinterpreted, are affected by change in the mix of homes sold, and can swing dramatically from month to month (based on the types and prices of properties that sold in a given month). The MLS® HPI overcomes these shortcomings and uses the concept of a benchmark home, a notional home with common attributes of typical homes in a defined area. Visit www.housepriceindex.ca for more information.
This blog post is based on market data provided by the Fraser Valley Real Estate Board (FVREB) www.fvreb.bc.ca