According to the Fraser Valley Real Estate Board, momentum continues to build in the Fraser Valley real estate market.
The Fraser Valley real estate market saw an injection of supply in May as new listings surged by more than 40 per cent over April.
At 3,533, new listings were just below May 2022 levels (3,631) but slightly higher (2.7 per cent) than the ten-yearaverage for the region. A welcome trend towards alleviating housing supply issues.
""Typically we would see an influx of inventory earlier in the spring sales cycle," said Narinder Bains, Chair of theFraser Valley Real Estate Board. "The series of interest rate hikes during the latter half of 2022 had many sellers and buyers in a holding pattern for most of the year. What we're seeing now is a recovery and adjustment to the new financing landscape.""
Active listings grew to 5,558, a 20 per cent increase over April, the highest month-over-month jump in more than a year.
The strong supply trend was met with healthy demand. In May, the Board processed 1,711 sales on its Multiple Listing Service®, a 10.1 per cent increase over last month and a 25.8 per cent jump over May of last year.
Prices continued to edge upward across all categories as buyer confidence grew, with the composite Benchmark price topping the one-million mark at $1.01 million, a level not seen since September 2022.
""It's encouraging to see more typically cyclical activity this spring," said FVREB CEO, Baldev Gill. "Inventory has been trending upwards since December 2022, providing more choice, which in turn will hopefully spur on even more listings. That said, with inflation tracking at elevated levels the potential for further rate hikes is very real. Buyers and sellers would be well-advised to work with real estate professionals to factor this into their decisions."
Find all the infographics related to the May Market Statistics by visiting the Facebook Album.
Abbotsford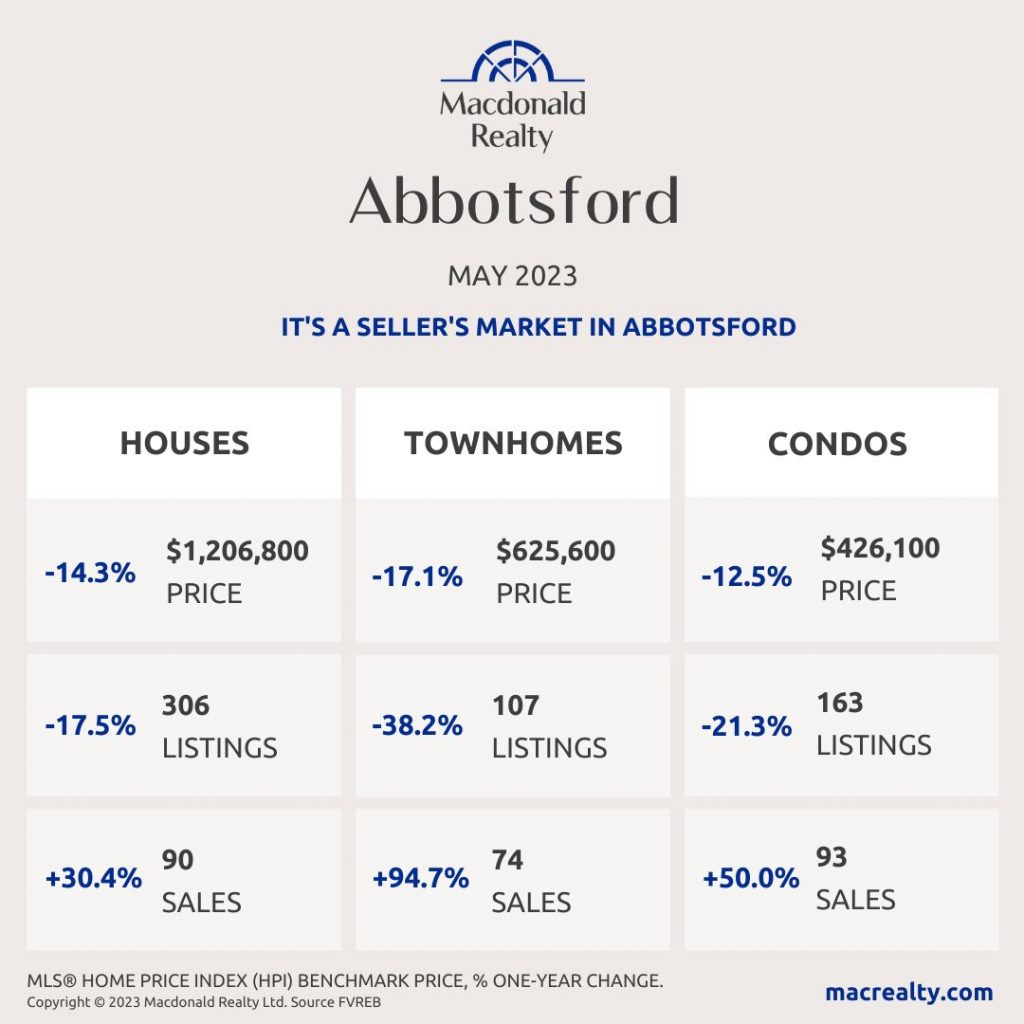 Cloverdale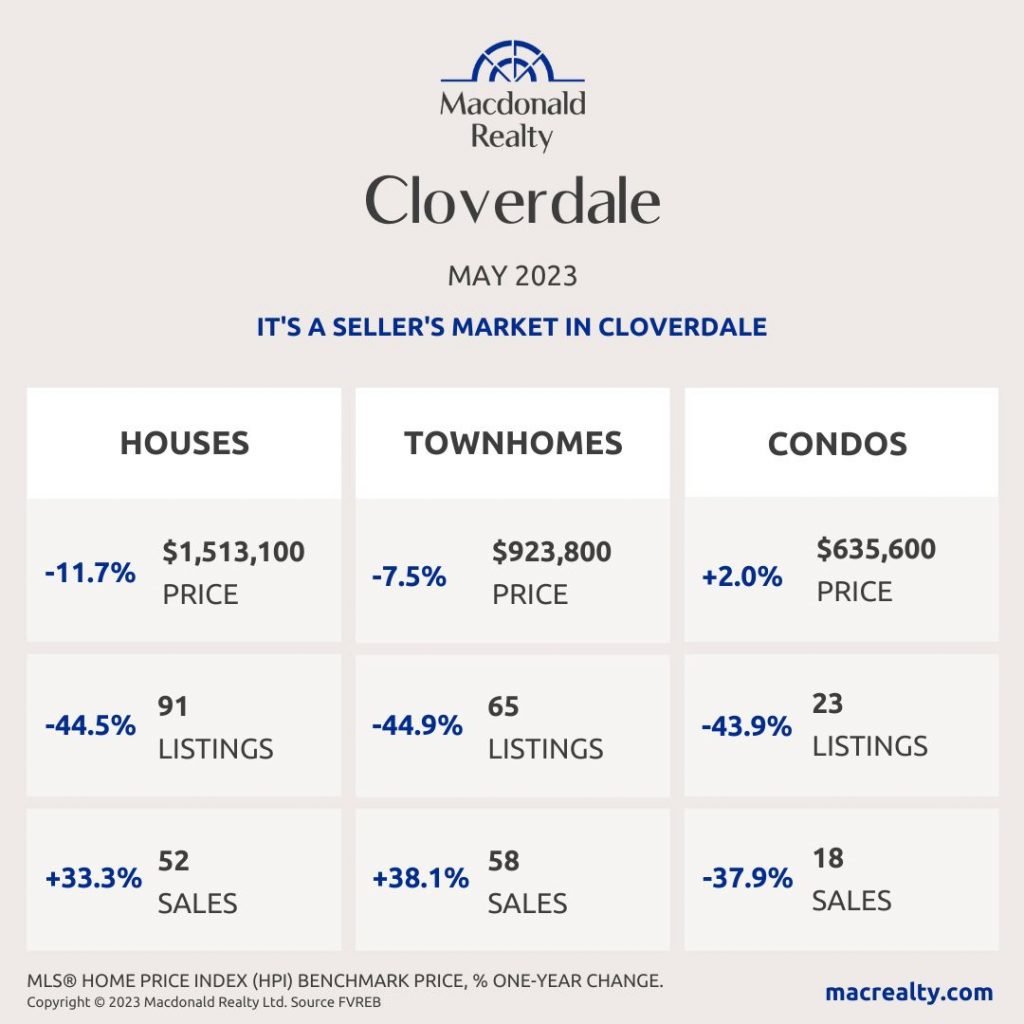 Langley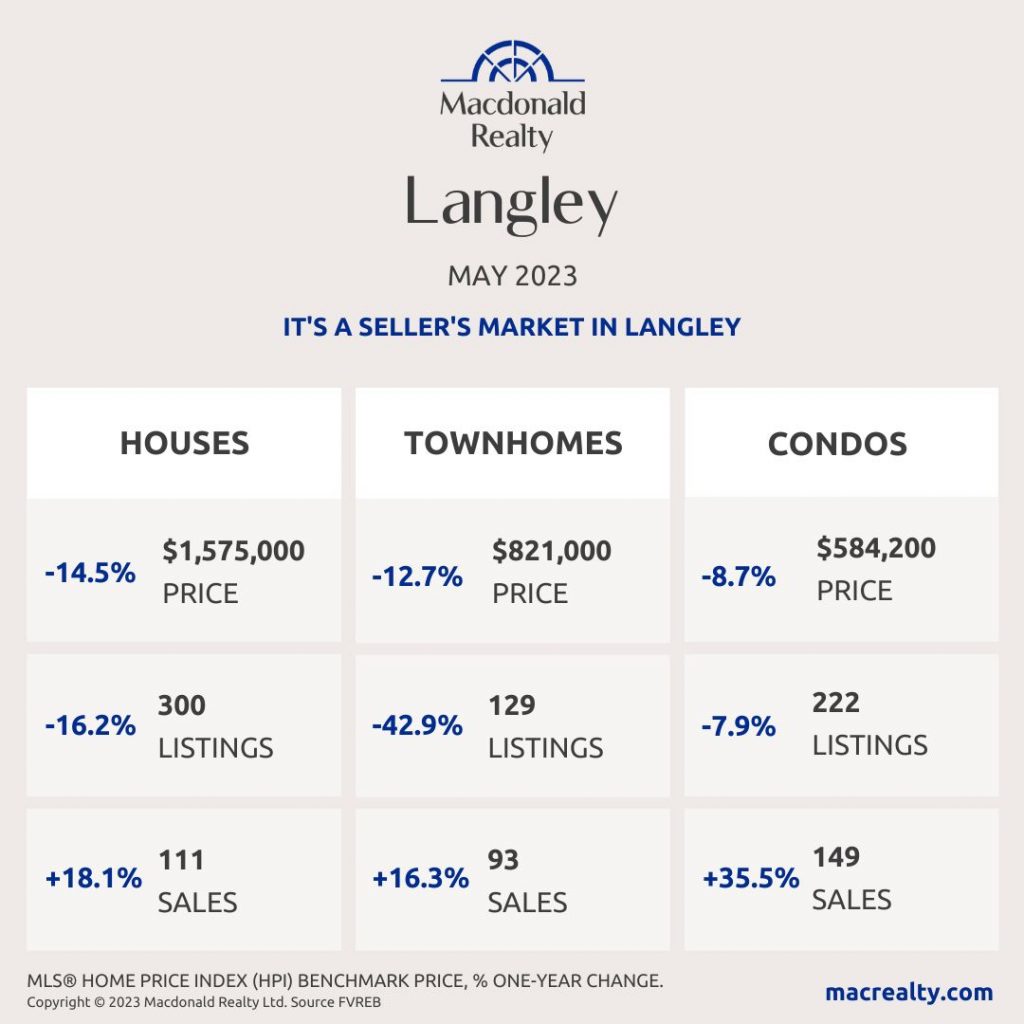 Mission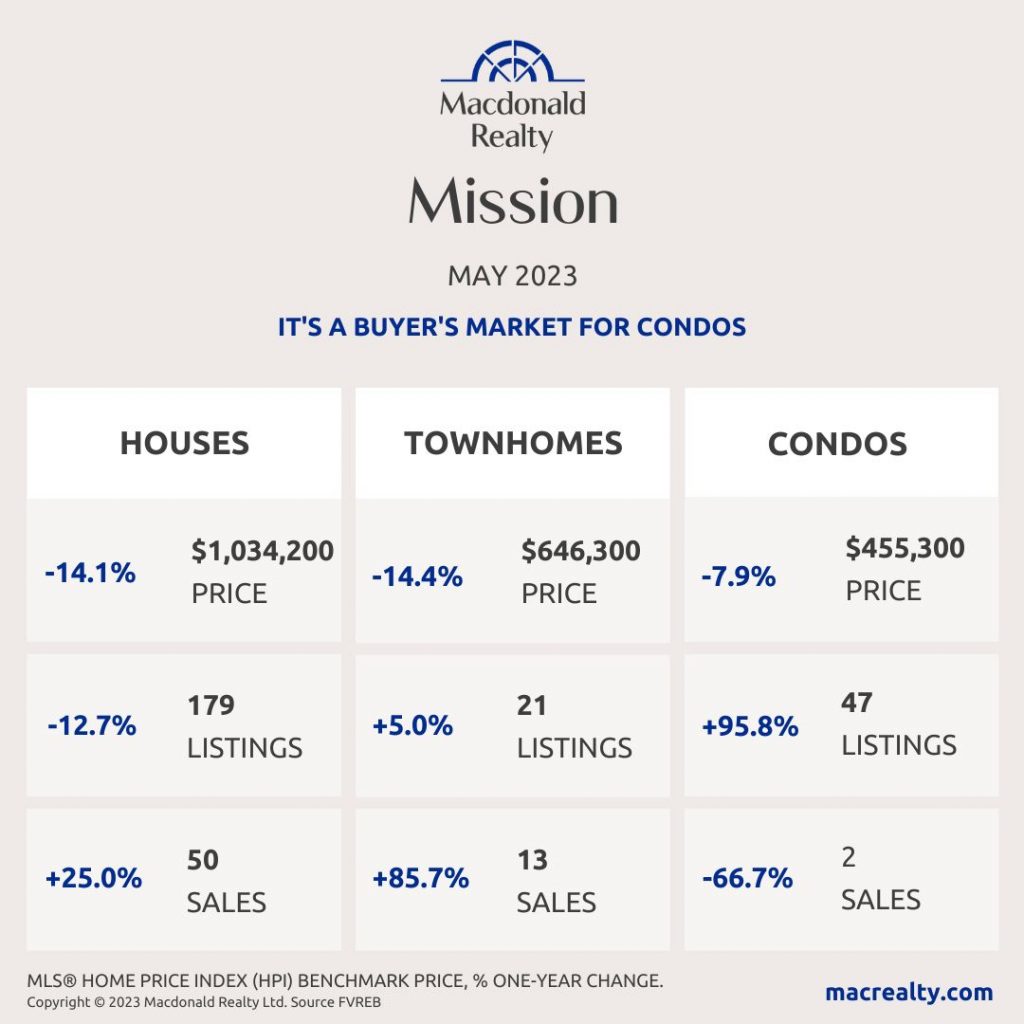 North Delta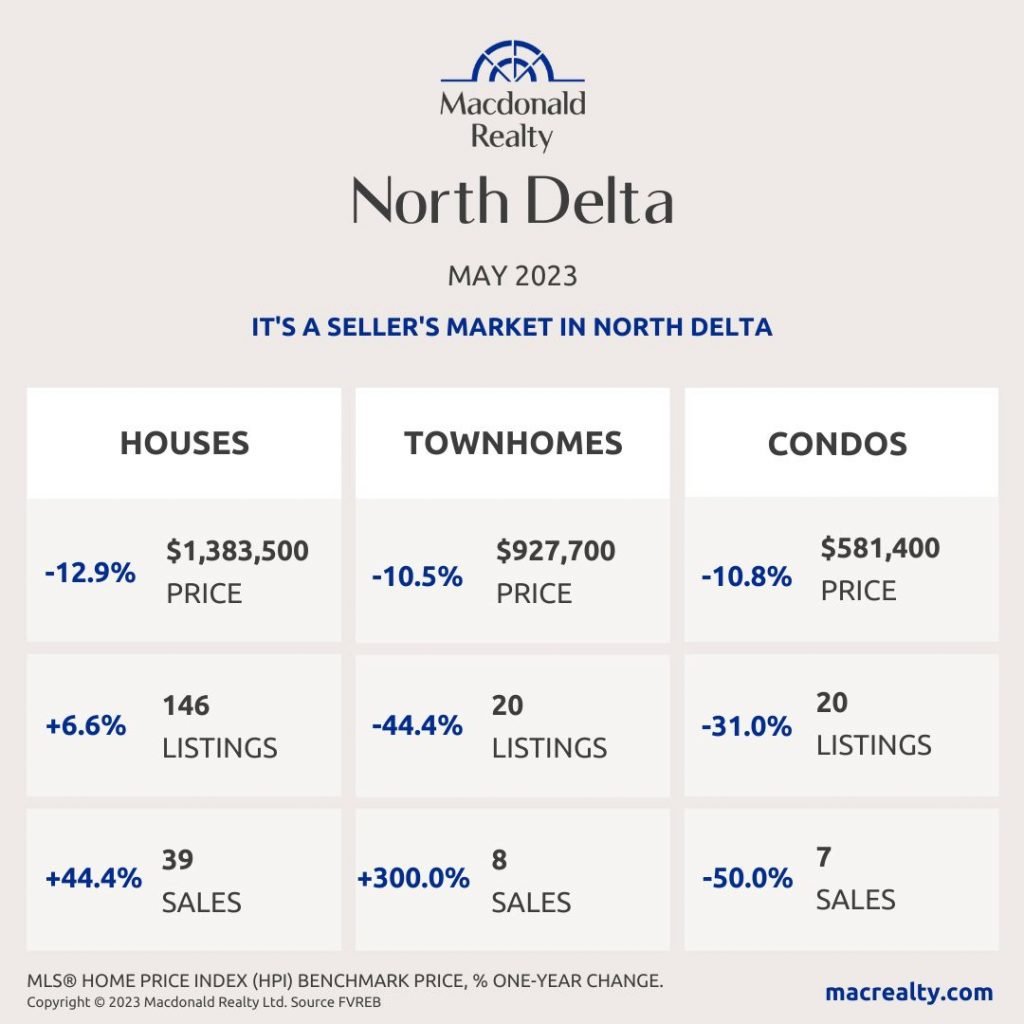 North Surrey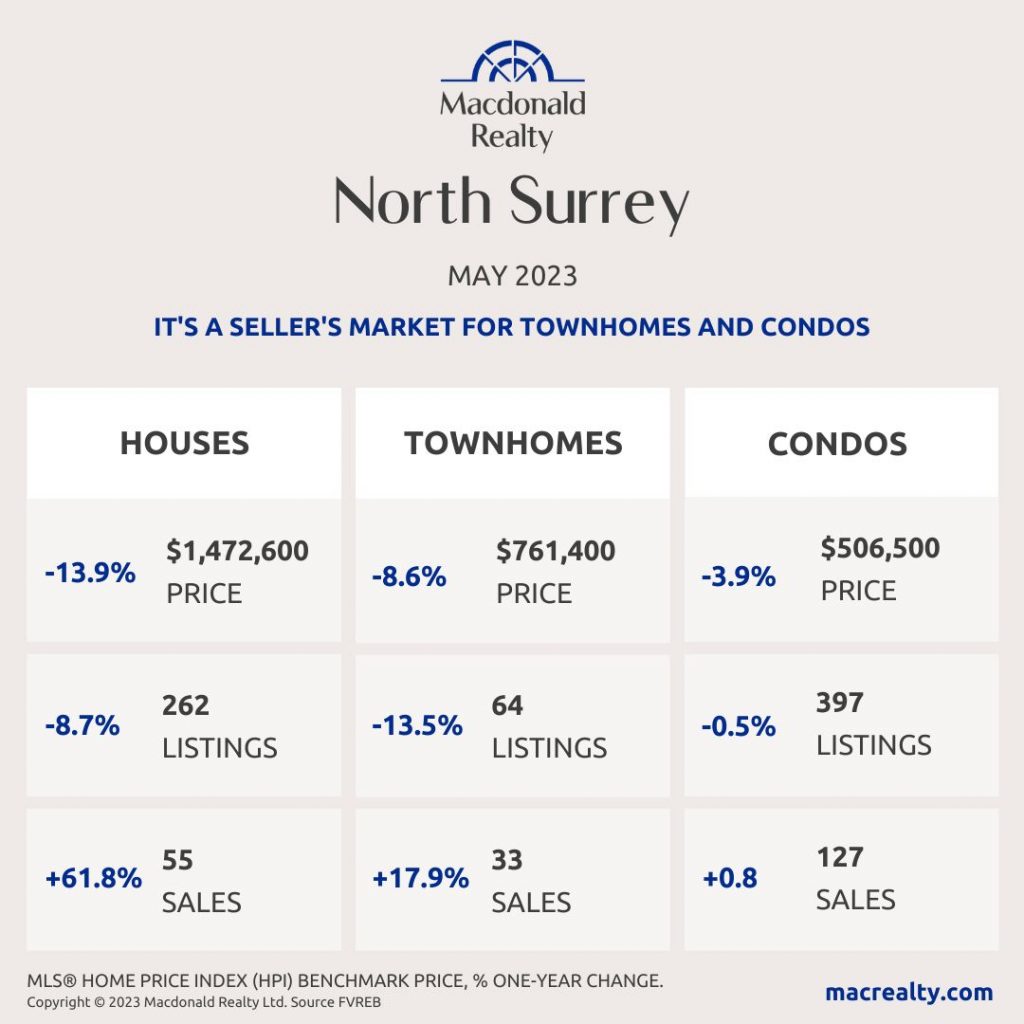 Surrey Central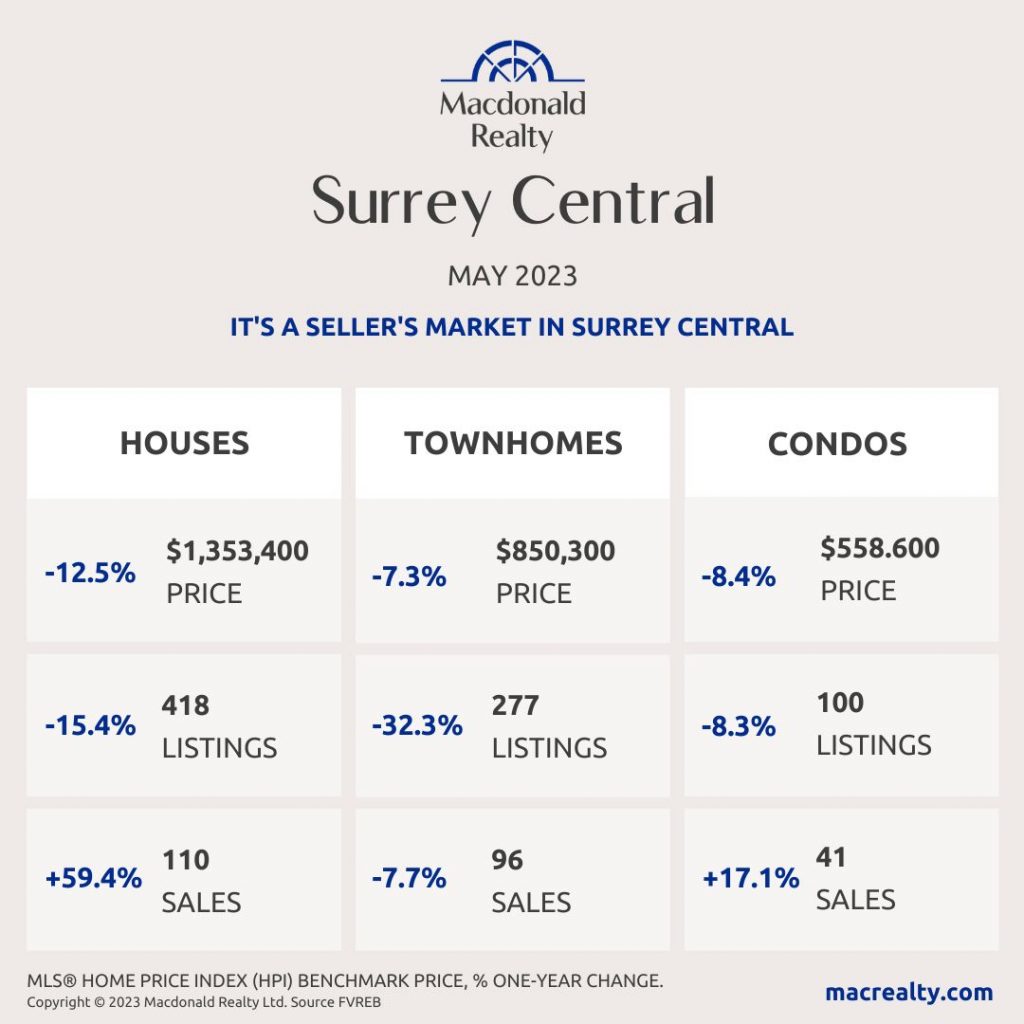 White Rock / South Surrey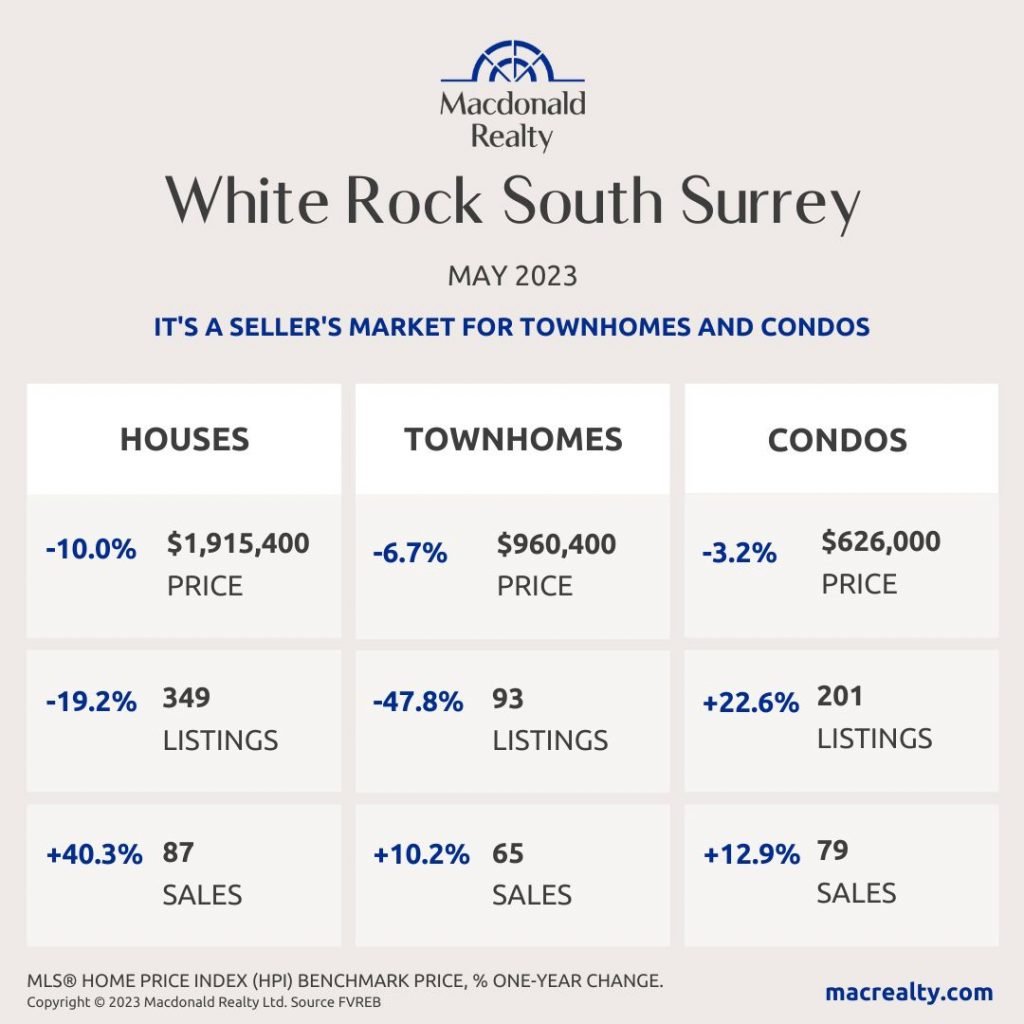 Looking for more information about the real estate market in specific neighbourhoods in Surrey, Langley and Fraser Valley? 
Macdonald Realty has offices in North Delta, White Rock/South Surrey, and Langley.  Please email macrealty@macrealty.com or call 1-877-278-3888 to be matched with a REALTOR® working in your area.
MLS® Home Price Index (HPI) Benchmark Price
Average and median home prices are often misinterpreted, are affected by change in the mix of homes sold, and can swing dramatically from month to month (based on the types and prices of properties that sold in a given month). The MLS® HPI overcomes these shortcomings and uses the concept of a benchmark home, a notional home with common attributes of typical homes in a defined area. Visit www.housepriceindex.ca for more information.
This blog post is based on market data provided by the Fraser Valley Real Estate Board (FVREB) www.fvreb.bc.ca