According to the Fraser Valley Real Estate Board, new listings lag as Fraser Valley real estate market sees third month of declining sales.
With sales down almost seven per cent from October, and new listings off by more than 20 per cent, the Fraser Valley housing market continues its slowing trend heading into the holiday season. Despite the market slowdown, opportunities are available, as evidenced by brisk turnover time frames.
In November, the Fraser Valley Real Estate Board (FVREB) processed 839 sales on its Multiple Listing Service® (MLS®), a 6.9 per cent decrease compared to October and a decrease of 57.5 per cent compared to November 2021.
"The trends we've seen over the past several months will likely continue through to year-end," said Sandra Benz, President of the Fraser Valley Real Estate Board. "While rate hikes have effectively put many buyers and sellers in a holding pattern, we're still seeing relatively quick turnover for all housing categories, indicating robust opportunities for properties that are strategically priced."
The Board received 1,703 new listings in November, a decrease of 22.1 per cent compared to October 2022 and a decrease of 18.8 per cent compared to last year. The month ended with a total active inventory of 5,330, a 5.5 per cent decrease compared to October, and 74.9 per cent more than November of last year.
"The market continues to tighten in response to rising interest rates," said Board CEO Baldev Gill. "As a result, individuals are facing additional levels of uncertainty regarding the decision to buy or sell a home, underscoring the importance of seeking advice and guidance from a local REALTOR® to mitigate the risks involved."
Across Fraser Valley in November, the average number of days to sell a single-family detached home was 34 days and a townhome was 28 days. Apartments took, on average, 27 days to sell.
Find all the infographics related to the November Market Statistics by visiting the Facebook Album.
Abbotsford
Cloverdale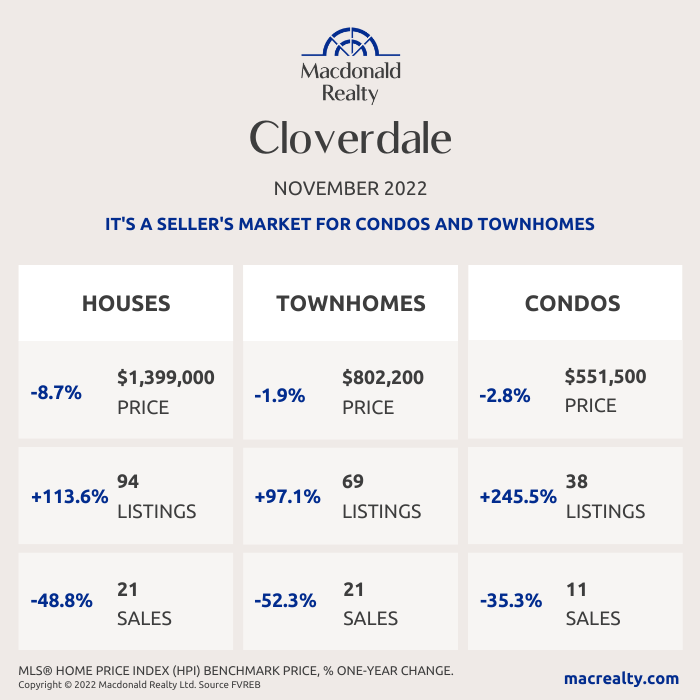 Langley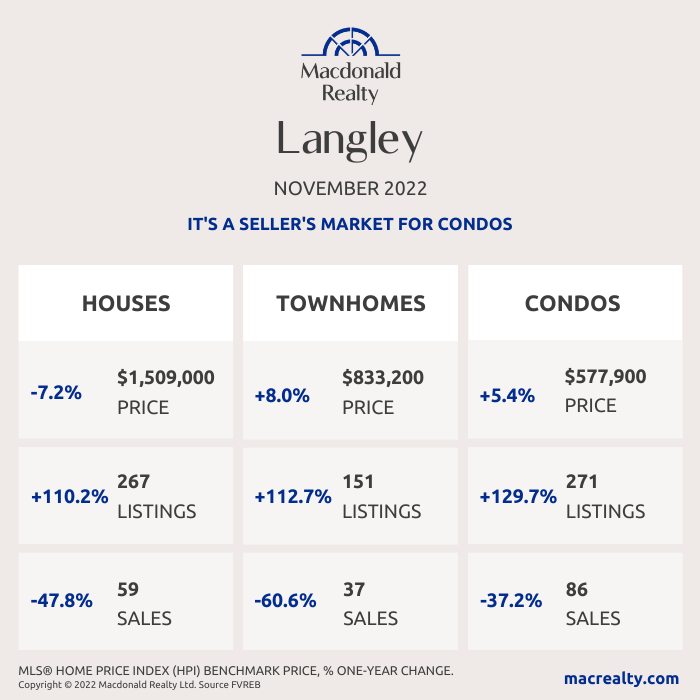 Mission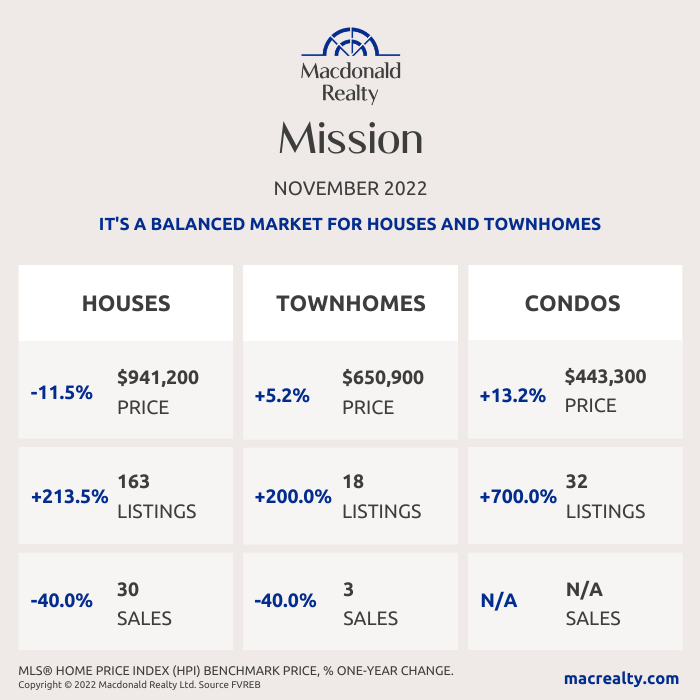 North Delta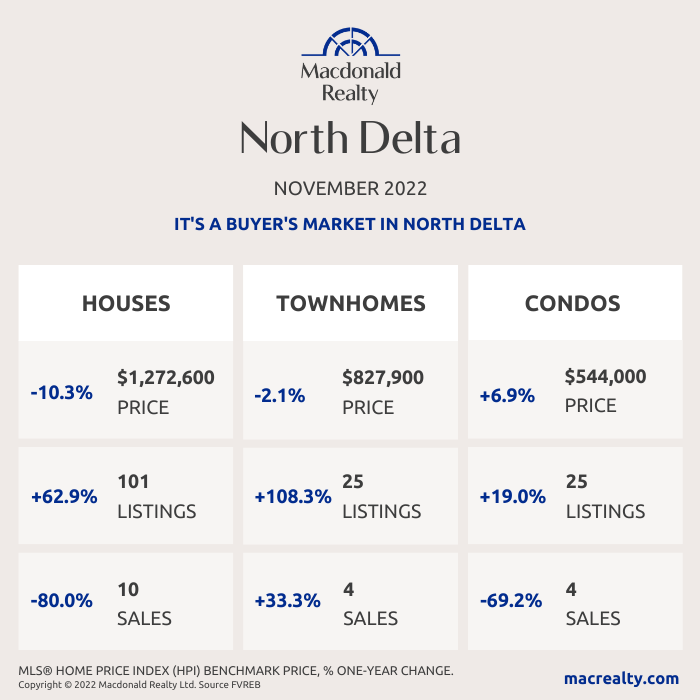 North Surrey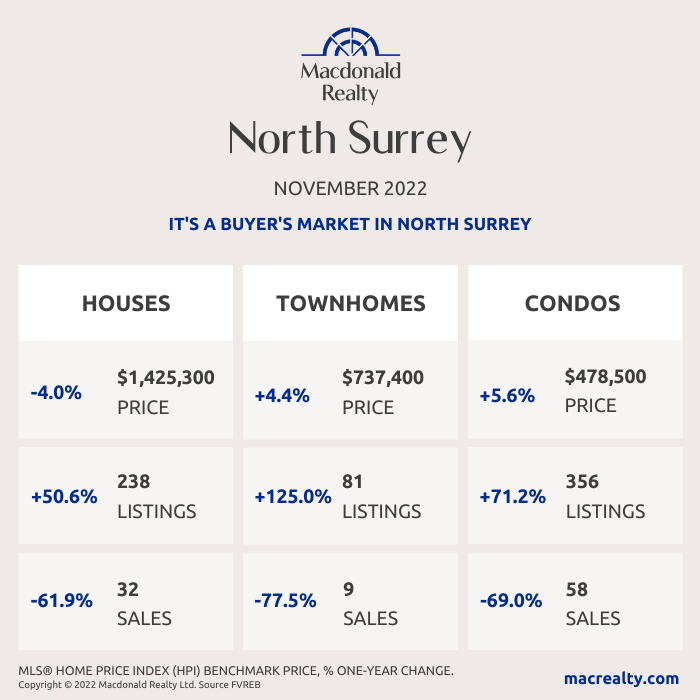 Surrey Central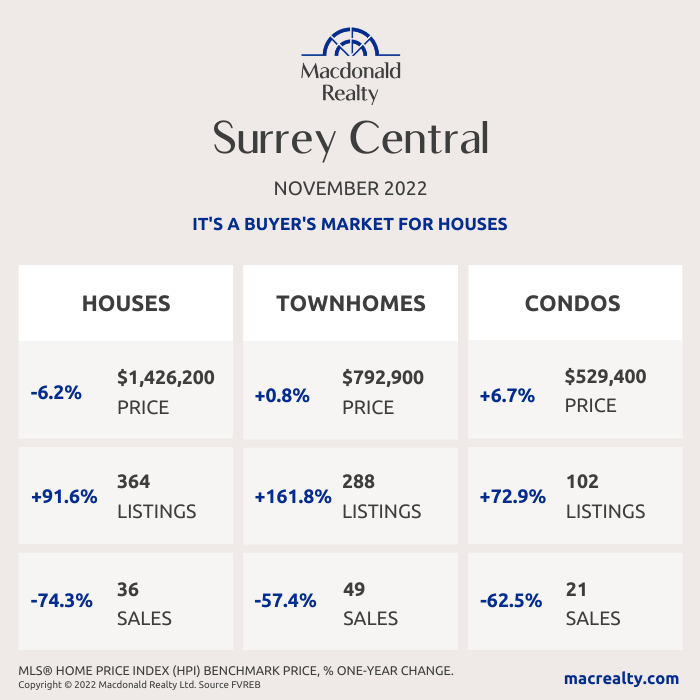 White Rock / South Surrey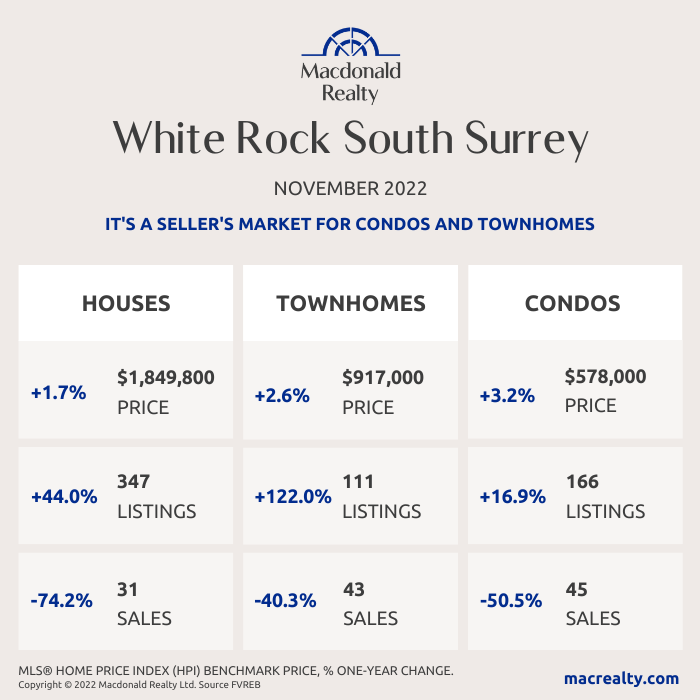 Looking for more information about the real estate market in specific neighbourhoods in Surrey, Langley and Fraser Valley? 
Macdonald Realty has offices in North Delta, White Rock/South Surrey, and Langley.  Please email macrealty@macrealty.com or call 1-877-278-3888 to be matched with a REALTOR® working in your area.
MLS® Home Price Index (HPI) Benchmark Price
Average and median home prices are often misinterpreted, are affected by change in the mix of homes sold, and can swing dramatically from month to month (based on the types and prices of properties that sold in a given month). The MLS® HPI overcomes these shortcomings and uses the concept of a benchmark home, a notional home with common attributes of typical homes in a defined area. Visit www.housepriceindex.ca for more information.
This blog post is based on market data provided by the Fraser Valley Real Estate Board (FVREB) www.fvreb.bc.ca