For more than 6 million Canadians, young and old, struggling with the pain and disability of arthritis – Arthritis Research Canada provides life-changing answers and hope.
The 8th annual ARThritis Soirée is scheduled for Thursday, May 27, 2021 at 5:00pm PDT and will be presented in a new, virtual format. Bringing sponsors and guests from across Canada, for the first time.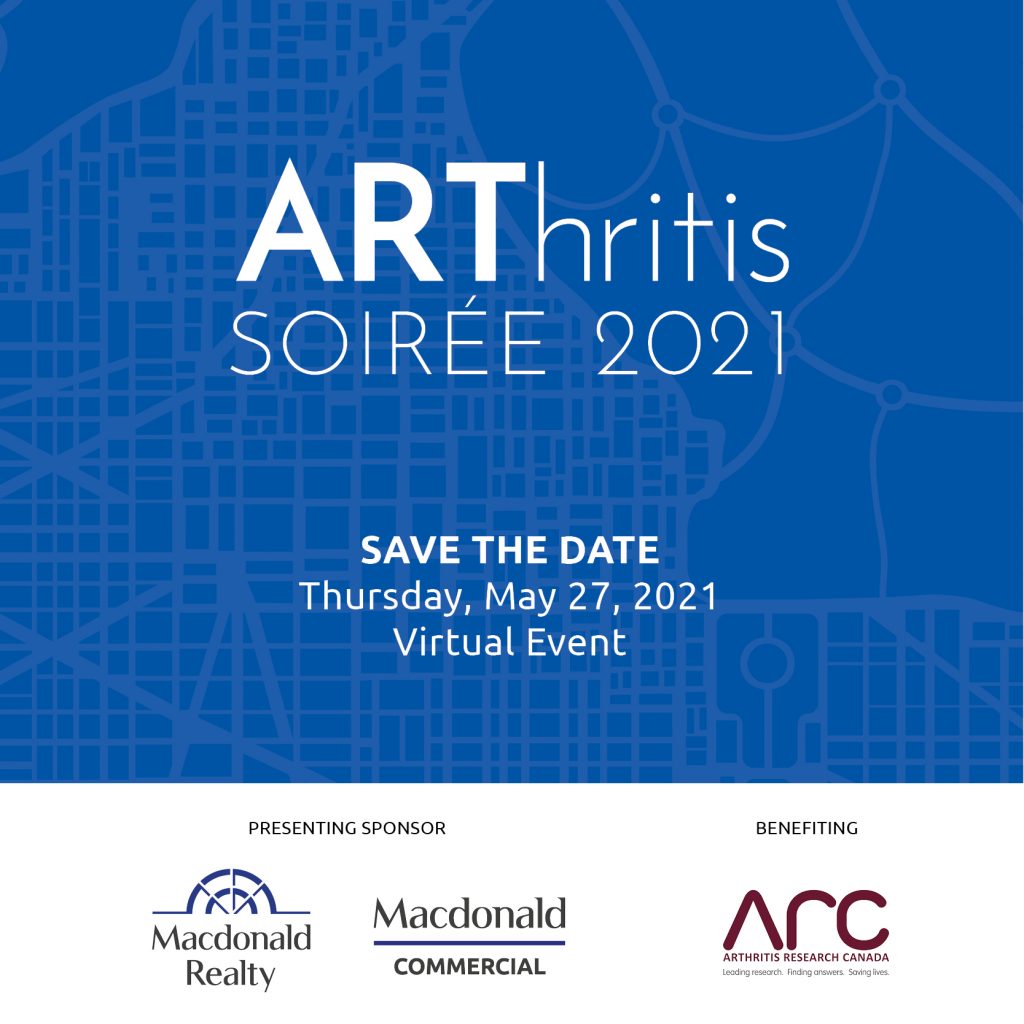 The evening promises something for everyone – an exquisite prize draw, fantastic silent and art auctions, and great entertainment. This is an important event to benefit arthritis research and help improve the quality of life for millions of Canadians.
"As Presenting Sponsors, Macdonald Realty and Macdonald Commercial extend our gratitude to all sponsors who, like us, are committed to ensuring our support for life-changing arthritis research goes ahead. Despite these uncertain times, we must push forward and do all we can to accelerate discovery and find answers. My deepest appreciation for your generosity at this very crucial time."
– Dan Scarrow, President, Macdonald Real Estate Group
For more information and tickets to for the ARThritis Soirée please visit arthritissoiree.ca. Please join us in supporting arthritis research.
To benefit:
Arthritis Research Canada/Arthrite-recherche Canada
Arthritis Research Canada is the largest arthritis research organization in North America with centres in British Columbia, Alberta and Quebec. With a dedicated team of more than 100 research scientists, assistants, and trainees – Arthritis Research Canada's work in arthritis prevention, early diagnosis, better treatment, and improved quality of life is internationally recognized. Arthritis Research Canada's patient-driven research is reducing the burden of arthritis and providing people with arthritis more timely and cost-effective solutions to address their healthcare needs, right now!
---
Make arthritis research a priority!
For more information and to learn how you can make a difference, visit Arthritis Research Canada.
SOURCE Arthritis Research Canada
For further information: Susan Le, Marketing and Communications Coordinator, Arthritis Research Canada, 604-207-4010 or mc@arthritisresearch.ca, www.arthritisresearch.ca
Related Links
http://www.arthritisresearch.ca/