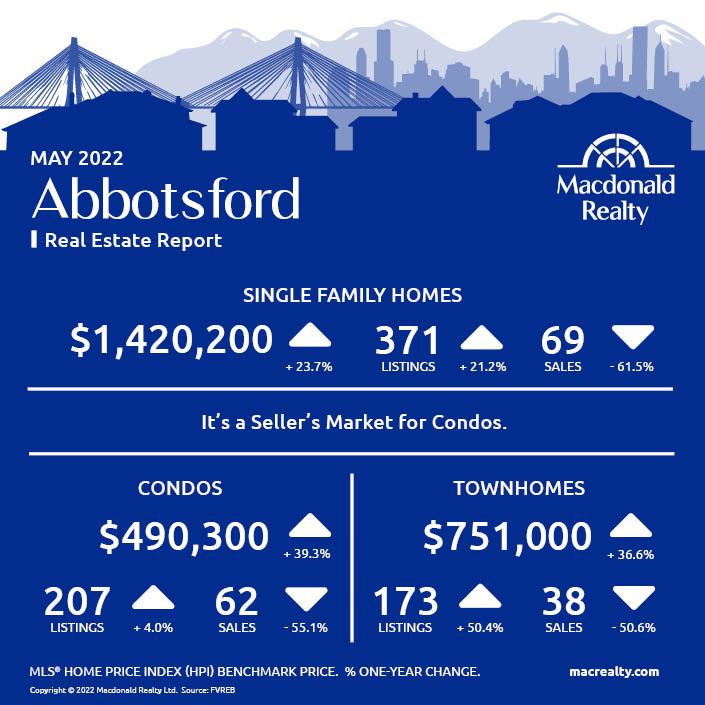 According to the Fraser Valley Real Estate Board, As property sales continue to fall in the Fraser Valley and active listings continue to grow, the region is edging towards more balanced levels not seen since the pre-pandemic period.
Sales of all property types in May were 1,360, down 16.9 per cent from April's 1,637; and down 53.9 per cent compared to May of 2021.
At the same time, active listings (the number of properties available for sale at a given moment during the month, in this case at the end of May) have more than tripled since December 2021. At the end of May, actives sat at 6,183, up 5.4 per cent year-over-year, and an increase of 14.8 per cent compared to April 2022.
The sales-to-active-listings ratio measures whether the market is balanced (12% to 20%) or favours either buyers (less than 12%) or sellers (greater than 20%). In May, the ratio for Fraser Valley all property types combined was 22
per cent, comparable to pre-pandemic conditions in early 2020. By comparison, during the pandemic, the ratio peaked at 92 per cent, indicating a strong seller's market.
"Since March, we've seen sales come down with an accompanying increase in inventory, subsequently restoring much-needed balance and cooling our heated market," said Fraser Valley Real Estate Board President, Sandra
Benz. "While still early, it suggests that as we gradually settle into a post-pandemic state of work and life, the big pandemic-era drivers – working from home and record low interest rates – may have run their course."
In May, MLS® HPI Benchmark prices for all three main property types decreased month-over-month for the first time since September 2019.
"The softening of prices will be welcome news for homebuyers, especially in the face of rising mortgage rates," said Fraser Valley Real Estate Board CEO, Baldev Gill. "The volatility we've witnessed over the past couple of years not only underscores the power of external events to affect the market but, in light of recent trends, the ability of the market itself, to adapt and trigger corrective mechanisms."
Find all the infographics related to the May Market Statistics by visiting the Facebook Album.
Abbotsford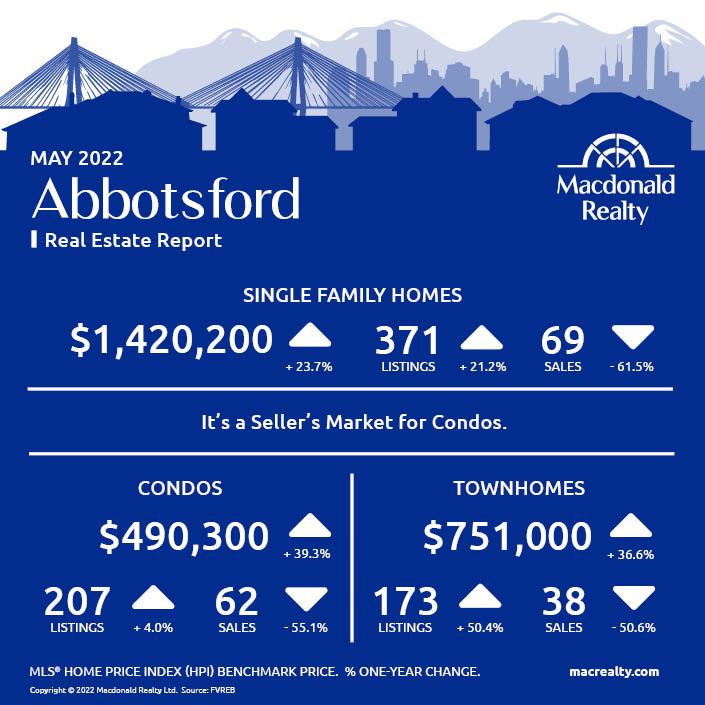 Cloverdale
Langley
Mission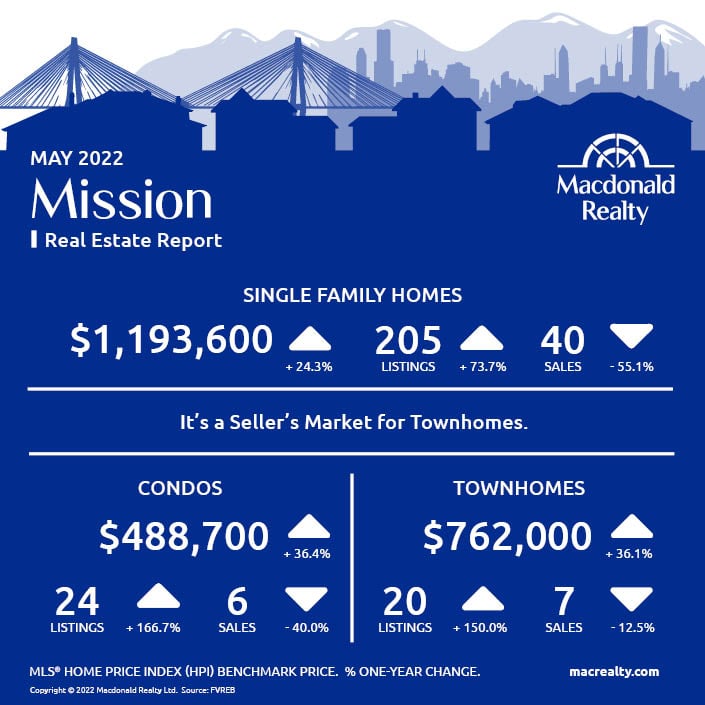 North Delta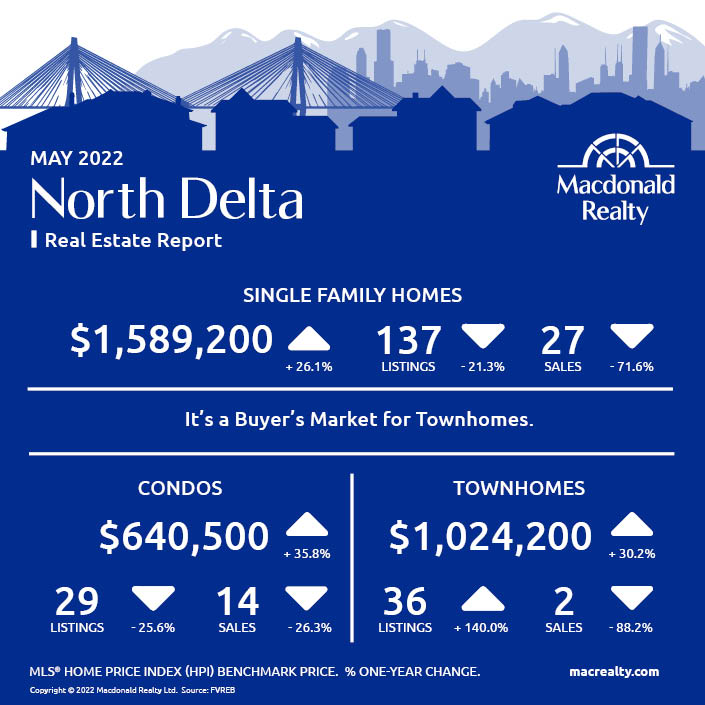 North Surrey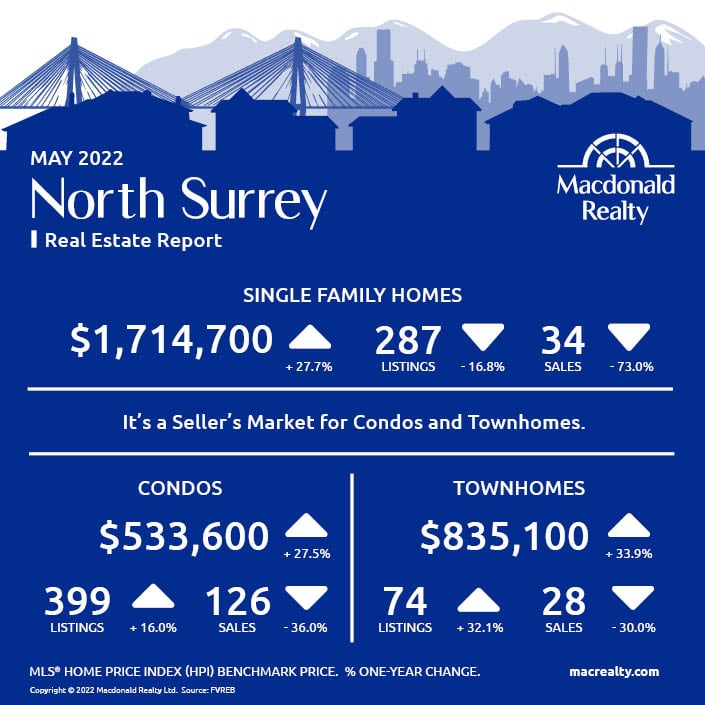 Surrey Central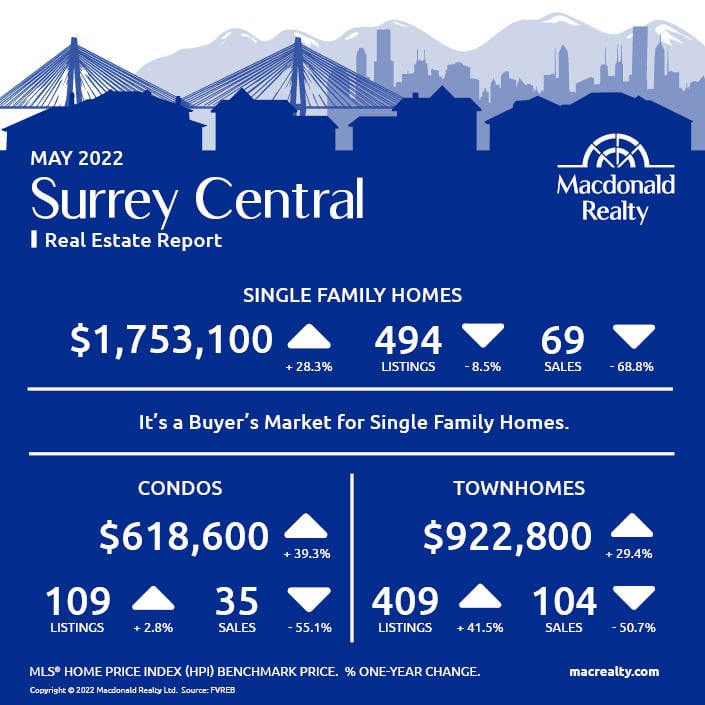 White Rock / South Surrey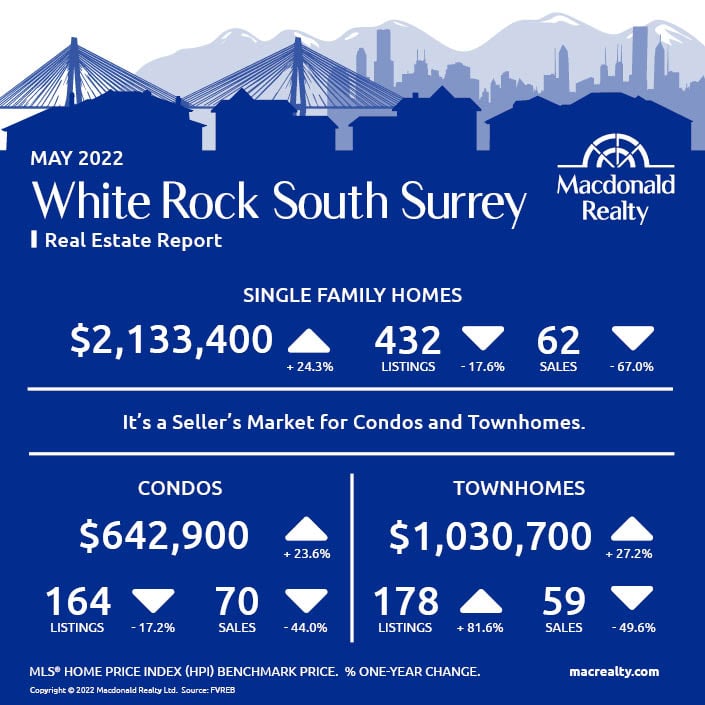 Looking for more information about the real estate market in specific neighbourhoods in Surrey, Langley and Fraser Valley? 
Macdonald Realty has offices in North Delta, White Rock/South Surrey, and Langley.  Please email macrealty@macrealty.com or call 1-877-278-3888 to be matched with a REALTOR® working in your area.
MLS® Home Price Index (HPI) Benchmark Price
Average and median home prices are often misinterpreted, are affected by change in the mix of homes sold, and can swing dramatically from month to month (based on the types and prices of properties that sold in a given month). The MLS® HPI overcomes these shortcomings and uses the concept of a benchmark home, a notional home with common attributes of typical homes in a defined area. Visit www.housepriceindex.ca for more information.
This blog post is based on market data provided by the Fraser Valley Real Estate Board (FVREB) www.fvreb.bc.ca