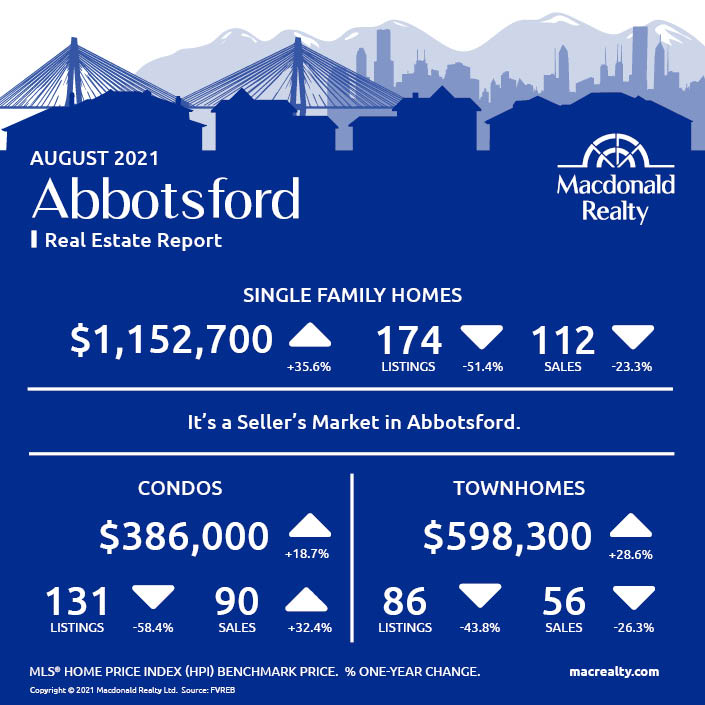 According to the Fraser Valley Real Estate Board home sales in the Fraser Valley region remained elevated in August reaching the second-highest sales ever for the month against a backdrop of decreasing supply.
The Board released the report saying they have processed a total of 2,087 property sales on its Multiple Listing Service® (MLS®) in August, an increase of 4.0 per cent compared to July and a 2.4 per cent increase compared to the same month last year. Sales remained unusually high for the month; second only to August of 2005.
As informed by the Board Larry Anderson, President of the Board, said, "Home buyers are facing one of the worst supply shortages in Fraser Valley history. Our sales are over 30 per cent above normal, while our housing stock is at levels last seen in the early 80s."To put our supply and demand situation in perspective, for every 100 townhomes on the market in August, Fraser Valley REALTORS® sold 94. The single-family detached and condo markets also remained in strong seller's market territory. Persistent demand and lack of supply continues to put upward pressure on home prices."
According to the Board release In August, they received 2,107 new listings, a decrease of 36.3 per cent compared to last year, and a decrease of 13.3 per cent compared to July 2021. The month ended with total active inventory sitting at 4,077, a 16.8 per cent decrease compared to July, and 44.9 per cent fewer than August 2020.
Baldev Gill, Chief Executive Officer of the Board, added, "To improve affordability, the BC government introduced the foreign buyers' tax in 2016 and the federal government introduced the mortgage stress test two years later. And yet, in the last five years, the price of a typical detached home in the Fraser Valley has increased by 50 per cent. "Those measures did not address the core issue, which is insufficient supply to meet the rise in our population growth. All levels of government must work together to correct the structural housing shortage."
Across Fraser Valley, in August, the average number of days to sell a single-family detached home was 29 and a townhome was 19 days. Apartments took, on average, 29 days to sell.
Find all the infographics related to the April Market Statistics by visiting the Facebook Album.
Abbotsford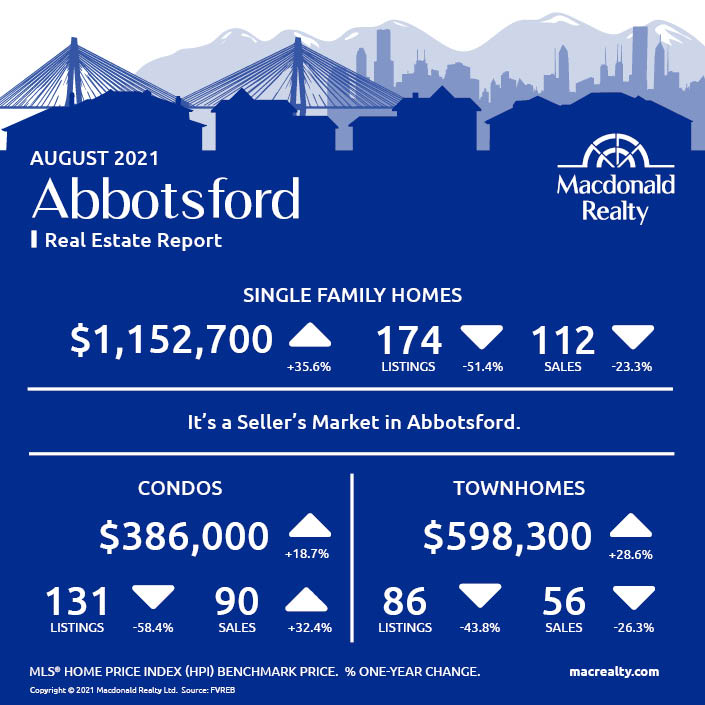 Cloverdale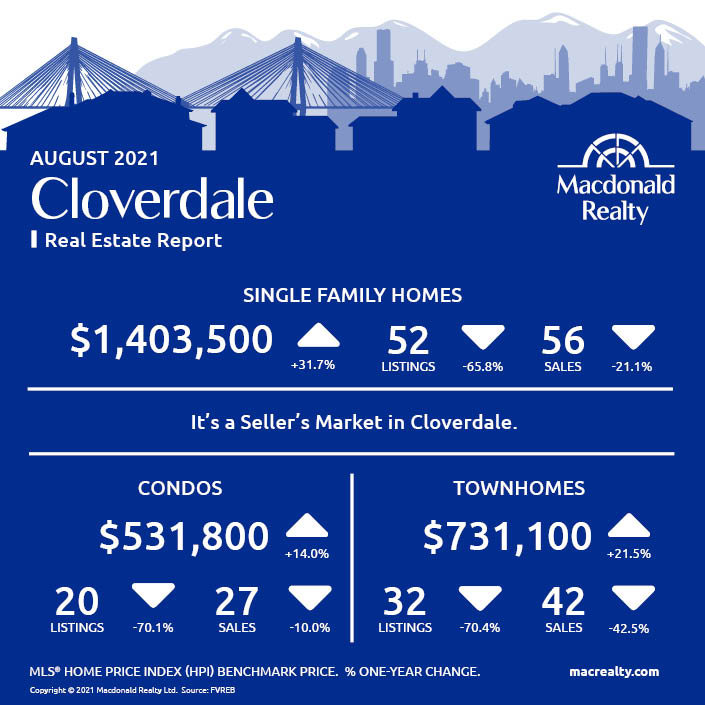 Langley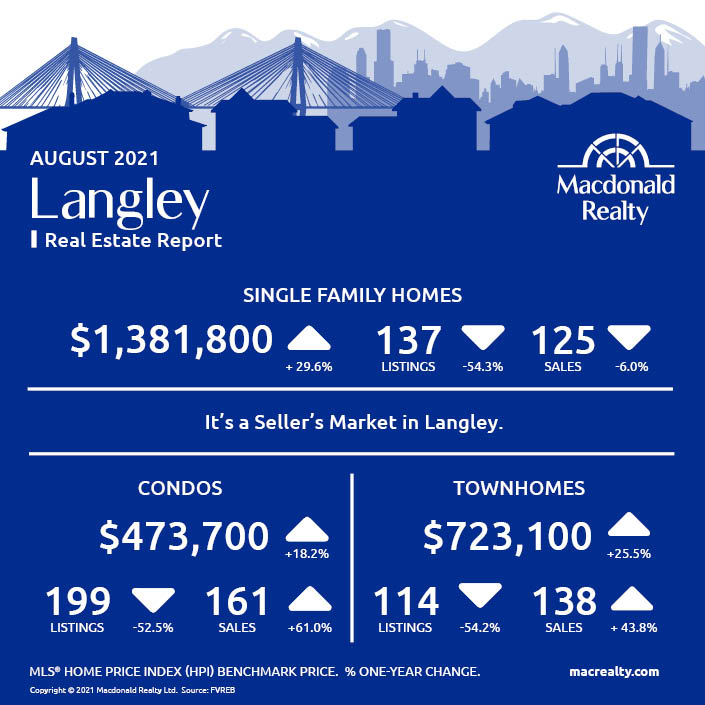 Mission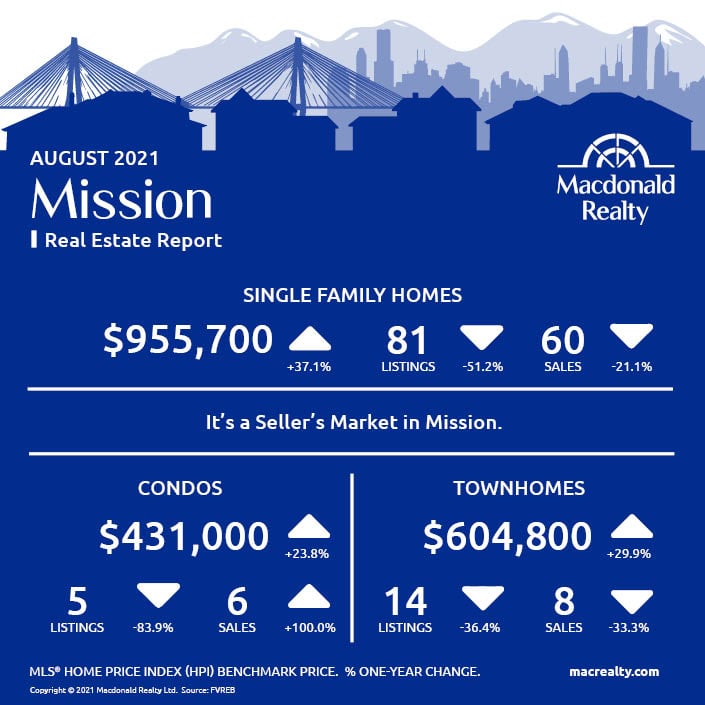 North Delta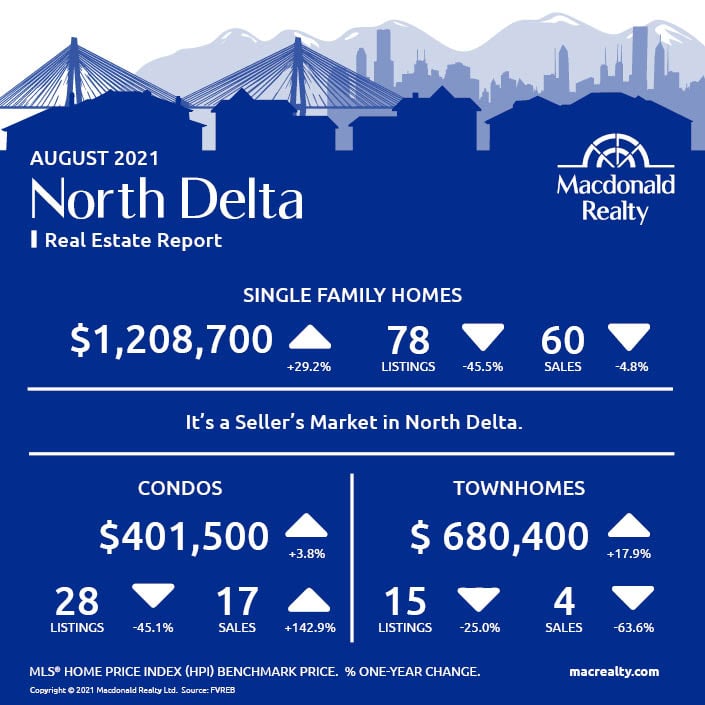 North Surrey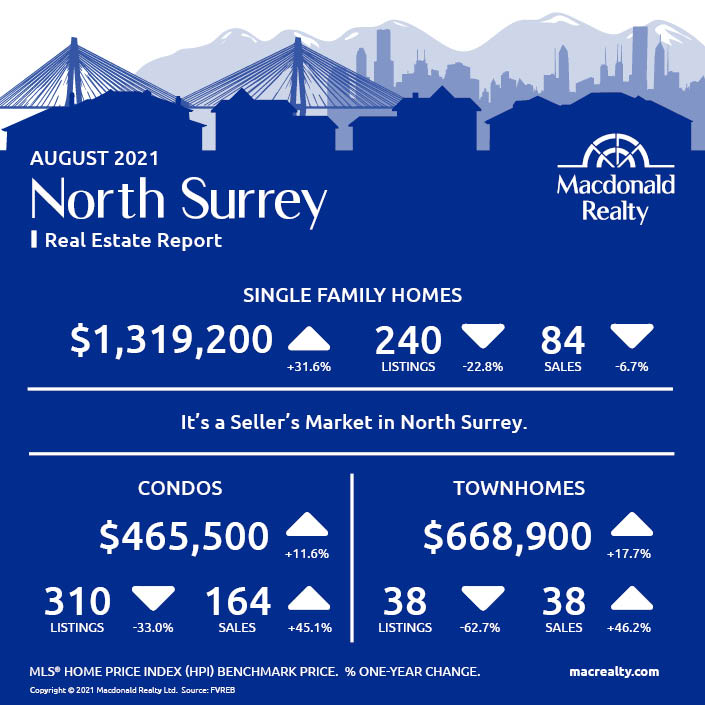 Surrey Central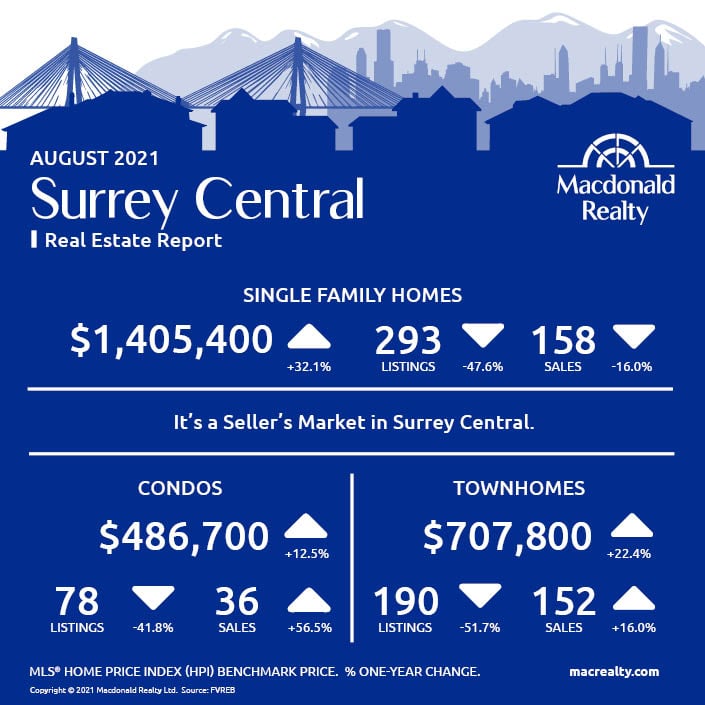 White Rock / South Surrey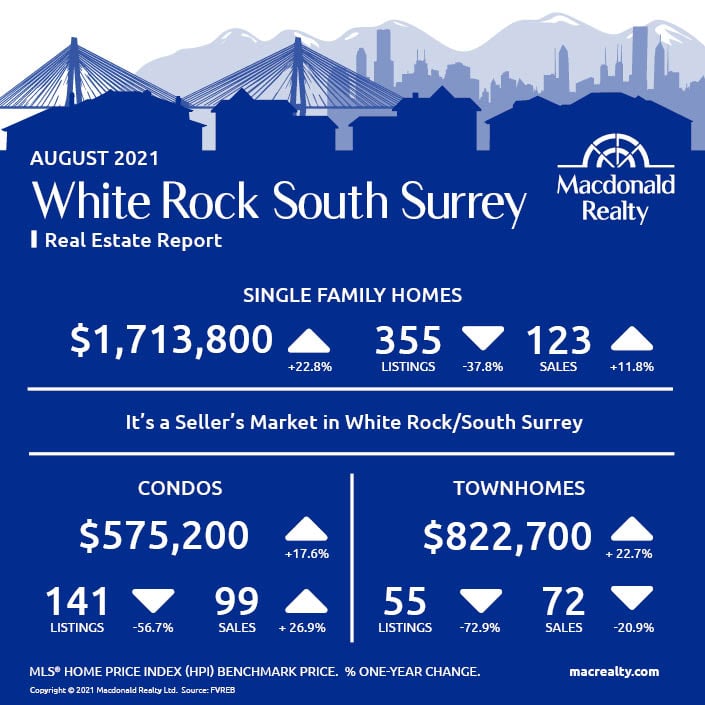 Looking for more information about the real estate market in specific neighbourhoods in Surrey, Langley and Fraser Valley? 
Macdonald Realty has offices in North Delta, White Rock/South Surrey, and Langley.  Please email macrealty@macrealty.com or call 1-877-278-3888 to be matched with a REALTOR® working in your area.
MLS® Home Price Index (HPI) Benchmark Price
Average and median home prices are often misinterpreted, are affected by change in the mix of homes sold, and can swing dramatically from month to month (based on the types and prices of properties that sold in a given month). The MLS® HPI overcomes these shortcomings and uses the concept of a benchmark home, a notional home with common attributes of typical homes in a defined area. Visit www.housepriceindex.ca for more information.
This blog post is based on market data provided by the Fraser Valley Real Estate Board (FVREB) www.fvreb.bc.ca