According to the Fraser Valley Real Estate Board they have registered another record‐setter for property sales.
As released by the FVREB "In a month that is usually one of the quietest in real estate, Fraser Valley's market continued at a breakneck pace, producing the strongest January sales on record as well as a modest uptick in new listings. The Fraser Valley Real Estate Board processed a total of 1,718 sales of all property types on its Multiple Listing Service® (MLS®) in January 2021, an increase of 76%compared to January 2020 and 18% fewer than were processed in December 2020. Sales in January set a new, record high for the month; 72% above the 10‐year average, and 28% higher than the previous record of 1,338 sales set in January 2016."
"Buyers are very motivated right now," said Chris Shields, President of the Board, "Lending rates are the lowest they've ever been, your housing dollar goes further in the Fraser Valley and we've seen a societal shift in the last
year in how people value their homes. People are asking us to find them more space. "I am working with a young couple who want and are able to move up – from a condo to a townhome – due to interest rates and the equity they've gained over the last couple of years. The challenge is supply. It improved slightly in January, but we've got a long way to go to replenish our housing stock. It remains a seller's market."
Find all the infographics related to the May Market Statistics by visiting the Facebook Album.
Abbotsford
Cloverdale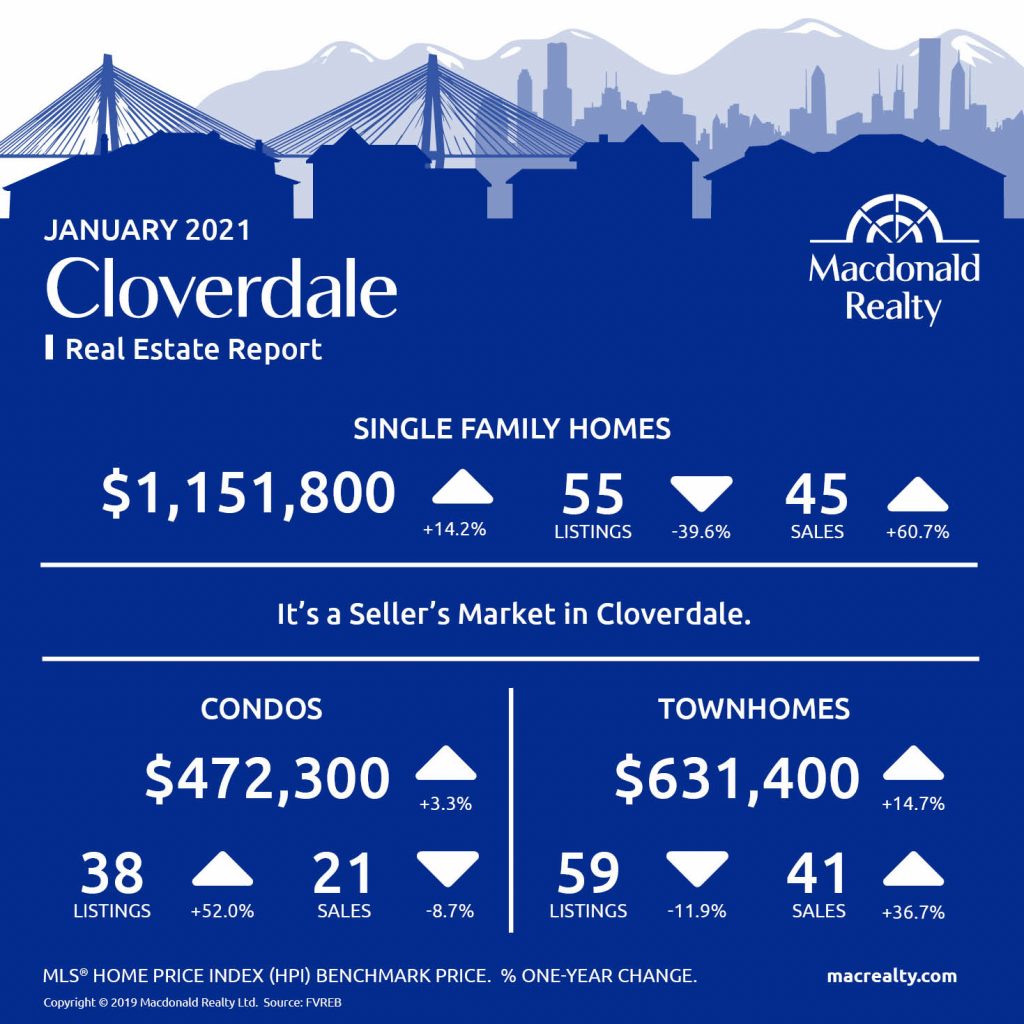 Langley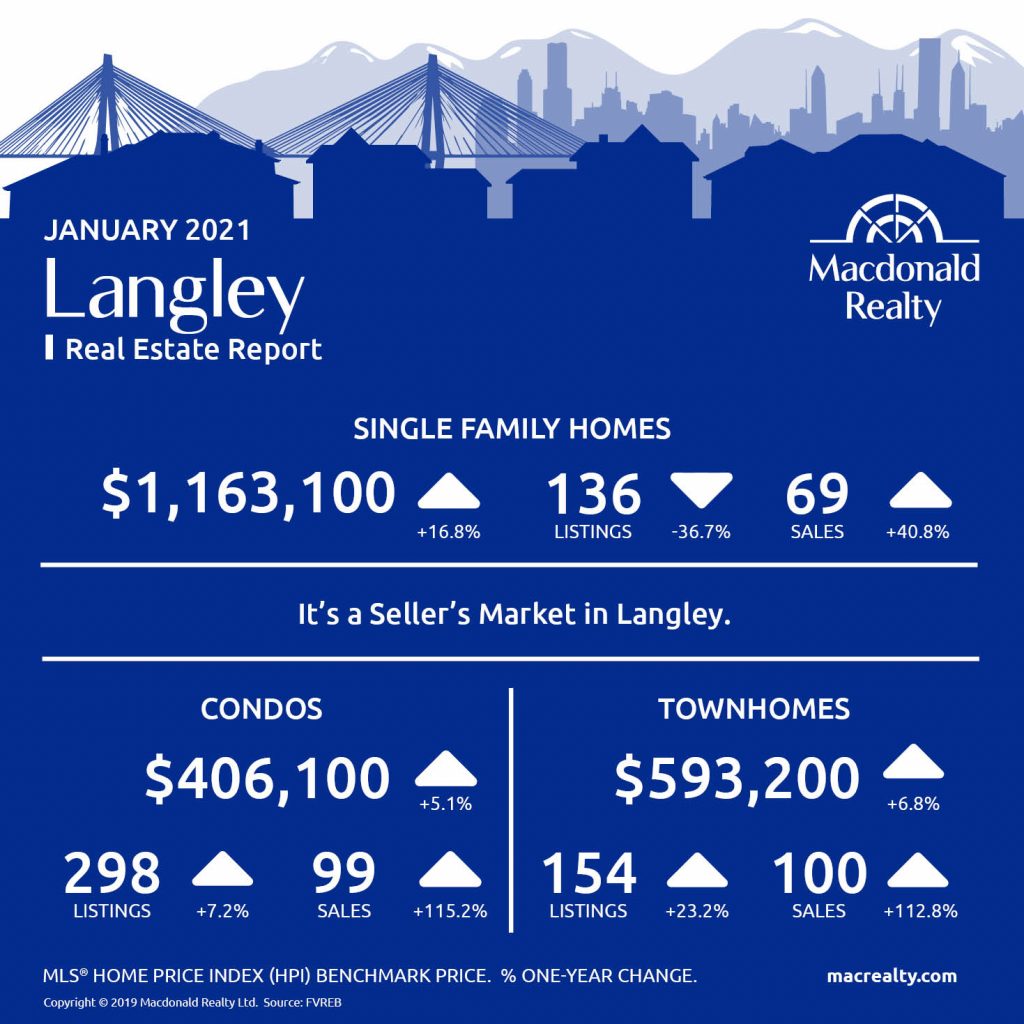 Mission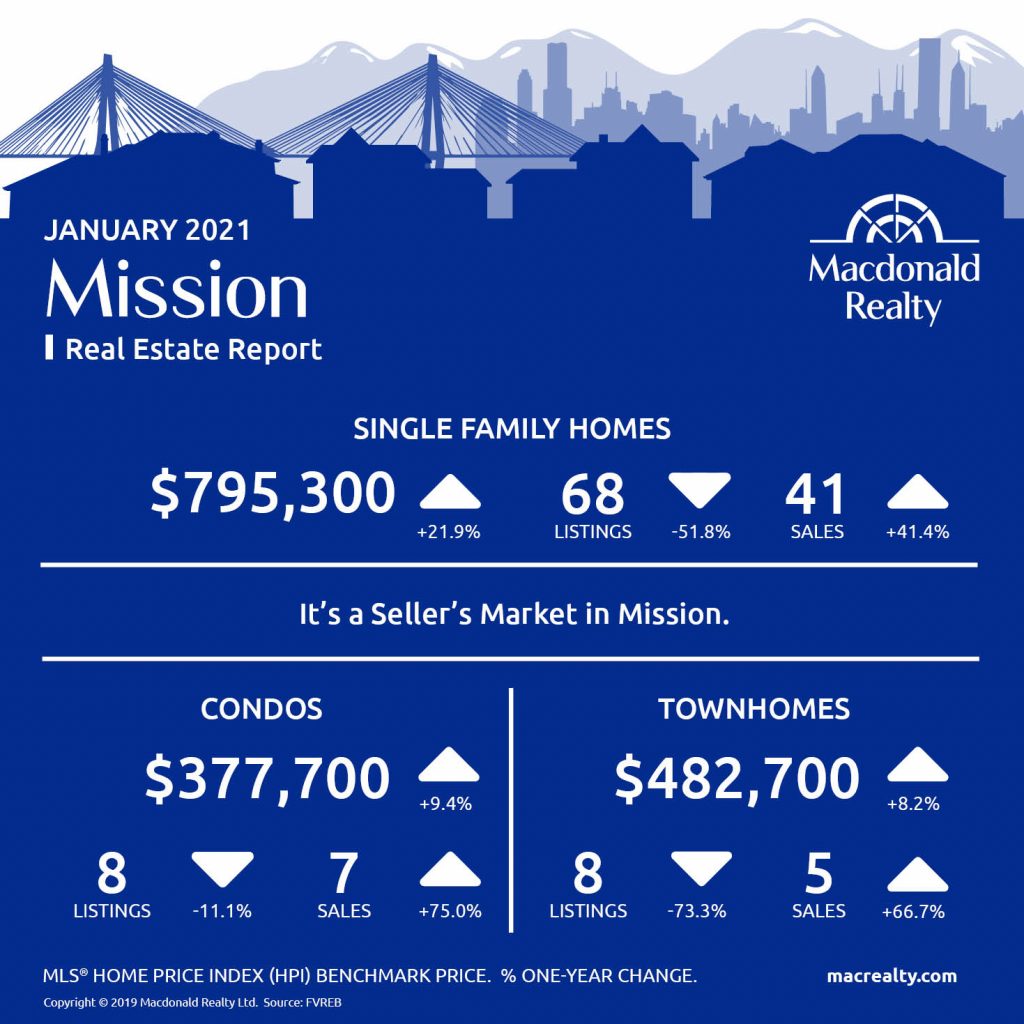 North Delta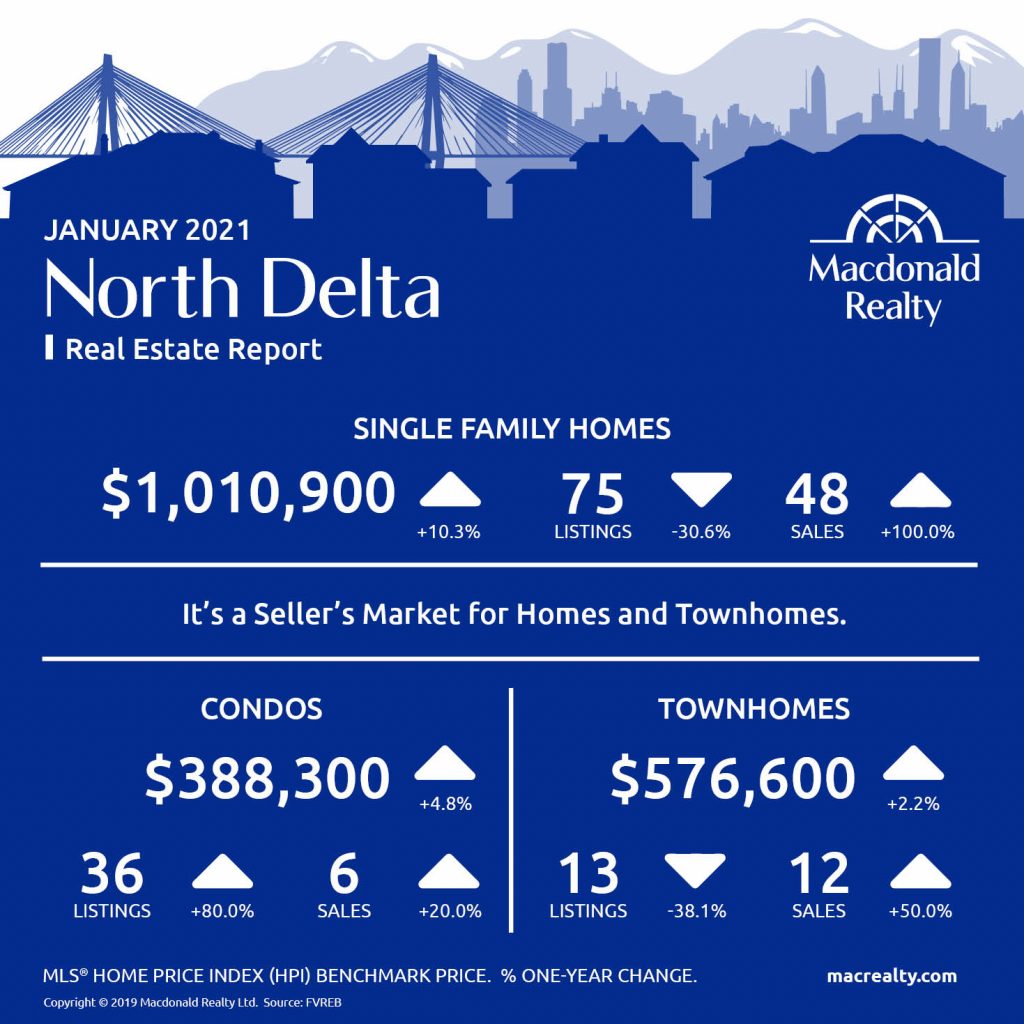 North Surrey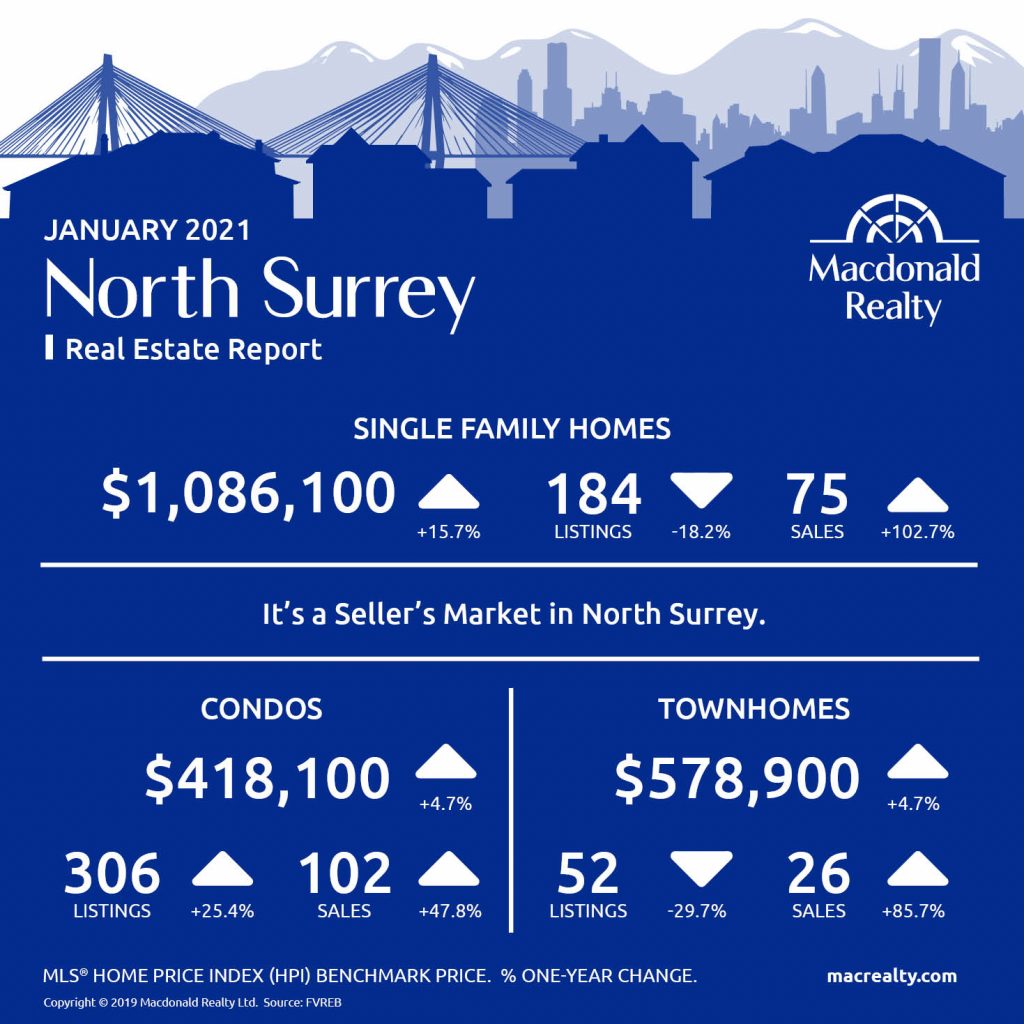 Surrey Central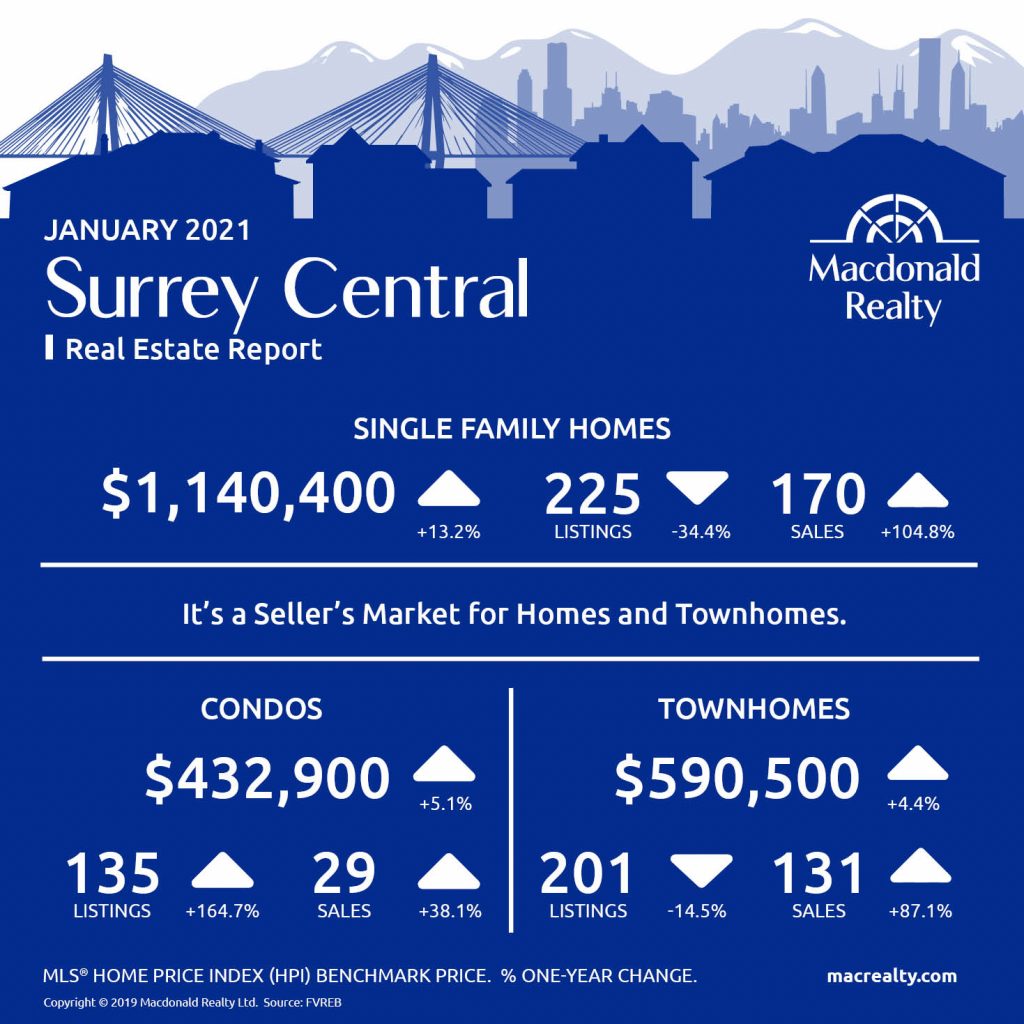 White Rock / South Surrey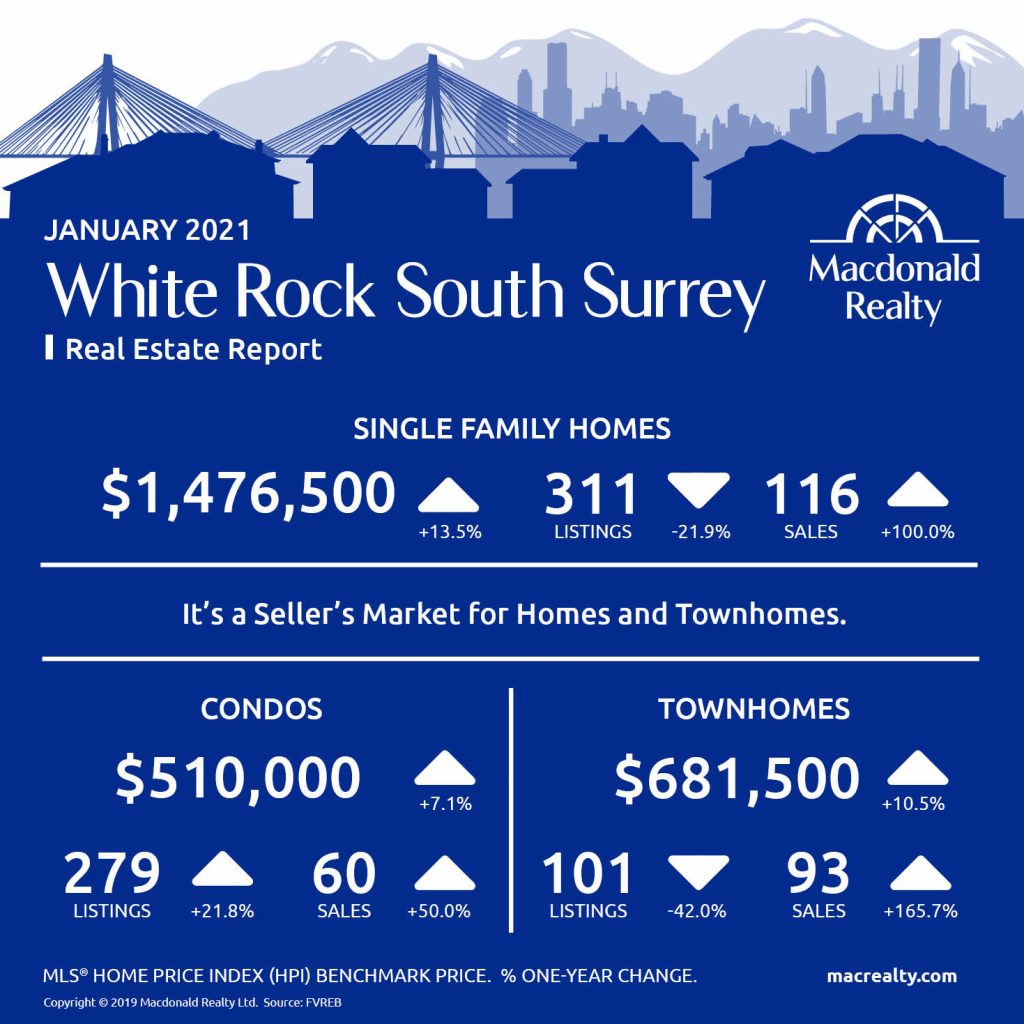 Looking for more information about the real estate market in specific neighbourhoods in Surrey, Langley and Fraser Valley? 
Macdonald Realty has offices in North Delta, White Rock/South Surrey, and Langley.  Please email macrealty@macrealty.com or call 1-877-278-3888 to be matched with a REALTOR® working in your area.
MLS® Home Price Index (HPI) Benchmark Price
Average and median home prices are often misinterpreted, are affected by change in the mix of homes sold, and can swing dramatically from month to month (based on the types and prices of properties that sold in a given month). The MLS® HPI overcomes these shortcomings and uses the concept of a benchmark home, a notional home with common attributes of typical homes in a defined area. Visit www.housepriceindex.ca for more information.
This blog post is based on market data provided by the Fraser Valley Real Estate Board (FVREB) www.fvreb.bc.ca