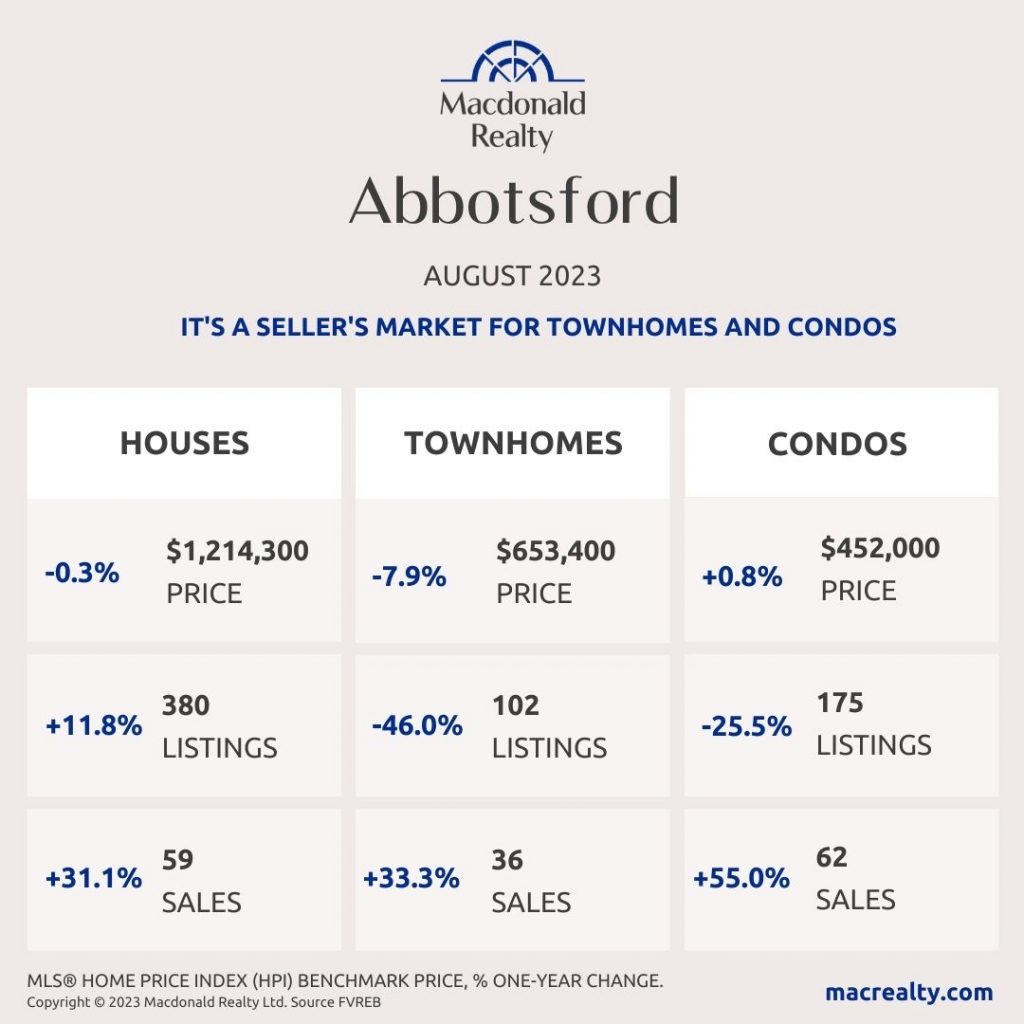 A combination of seasonal trends and cautious anticipation of the next rate announcement saw the Fraser Valley real estate market slow in August as sales fell slightly for the second month, after reaching a 15-month high in June.
The Fraser Valley Real Estate Board recorded 1,273 sales on its Multiple Listing Service (MLS®) in August 2023, a decrease of 6.9 per cent compared to July. Sales were up 25.2 per cent compared to August 2022.
New listings dropped to 2,622 in August, a decrease of 8.2 per cent over last month, but 28.2 per cent above this time last year. Active listings have been rising since last December and grew again in August by 1.5 per cent to 6,291, just 7 per cent off the ten-year average.
"Many buyers are in "watchful waiting" mode as they hold off on decisions in anticipation of potential further rate changes," said Narinder Bains, Chair of the Fraser Valley Real Estate Board. "With prices relatively stable and active inventory on the rise, we hope to see more new listings come on stream over the next couple of months, especially if rates hold steady."
With a sales-to-active-listings ratio of 16 per cent, the market for detached homes was balanced between supply and demand. Demand for townhomes and apartments remained stronger (38 per cent and 32 per cent, respectively). The market is considered balanced when the sales-to-active-listings ratio is between 12 per cent and 20 per cent.
Benchmark prices in the Fraser Valley, remained relatively unchanged compared to last month with gains of less than one per cent across all property types. See below for more information.
"We expect to see market activity pick up heading into the fall months," said FVREB CEO, Baldev Gill. "That said, with the uncertainty surrounding interest rates as well as the potential impact of provincial housing strategy initiatives, buyers and sellers would be well-advised to consult with a professional REALTOR® to assess any risks and opportunities before making a decision."
Find all the infographics related to the August Market Statistics by visiting the Facebook Album.
Abbotsford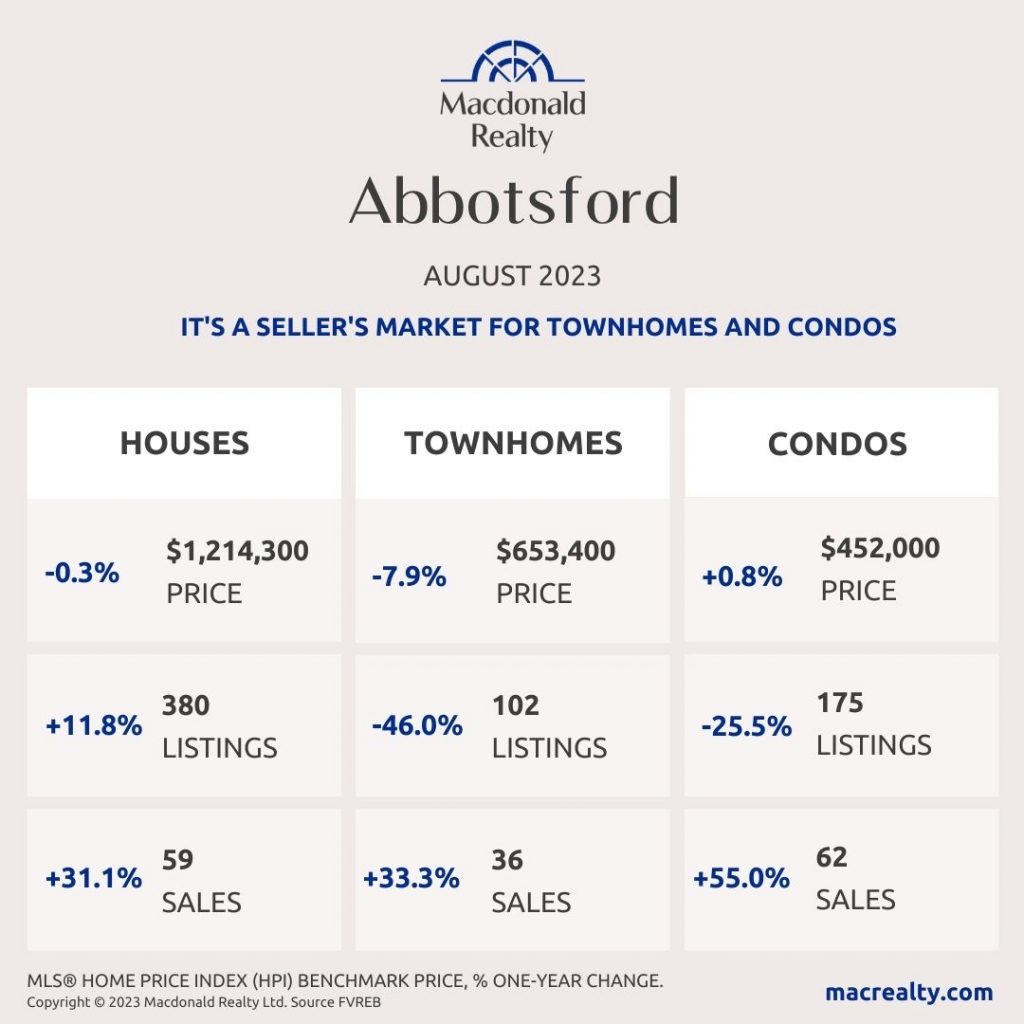 Cloverdale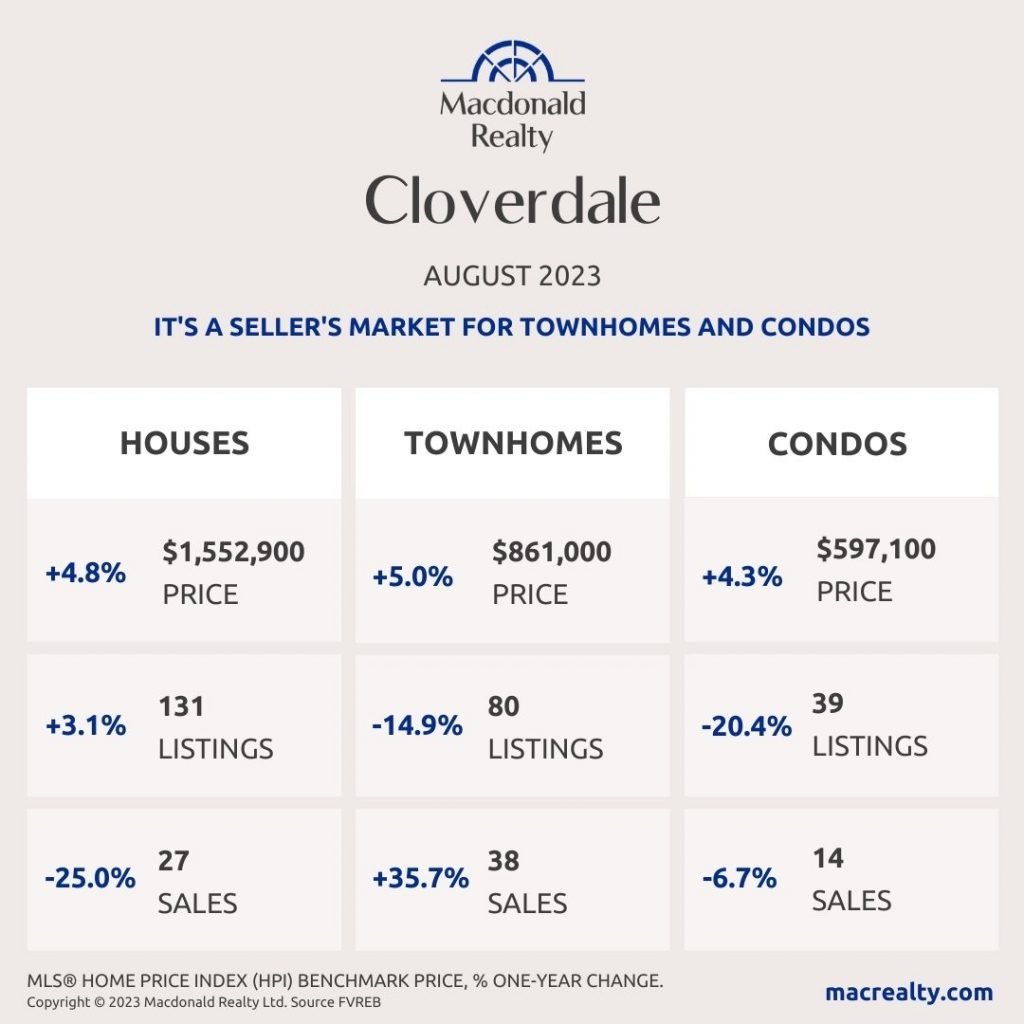 Langley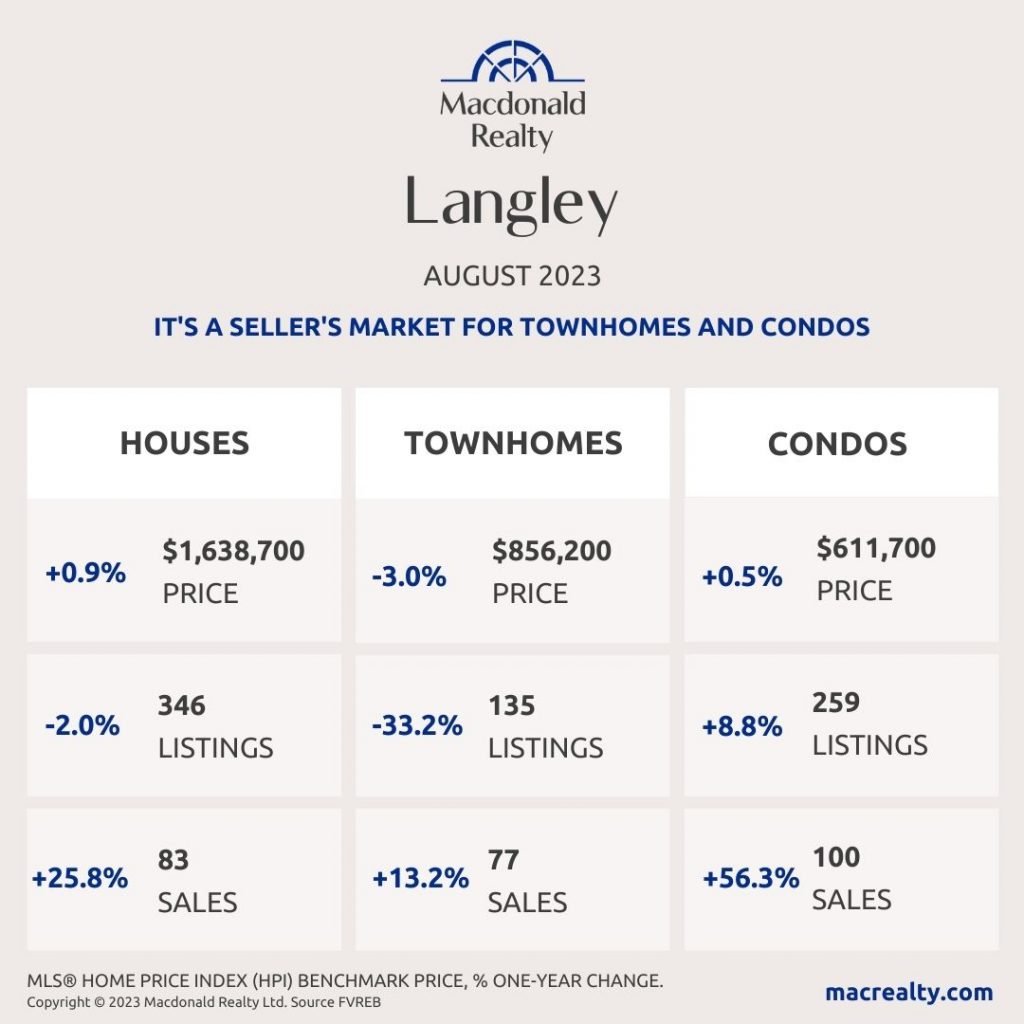 Mission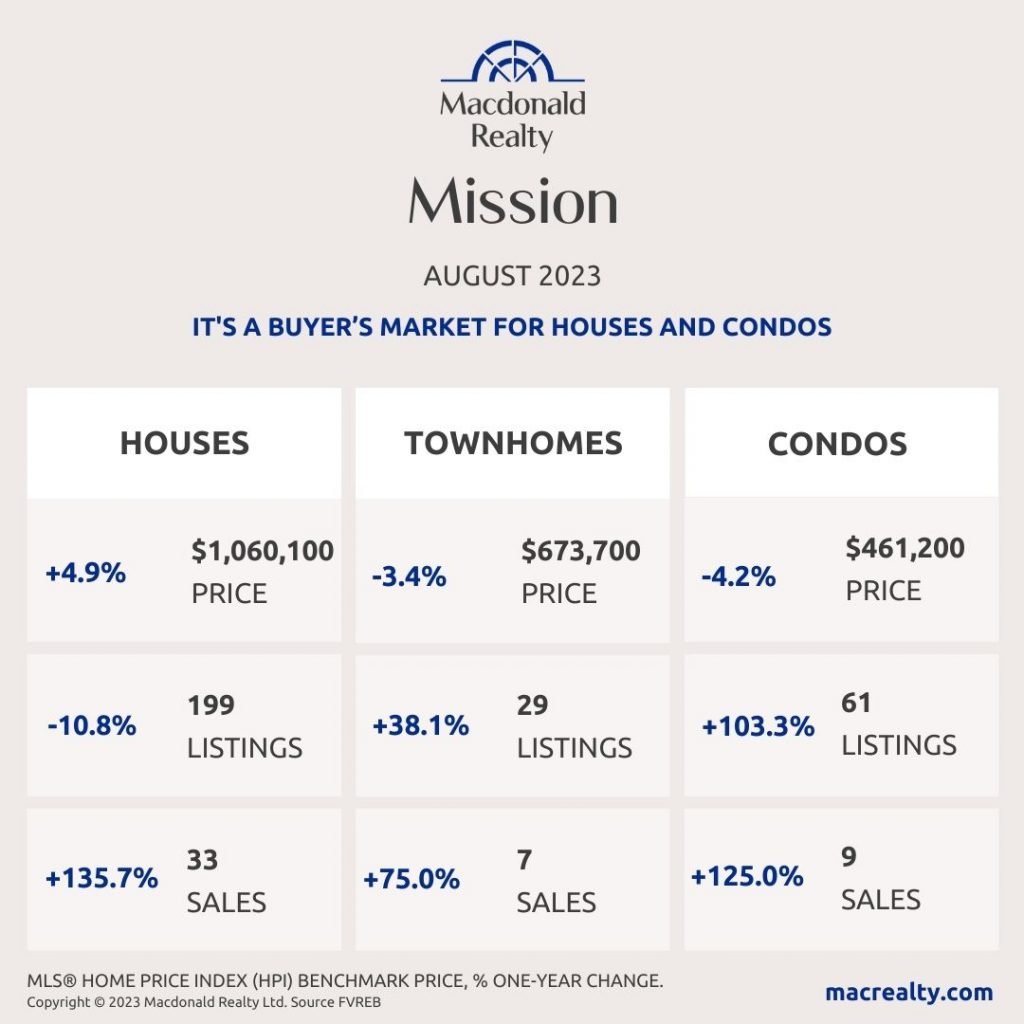 North Delta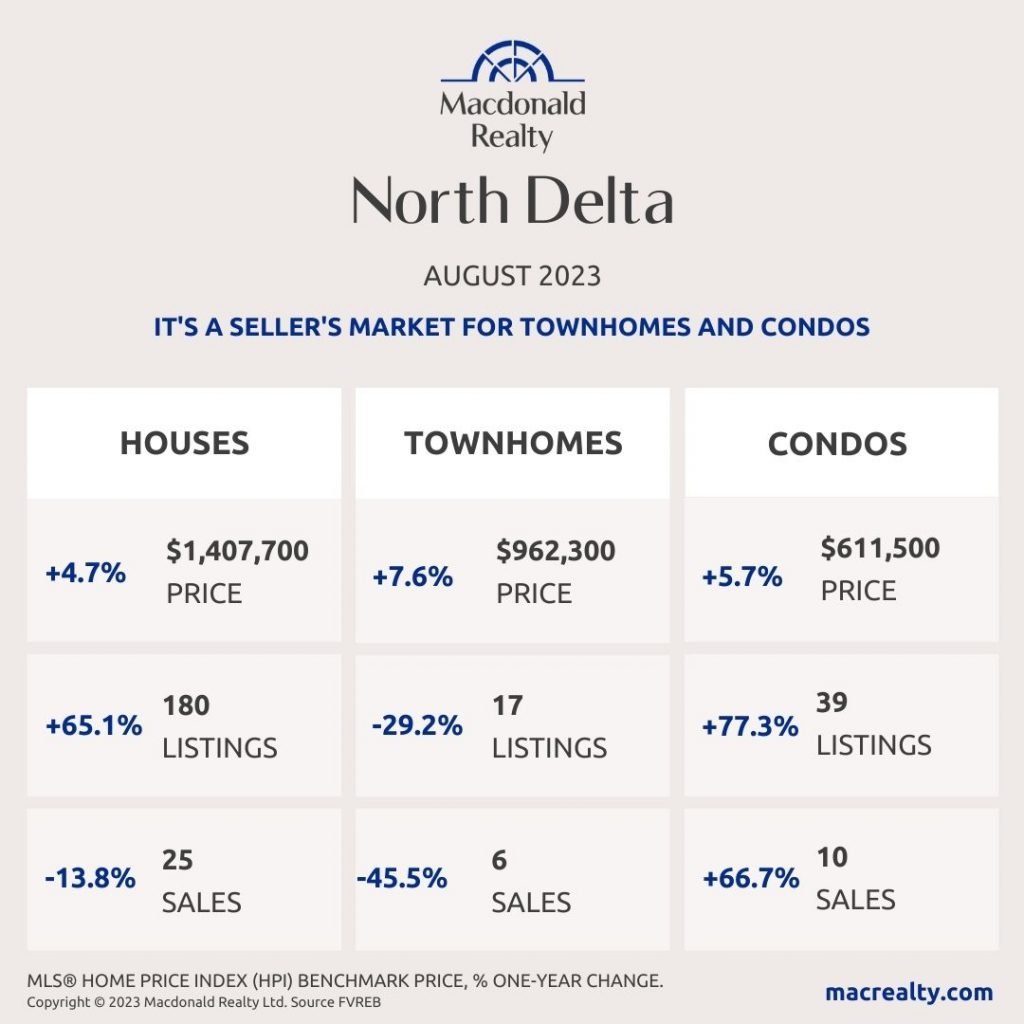 North Surrey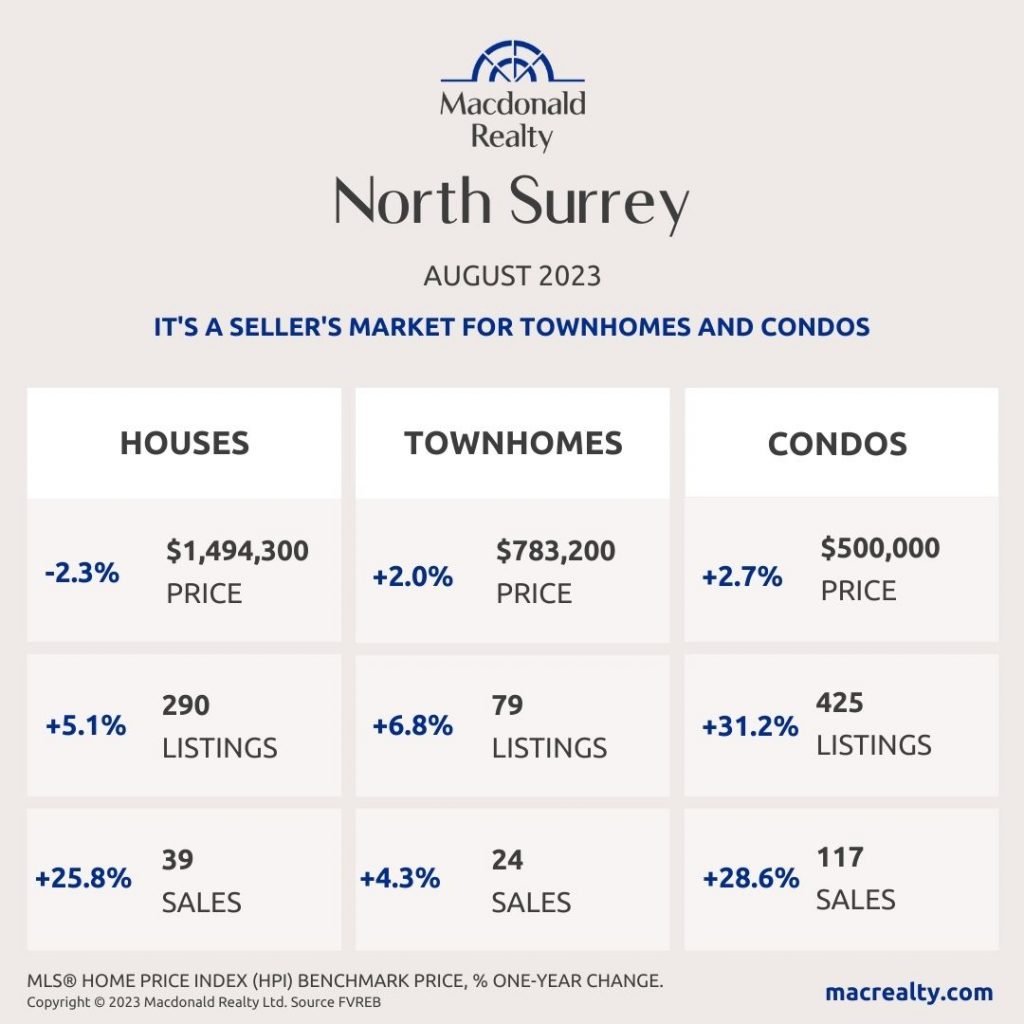 Surrey Central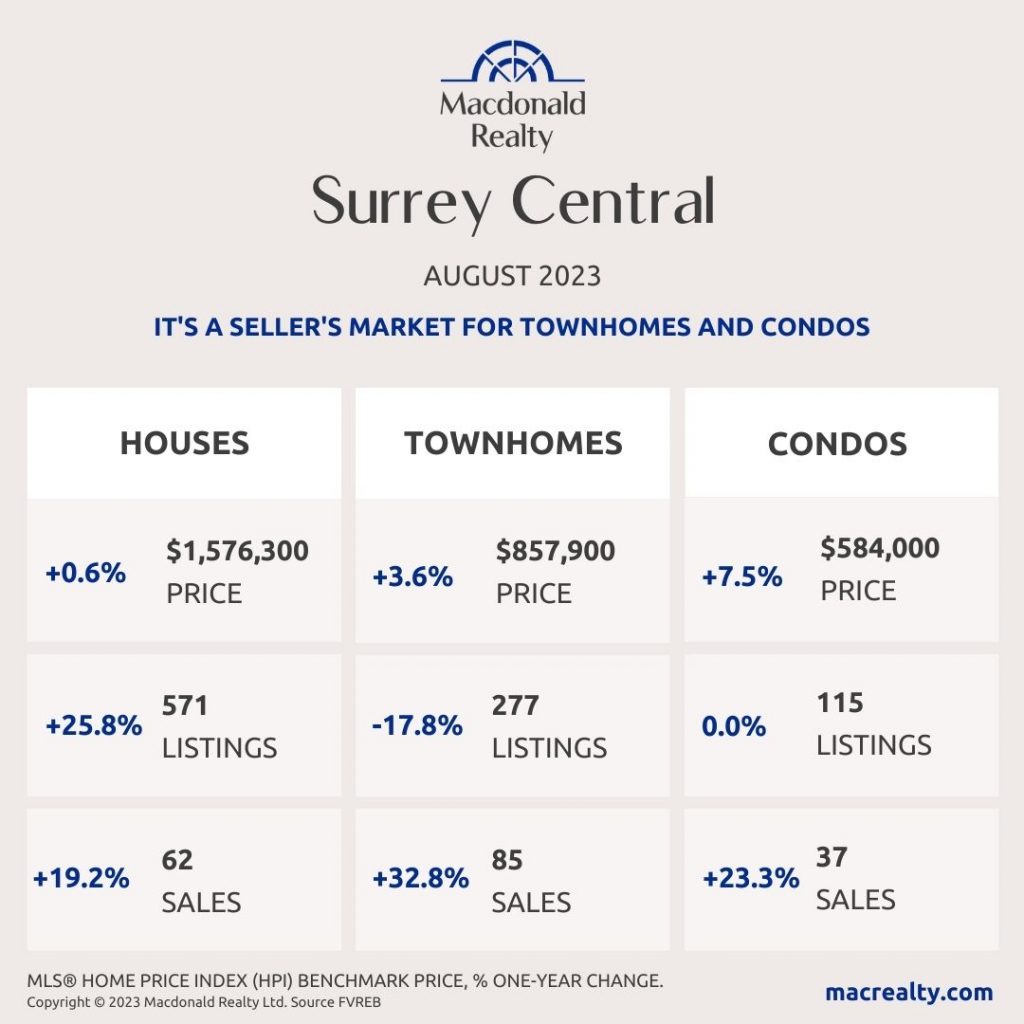 White Rock / South Surrey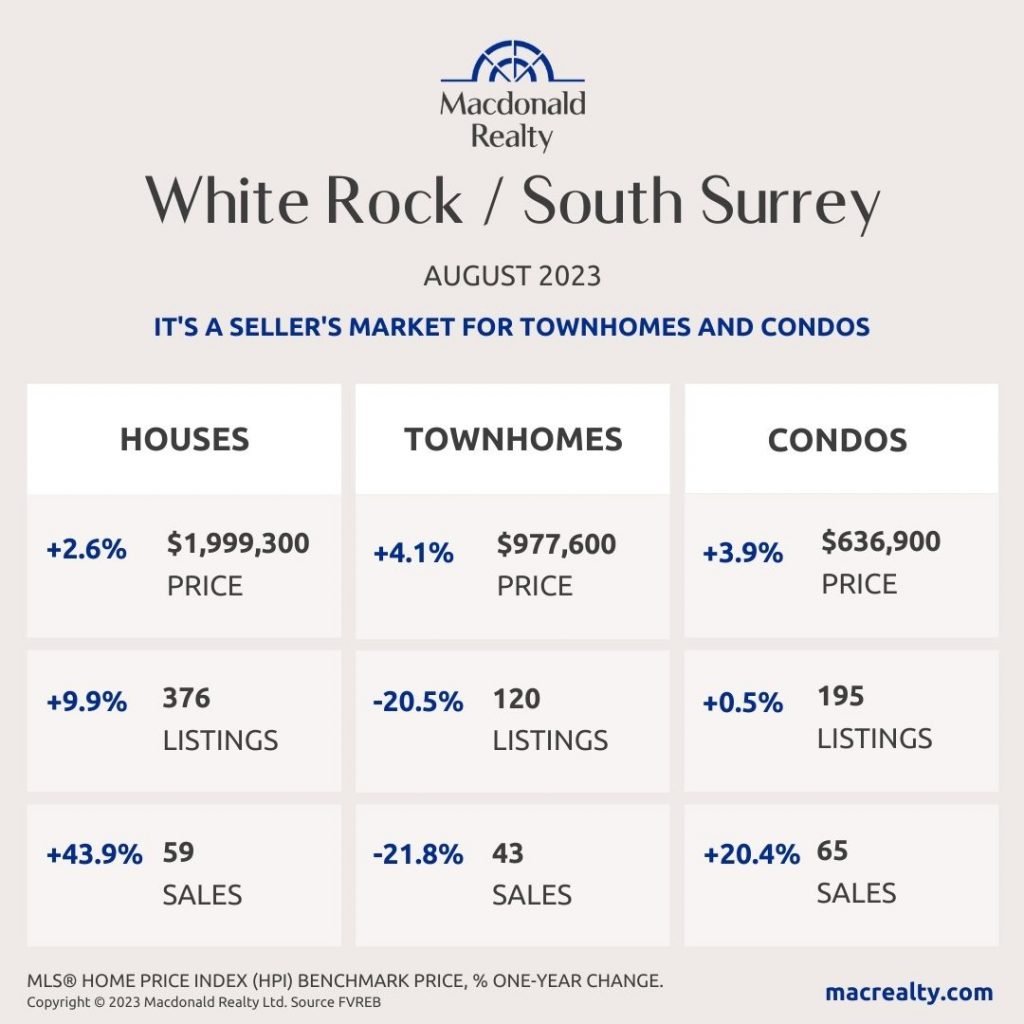 Looking for more information about the real estate market in specific neighbourhoods in Surrey, Langley and Fraser Valley? 
Macdonald Realty has offices in North Delta, White Rock/South Surrey, and Langley.  Please email macrealty@macrealty.com or call 1-877-278-3888 to be matched with a REALTOR® working in your area.
MLS® Home Price Index (HPI) Benchmark Price
Average and median home prices are often misinterpreted, are affected by change in the mix of homes sold, and can swing dramatically from month to month (based on the types and prices of properties that sold in a given month). The MLS® HPI overcomes these shortcomings and uses the concept of a benchmark home, a notional home with common attributes of typical homes in a defined area. Visit www.housepriceindex.ca for more information.
This blog post is based on market data provided by the Fraser Valley Real Estate Board (FVREB) www.fvreb.bc.ca