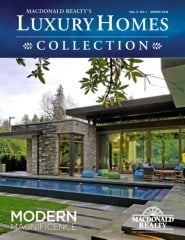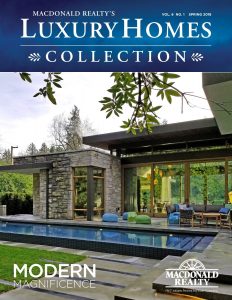 Our Luxury Homes Collection Magazine has reached its sixth year of production and continues to showcase fantastic properties from across our regions in British Columbia. We are proud to present this Spring 2018 edition featuring a diverse range of specialized homes, luxury living and custom details, there is something for everyone.
It's been interesting to observe all the changes in ever-evolving BC real estate industry and how the market was able to adjust to the numerous shifts. These changes will likely continue to happen in 2018 as well with the new government policies, advancement of the industry standards and the economy itself. Only time will tell the impact of the new property tax rate on the real estate luxury market and the industry on the whole.
Read the inside cover message from our CEO Lynn Hsu and her insights on the market trends and how Macdonald Real Estate Group showcased outstanding growth and an incredible number of sales over the years. We are inspired for another great year of new achievements and success for our clients, realtors, staff and management teams.
Our Cover Story is a custom designed modern dream home in Vancouver Point Grey. This contemporary home is a collective effort of designers and landscapers featuring open-space concept, simple yet elegant details and quality of materials. Among the modern amenities are; covered and outdoor patios, infinity pool, entertainment room and gym, private yards and in-home hi-tech systems. Conveniently located in a close proximity to renowned private schools, UBC and golf course.
CLICK HERE to view the digital edition on your computer or tablet