Here are the latest real estate market statistics from Macdonald Realty on Greater Victoria, Parksville/Qualicum, and Nanaimo listings and sales in December 2019.


Greater Victoria
"Overall, our market throughout 2019 can be characterized as still active, slow to grow and low in supply," says 2019 Victoria Real Estate Board President Cheryl Woolley.
"Last year we saw many prospective buyers sit on the sidelines waiting for inventory to be added. As a result of this unmet demand, there was and continues to be a push from consumers to create townhomes and condos at accessible price points. We began 2019 discussing the potential impact of various taxes and lending rules introduced by the federal and provincial governments that were designed to calm housing market activity – although this activity had already begun to slow following our hyper-active market in 2016/17. The most impactful government change we saw was the tighter mortgage lending rules, which lowered consumer borrowing power and made many unable to qualify for the value of mortgages they had in the past, therefore compressing more demand into our mid- and lower-priced property market."
In December 2019, there were 153 sales of single-family homes and 511 active listings in Greater Victoria. The benchmark sale price was $753,100.
In comparison, the Condo market had 121 sales and 453 active listings at the end of the month. The benchmark sale price was $510,800.
Townhome sales were 43, active listings were 157 and the benchmark sale price was $594,600.
It's a seller's market in Greater Victoria.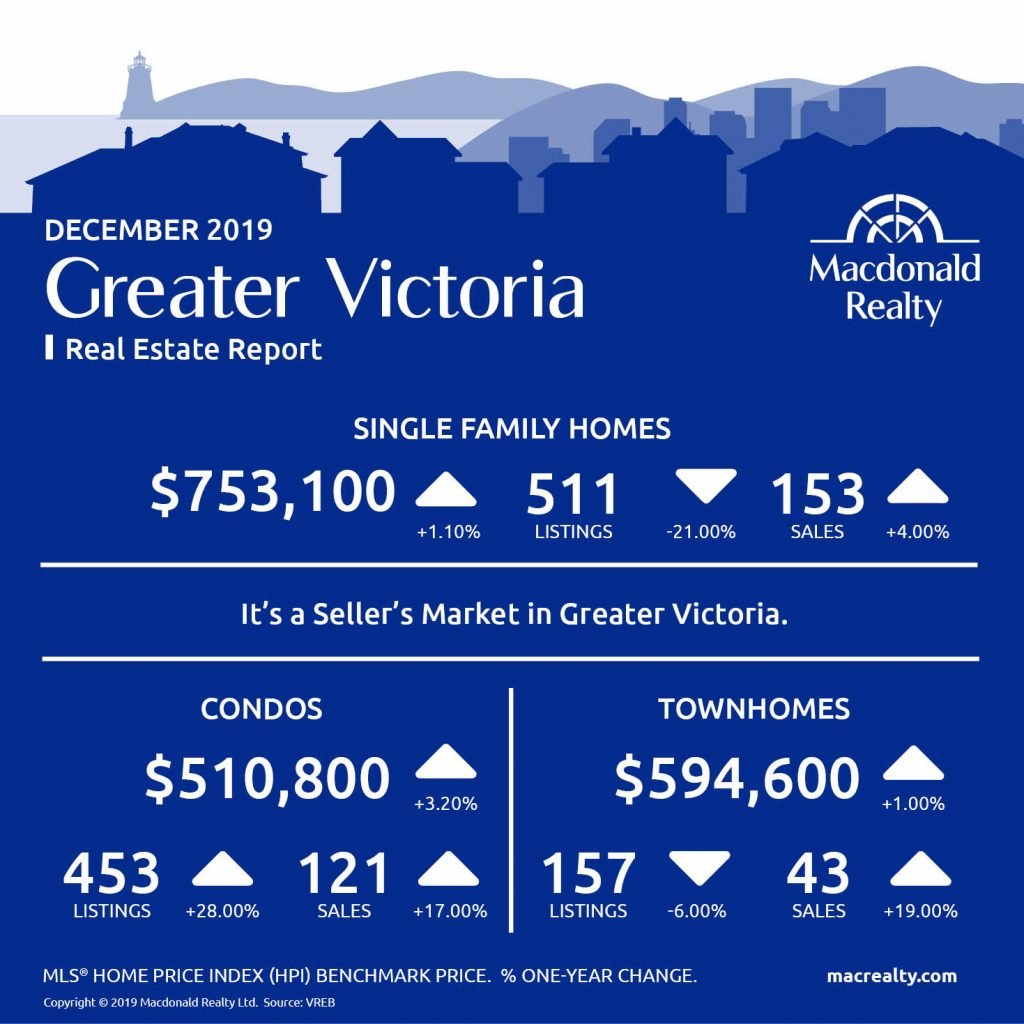 Parksville / Qualicum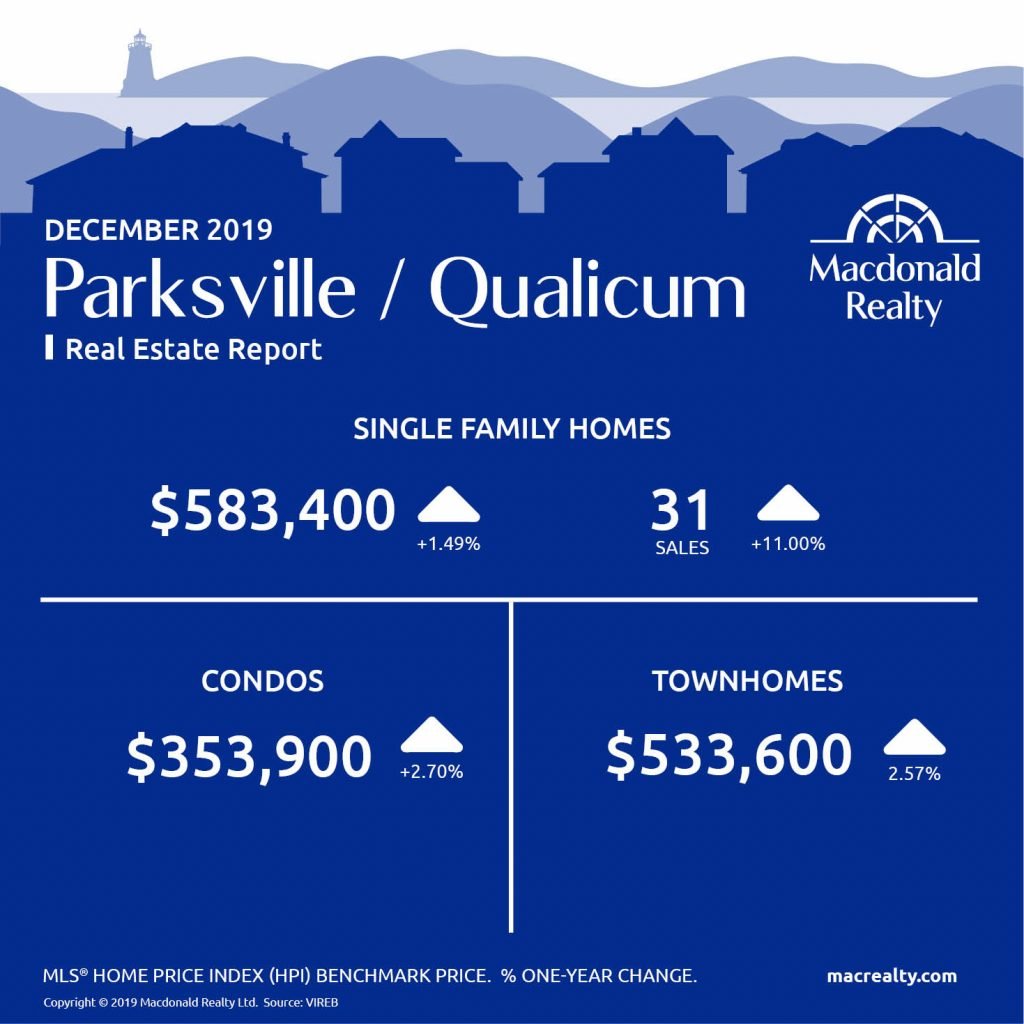 Nanaimo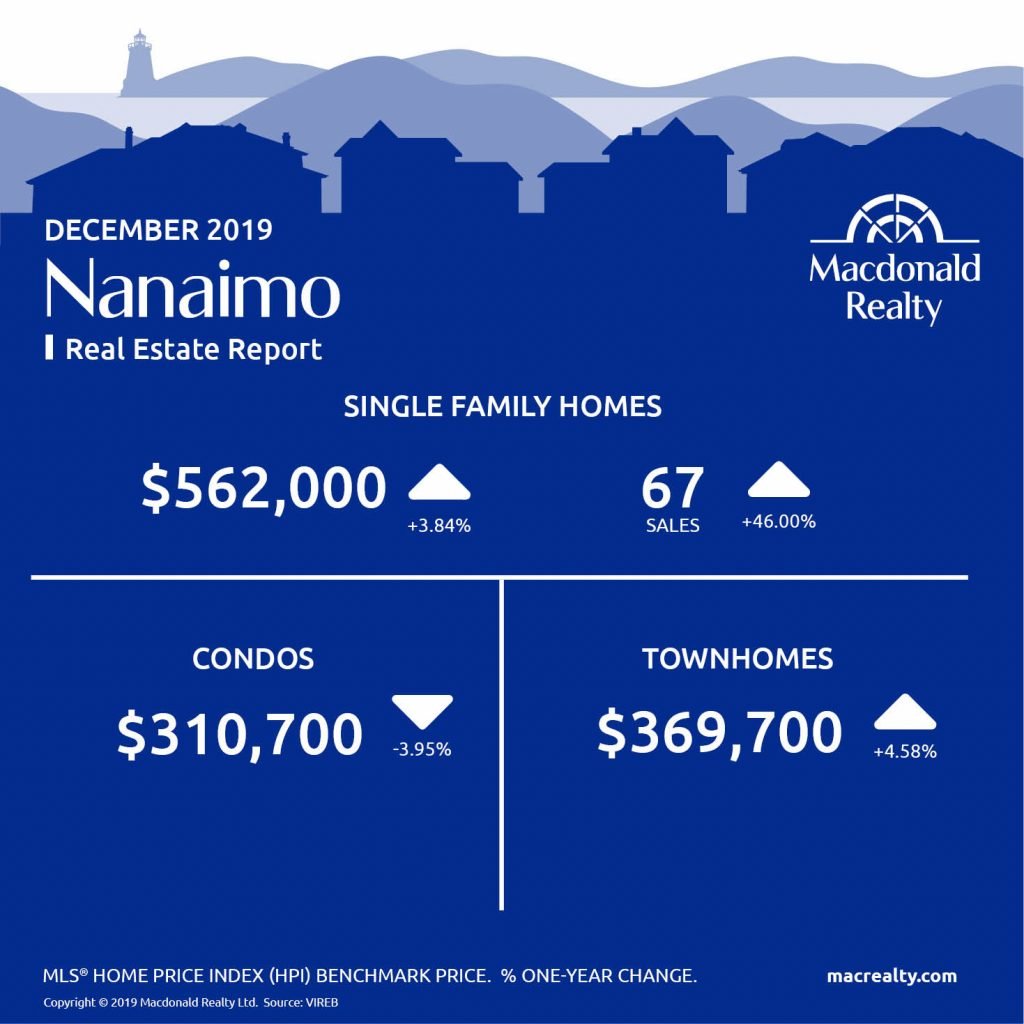 Looking for more information about the real estate market in specific neighbourhoods in Victoria, Parksville, Nanaimo, Vancouver Island and the Gulf Islands? 
Macdonald Realty has offices in downtown Victoria, Sidney, Parksville and on Salt Spring Island. Please email macrealty@macrealty.com or call 1-877-278-3888 to be matched with a REALTOR® working in your area.
MLS® Home Price Index (HPI) Benchmark Price
Average and median home prices are often misinterpreted, are affected by change in the mix of homes sold, and can swing dramatically from month to month (based on the types and prices of properties that sold in a given month). The MLS® HPI overcomes these shortcomings and uses the concept of a benchmark home, a notional home with common attributes of typical homes in a defined area. Visit www.housepriceindex.ca for more information.
This blog post is based on market data provided by the Victoria Real Estate Board (VREB) www.vreb.org and the Vancouver Island Real Estate Board (VIREB) www.vireb.com. Market data from the VIREB includes listings and sales in Campbell River, Comox Valley, Cowichan Valley Nanaimo, Parksville/Qualicum, Port Alberni/West, North Island, and the Islands.