Here are the latest real estate market statistics from Macdonald Realty on Greater Victoria, Parksville/Qualicum, and Nanaimo listings and sales in May 2021.
Find all the infographics related to the April Market Statistics by visiting the Facebook Album.
Greater Victoria
According to the Victoria Real Estate Board the Victoria market continued to show its strength through the month of May, with a near record-setting pace for sales and ongoing record low inventory levels. A total of 1,049 properties sold in the Victoria Real Estate Board region this May, 129.5 per cent more than the 457 properties sold in May 2020, but 6 per cent fewer than the previous month of April. Sales of condominiums were up 200.9 per cent from May 2020 with 325 units sold. 1.8 per cent fewer condominiums sold in May 2021 than in the previous month of April. Sales of single family homes were up 111.4 per cent from May 2020 with 537 sold. 4.8 per cent fewer single-family homes sold in May 2021 than in the previous month of April.
"Victoria is an amazing place to live and we will continue to see demand for property here," said Victoria Real Estate Board President David Langlois. "In the future we need to support the creation of a housing market that can respond to demand and population growth and evolve with community needs. Adding inventory to the Greater Victoria market should be the focus of every municipal council across the region."
As released by the board "there were 1,450 active listings for sale on the Victoria Real Estate Board Multiple Listing Service® at the end of May 2021, 43 per cent fewer properties than the total available at the end of May 2020 and just 4 properties fewer than the 1,454 active listings for sale at the end of April 2021."
The Multiple Listing Service® Home Price Index benchmark value for a single family home in the Victoria Core in May 2020 was $855,900. The benchmark value for the same home in May 2021 increased by 17 per cent to $1,036,100, a 3.9 per cent increase from the previous month of April. The MLS® HPI benchmark value for a condominium in the Victoria Core in May 2020 was $500,000, while the benchmark value for the same condominium in May 2021 was $526,000, a 5.2 per cent increase.
"Recently the City of Victoria moved to fast-track non-profit developments, which is an exciting step in the right direction," added Langlois. "But continued attention needs to be paid on housing of all types. By supporting an increase in urban density, we can ensure attainable housing, address missing middle family housing, increase tax revenues for community amenities and protect green space by slowing sprawl. If you are concerned about attainable housing and the future of homes in Greater Victoria, consider supporting the next housing development proposal in your neighbourhood."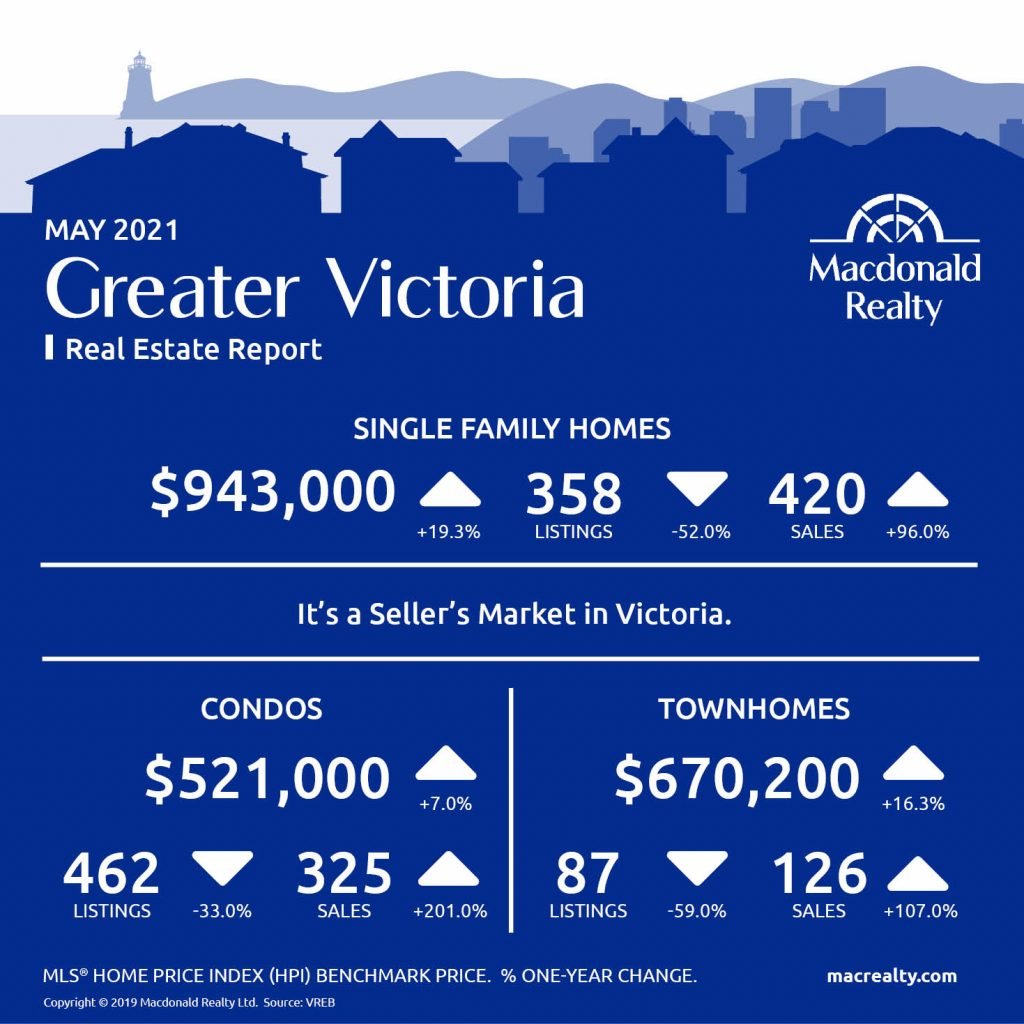 Nanaimo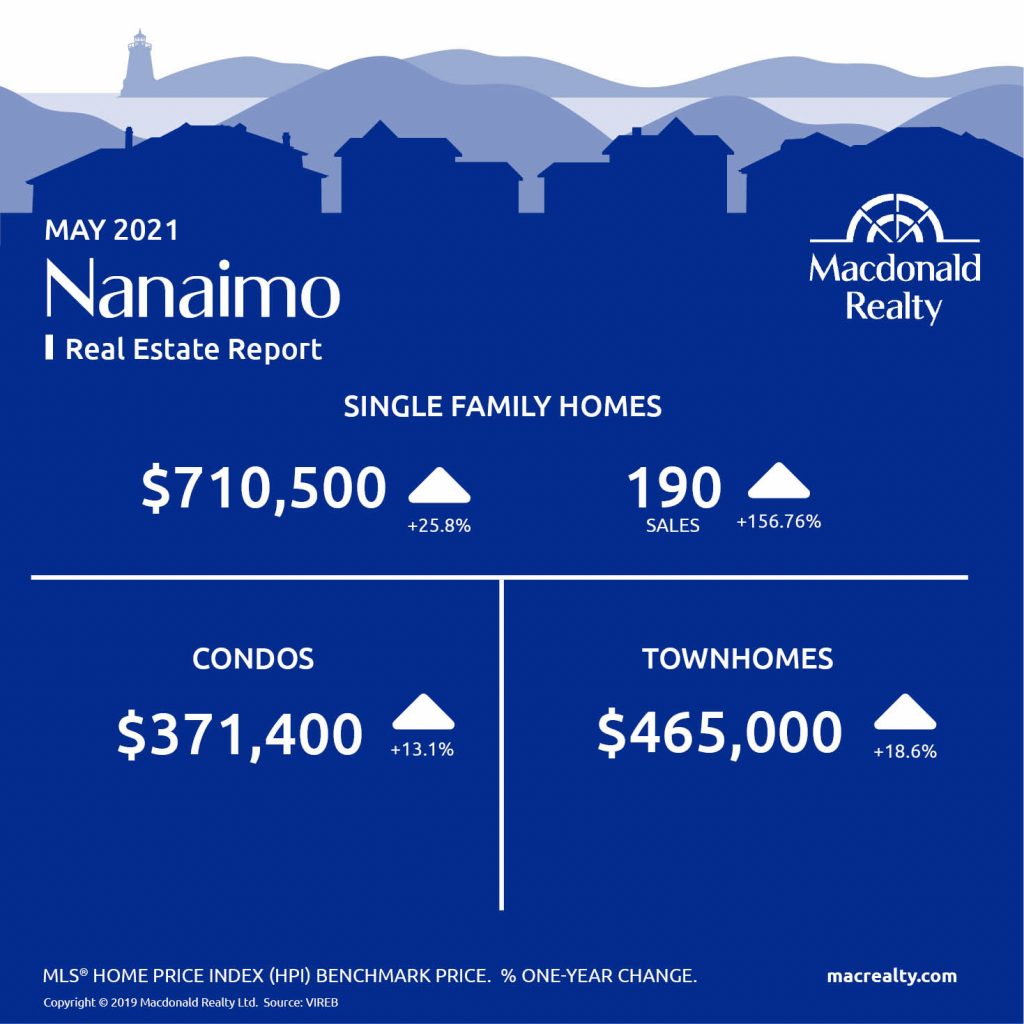 Parksville / Qualicum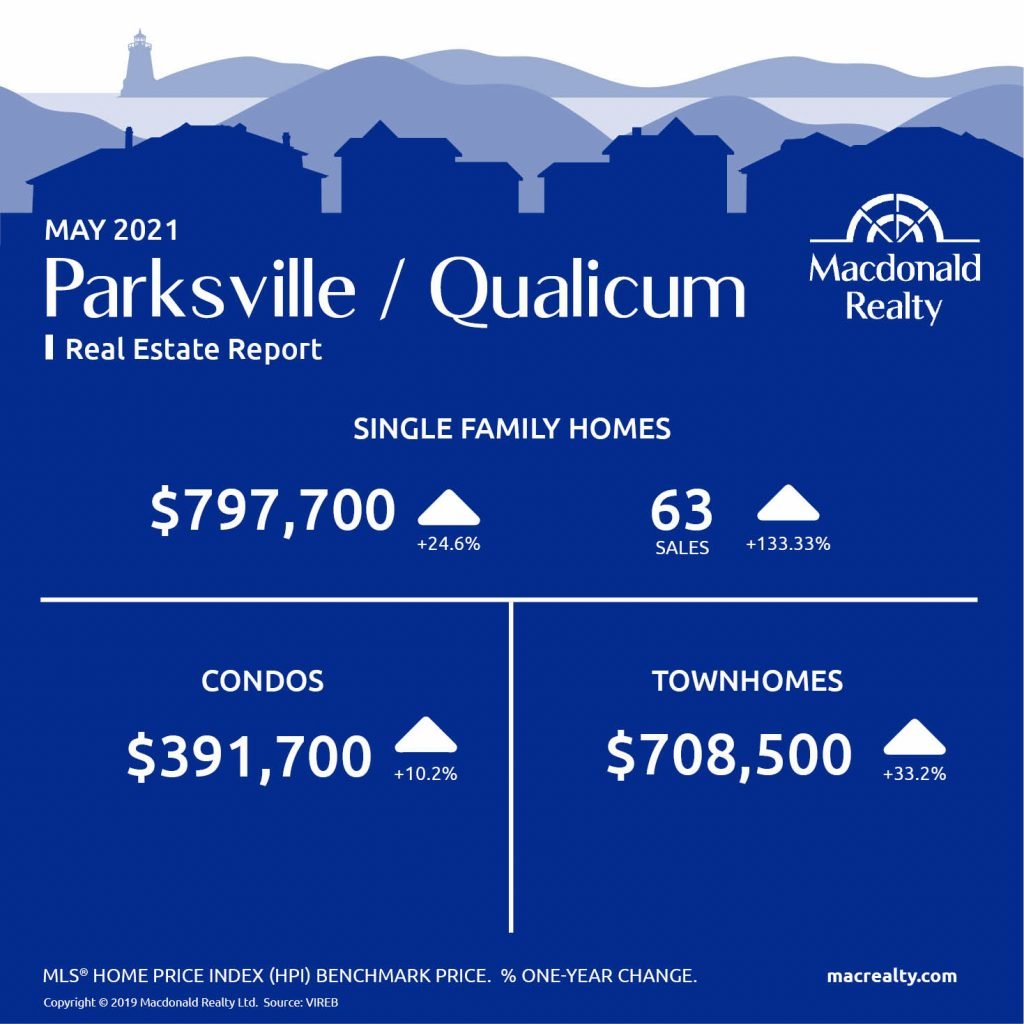 Looking for more information about the real estate market in specific neighbourhoods in Victoria, Parksville, Nanaimo, Vancouver Island and the Gulf Islands? 
Macdonald Realty has offices in downtown Victoria, Sidney, Parksville and Salt Spring Island. Please email macrealty@macrealty.com or call 1-877-278-3888 to be matched with a REALTOR® working in your area.
MLS® Home Price Index (HPI) Benchmark Price
Average and median home prices are often misinterpreted, are affected by change in the mix of homes sold, and can swing dramatically from month to month (based on the types and prices of properties that sold in a given month). The MLS® HPI overcomes these shortcomings and uses the concept of a benchmark home, a notional home with common attributes of typical homes in a defined area. Visit www.housepriceindex.ca for more information.
This blog post is based on market data provided by the Victoria Real Estate Board (VREB) www.vreb.org and the Vancouver Island Real Estate Board (VIREB) www.vireb.com. Market data from the VIREB includes listings and sales in Campbell River, Comox Valley, Cowichan Valley Nanaimo, Parksville/Qualicum, Port Alberni/West, North Island, and the Islands.