Here are the latest real estate market statistics from Macdonald Realty on Greater Victoria, Parksville/Qualicum, and Nanaimo listings and sales in September 2021. Find all the infographics related to the September Market Statistics by visiting the Facebook Album.
According to the Victoria Real Estate Board a greater commitment to development required to balance local housing market.
A total of 761 properties sold in the Victoria Real Estate Board region this September, 23.1 per cent fewer than the 989 properties sold in September 2020 and 8.4 per cent fewer than the previous month of August. Condominium sales were up 9.3 per cent from September 2020 with 306 units sold. 11.3 per cent fewer condominiums sold in September 2021 than in the previous month of August. Sales of single family homes were down 38.6 per cent from September 2020 with 331 sold. 7.3 per cent fewer single family homes sold in September 2021 than in the previous month of August.
"We are in a situation this month that is very similar to last month," said Victoria Real Estate Board President David Langlois. "We have seen a lot of demand for homes of all types, but very little inventory come onto the market. And just like last month, it would be inaccurate to say that the market has slowed down and certainly an oversimplification to say the market is experiencing traditional seasonal slowing. What we are experiencing is a continued response to long-term low inventory levels."
Greater Victoria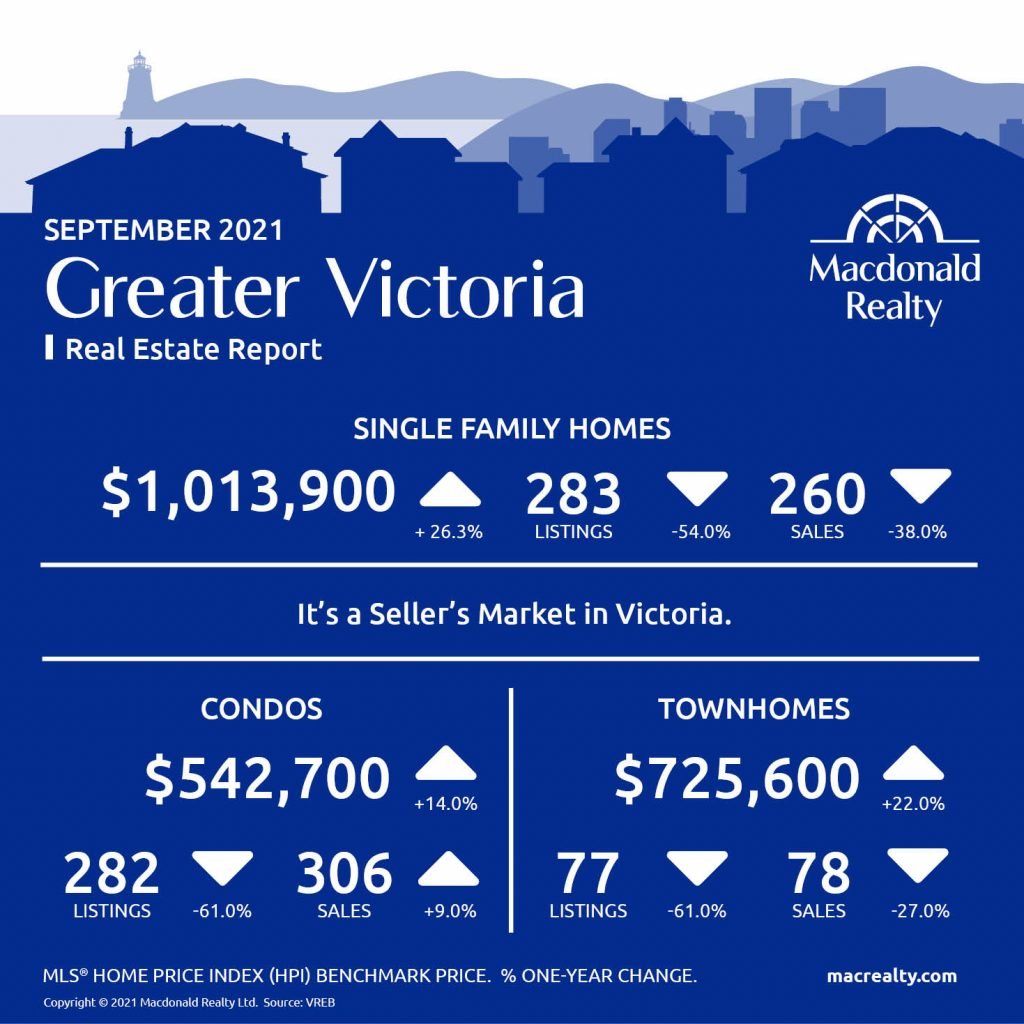 Nanaimo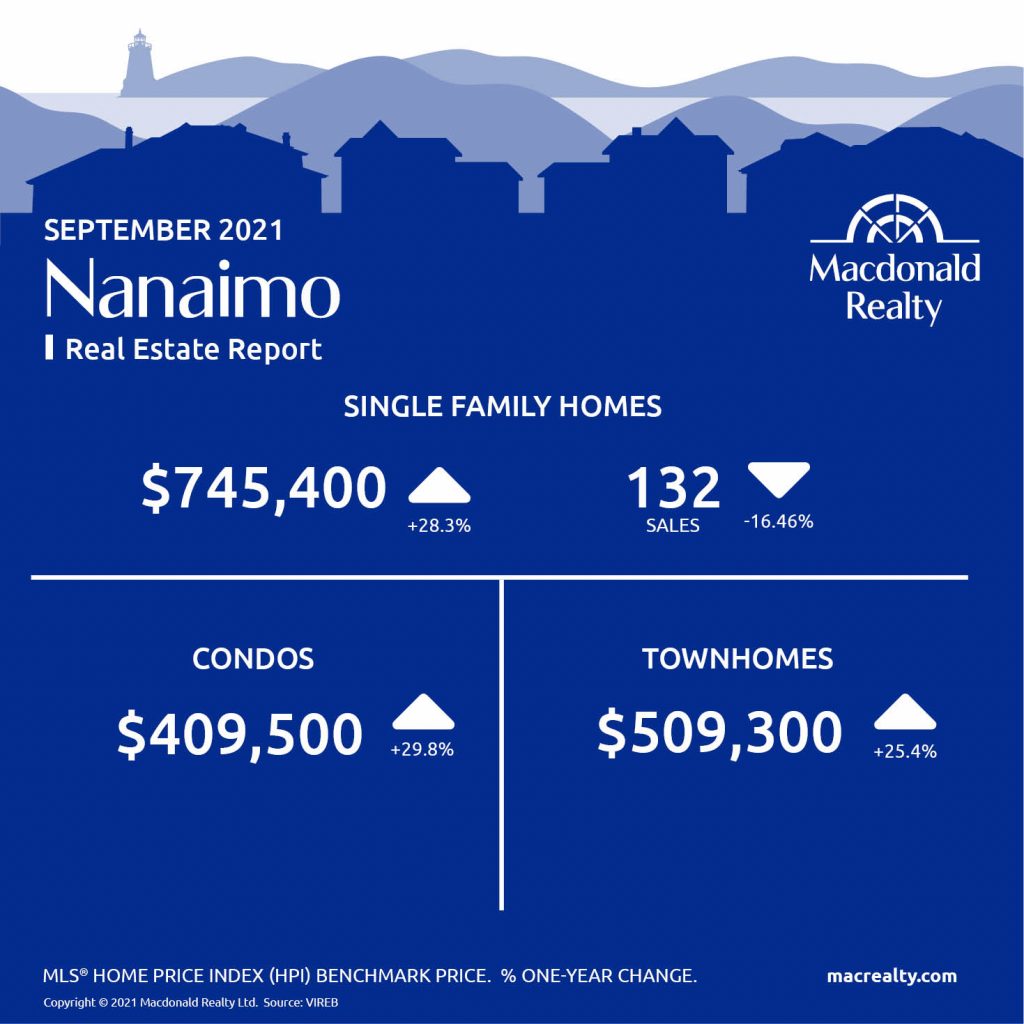 Parksville / Qualicum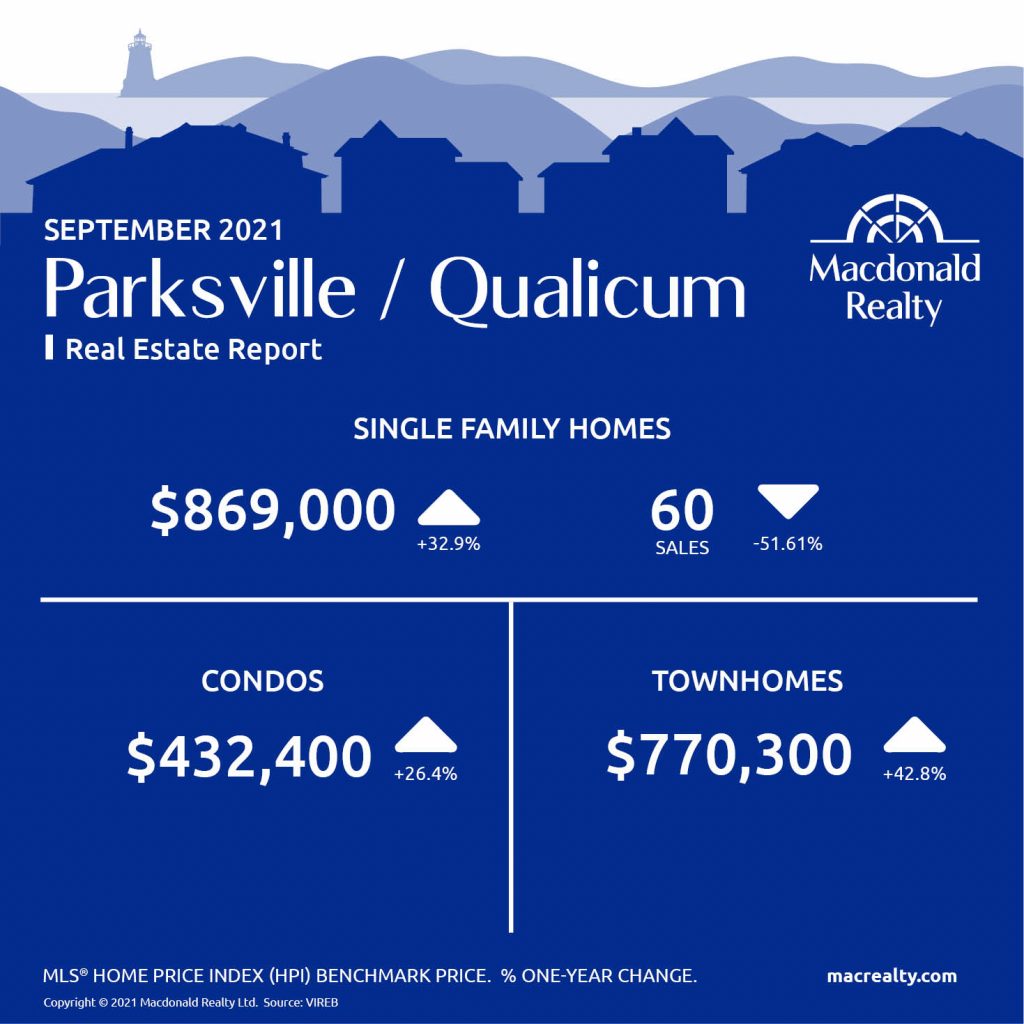 Looking for more information about the real estate market in specific neighbourhoods in Victoria, Parksville, Nanaimo, Vancouver Island and the Gulf Islands? 
Macdonald Realty has offices in downtown Victoria, Sidney, Parksville and Salt Spring Island. Please email macrealty@macrealty.com or call 1-877-278-3888 to be matched with a REALTOR® working in your area.
MLS® Home Price Index (HPI) Benchmark Price
Average and median home prices are often misinterpreted, are affected by change in the mix of homes sold, and can swing dramatically from month to month (based on the types and prices of properties that sold in a given month). The MLS® HPI overcomes these shortcomings and uses the concept of a benchmark home, a notional home with common attributes of typical homes in a defined area. Visit www.housepriceindex.ca for more information.
This blog post is based on market data provided by the Victoria Real Estate Board (VREB) www.vreb.org and the Vancouver Island Real Estate Board (VIREB) www.vireb.com. Market data from the VIREB includes listings and sales in Campbell River, Comox Valley, Cowichan Valley Nanaimo, Parksville/Qualicum, Port Alberni/West, North Island, and the Islands.