Here are the latest real estate market statistics from Macdonald Realty on Greater Victoria, Saanich Peninsula, Parksville/Qualicum, and Nanaimo listings and sales in December 2021. Find all the infographics related to the November Market Statistics by visiting the Facebook Album.
A total of 438 properties sold in the Victoria Real Estate Board region this December, 30.6 per cent fewer than the 631 properties sold in December 2020 and a 32.9 per cent decrease from November 2021. Sales of condominiums were down 22.1 per cent from December 2020 with 152 units sold. Sales of single family homes decreased 34.1 per cent from December 2020 with 207 sold.
A grand total of 10,052 properties sold over the course of 2021, 18.3 per cent more than the 8,497 that sold in 2020. 2021 sales came in close to 2016's record breaking sales year where 10,622 properties were sold.
"The theme of this year has been very consistent," says 2021 Victoria Real Estate Board President David Langlois. "Each month a high demand for homes paired with record low inventory has put strong pressure on pricing and attainability and has made the local and global housing market a top news item and political talking point. We see stories from many countries highlighting the increasing desirability of home ownership in the wake of the pandemic. We leave this year with the lowest number of properties for sale that we have had on record – but with such strong demand that most transactions see multiple offers."
Greater Victoria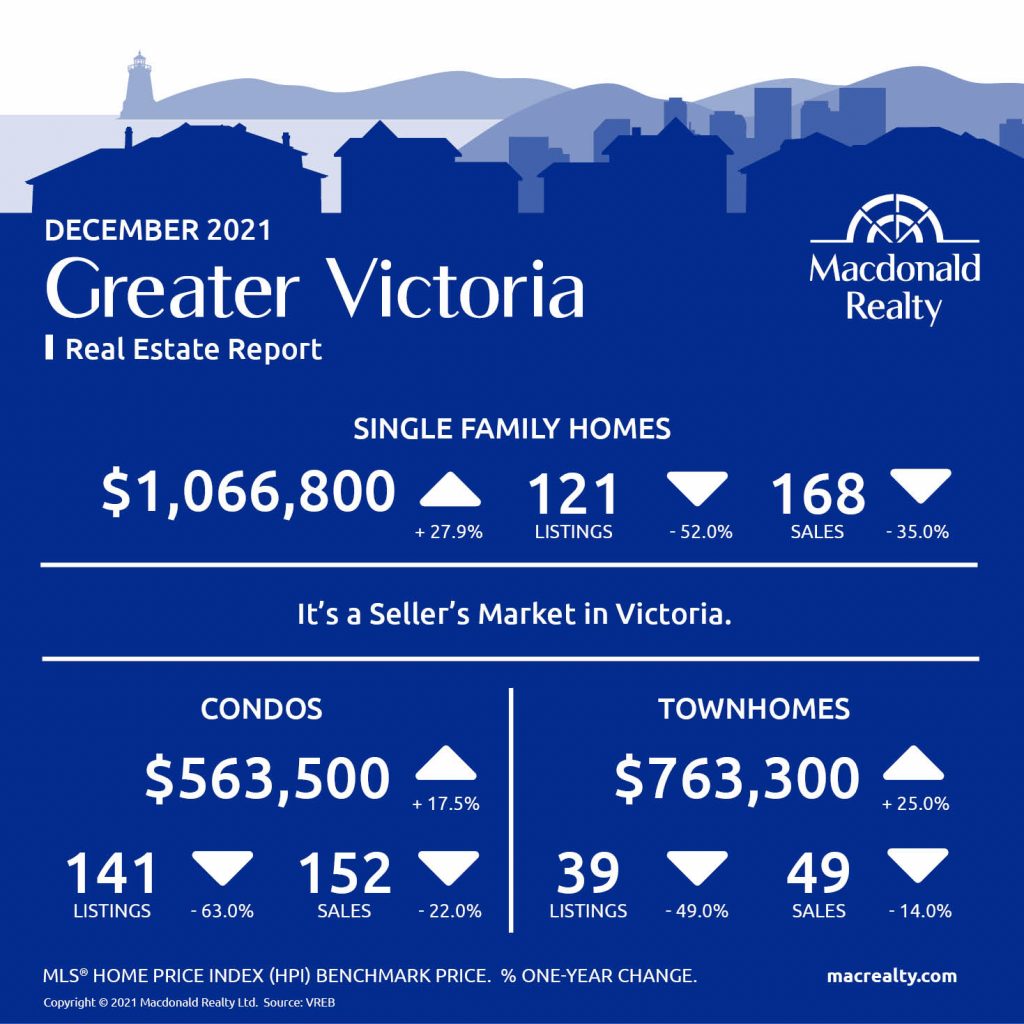 Saanich Peninsula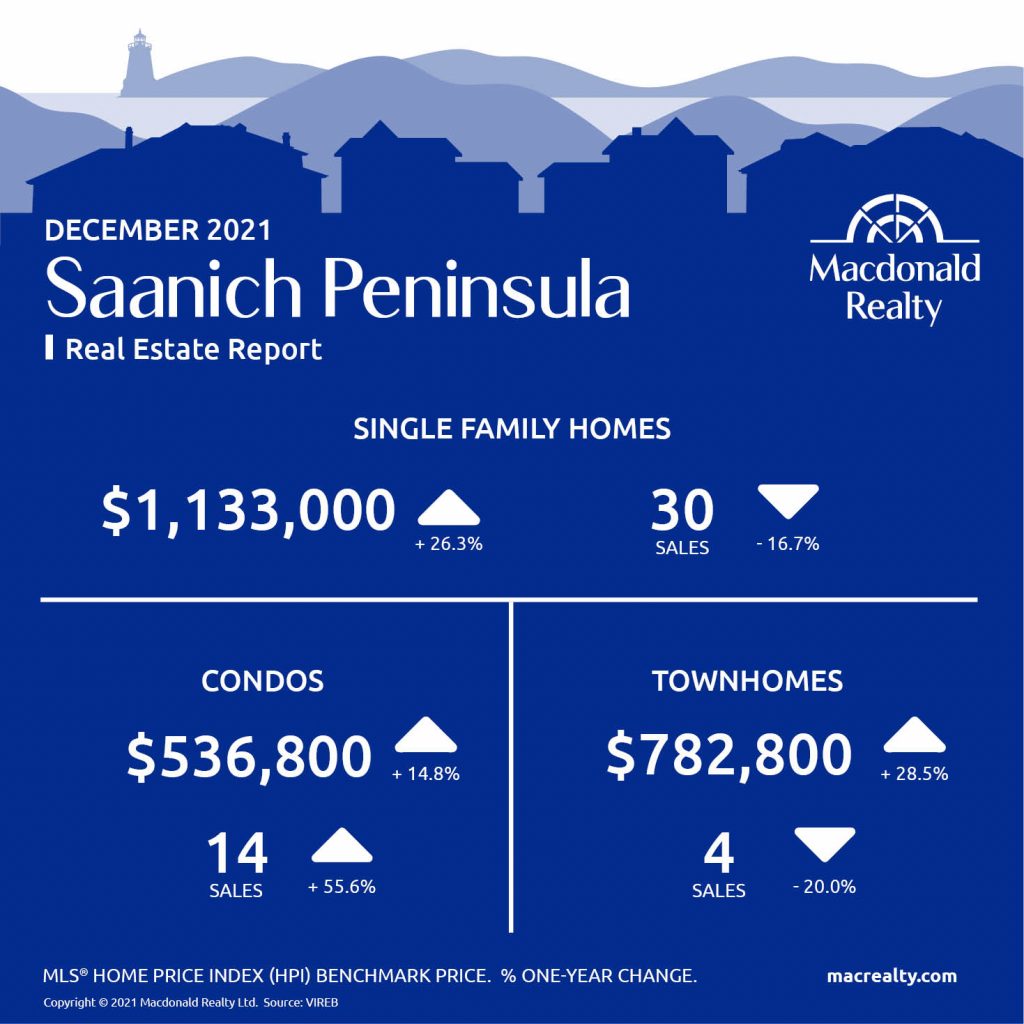 Nanaimo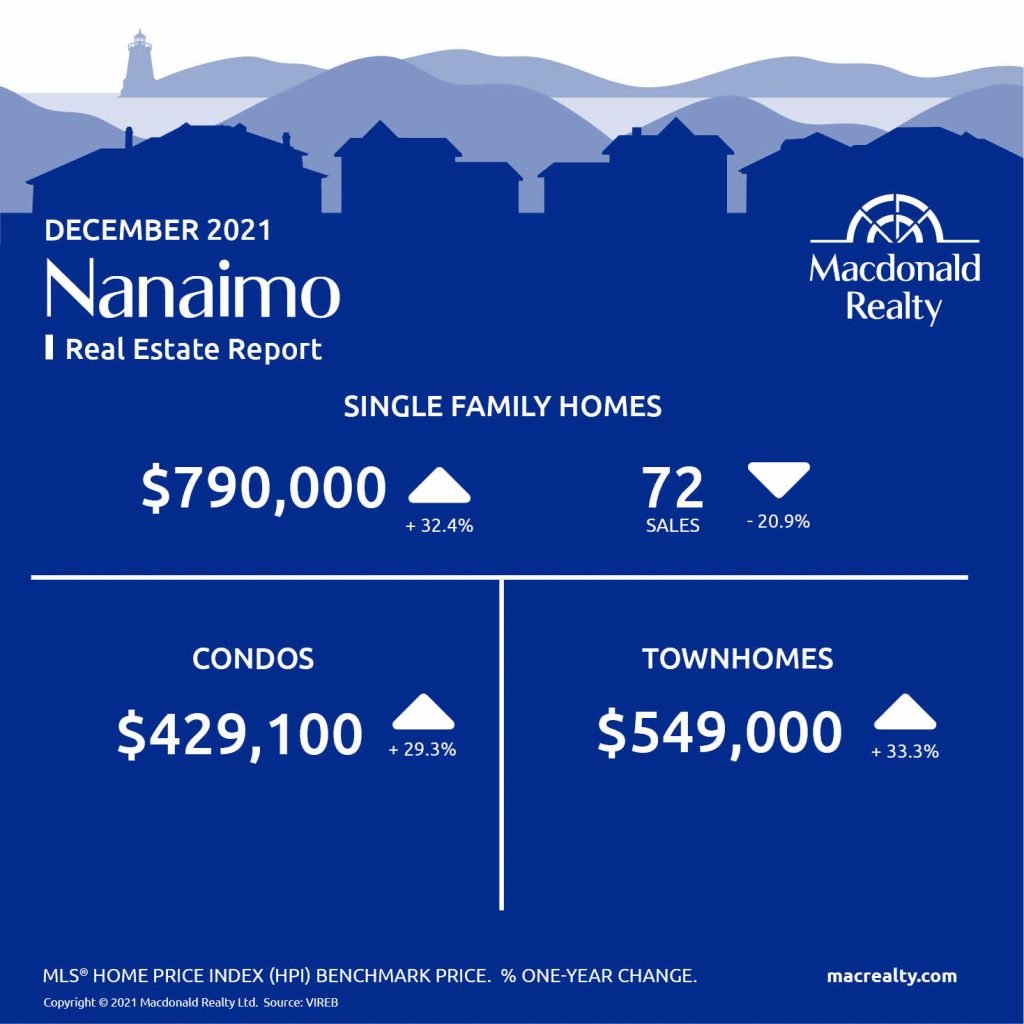 Parksville / Qualicum
Looking for more information about the real estate market in specific neighbourhoods in Victoria, Saanich Peninsula, Parksville, Nanaimo, Vancouver Island and the Gulf Islands? 
Macdonald Realty has offices in downtown Victoria, Sidney, Parksville and Salt Spring Island. Please email macrealty@macrealty.com or call 1-877-278-3888 to be matched with a REALTOR® working in your area.
MLS® Home Price Index (HPI) Benchmark Price
Average and median home prices are often misinterpreted, are affected by change in the mix of homes sold, and can swing dramatically from month to month (based on the types and prices of properties that sold in a given month). The MLS® HPI overcomes these shortcomings and uses the concept of a benchmark home, a notional home with common attributes of typical homes in a defined area. Visit www.housepriceindex.ca for more information.
This blog post is based on market data provided by the Victoria Real Estate Board (VREB) www.vreb.org and the Vancouver Island Real Estate Board (VIREB) www.vireb.com. Market data from the VIREB includes listings and sales in Campbell River, Comox Valley, Cowichan Valley Nanaimo, Parksville/Qualicum, Port Alberni/West, North Island, and the Islands.