Here are the latest real estate market statistics from Macdonald Realty on Greater Victoria, Saanich Peninsula, Parksville/Qualicum, and Nanaimo listings and sales in December 2022. Find all the infographics related to the December Market Statistics by visiting the Facebook Album.
A total of 320 properties sold in the Victoria Real Estate Board region this December, 26.9 per cent fewer than the 438 properties sold in December 2021 and a 16.7 per cent decrease from November 2022. Sales of condominiums were down 38.2 per cent from December 2021 with 94 units sold. Sales of single family homes decreased 24.6 per cent from December 2021 with 156 sold.
A grand total of 6,804 properties sold over the course of 2022, 32.3 per cent fewer than the 10,052 that sold in 2021. 2022 sales came closest to 2014's sales year when 6,698 properties were sold.
"We began the year with record low inventory, and with higher than average sales," says 2022 Victoria Real Estate Board President Karen Dinnie-Smyth. "And then the market changed on a dime. Interest rate increases through the remainder of 2022 signalled the end of low-cost borrowing and pushed buyers to the sidelines. Each time interest rates went up, market activity slowed. As we head into 2023, we continue to see the cost of moving and borrowing money undermine demand. Slower sale activity has resulted in inventory levels rebounding from historic lows, which means there are more opportunities for buyers in our market this year than in recent years.
There were 1,688 active listings for sale on the Victoria Real Estate Board Multiple Listing Service® at the end of December 2022, a decrease of 20 per cent compared to the previous month of November but a 158.9 per cent increase from the 652 active listings for sale at the end of December 2021.
"The new year begins with the federal government's ban on foreign buyers," adds President Dinnie-Smyth. "This is a disappointing politically motivated action in the theme of government trying to slow demand, rather than addressing the more lengthy and less politically popular process of building more housing supply. The cost of housing is unlikely to be affected by this ban because we know from the government's own data that foreign buyers represent only a handful of transactions in our region in recent years. At the provincial government level, legislation began today for the cooling-off period, now referred to as the Home Buyer Recission Period. The Victoria market has already cooled off, which leaves this legislation at least a year out of date and toothless in terms of public protection, as standard condition terms are often longer than the three-day legislated term. Victoria REALTORS® support policies that provide housing that British Columbians can afford, and we are pleased to see some of our municipalities considering innovative builds that can help with this. Will 2023 be the year that the housing supply chain will be front and center on all levels of government agendas? If we fail to encourage new development now, we will have another supply shortfall in an upcoming market cycle which will lead to pressure on pricing. New government rules further complicate real estate transactions – so if you are buying or selling in 2023 – be sure to call your favourite Realtor for guidance."
Greater Victoria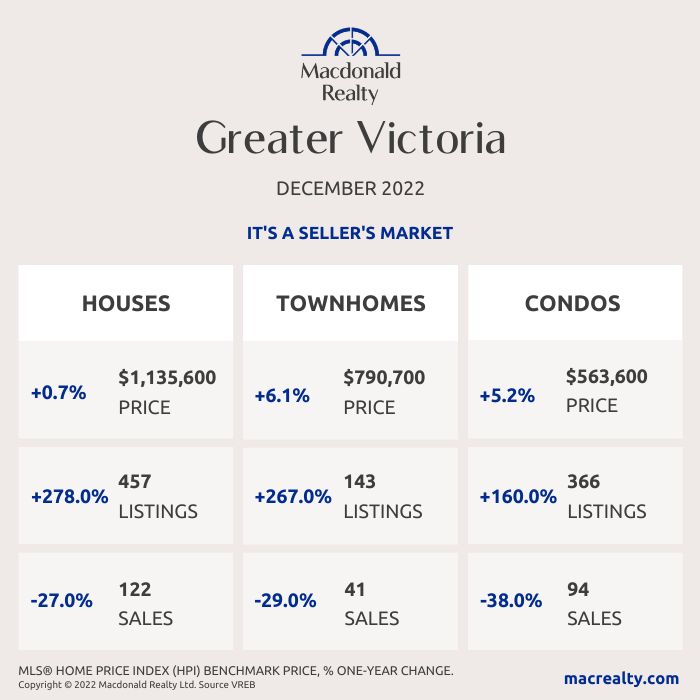 Saanich Peninsula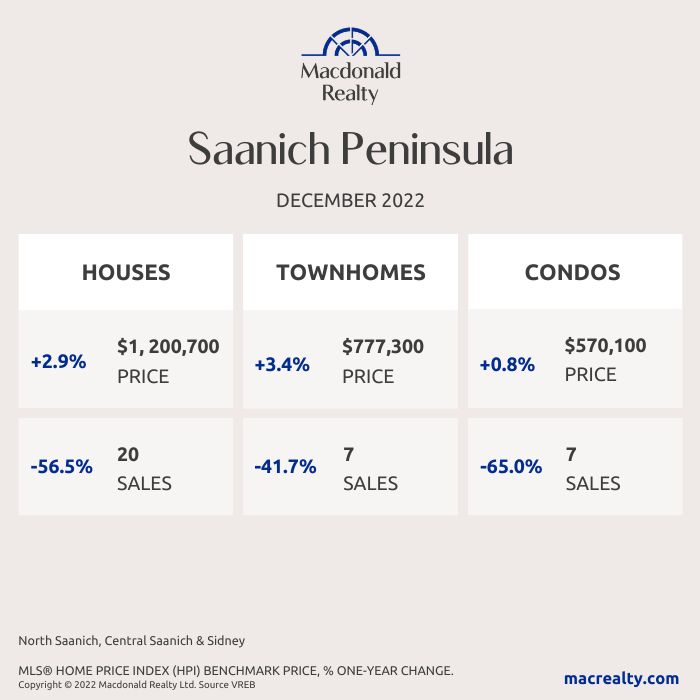 Nanaimo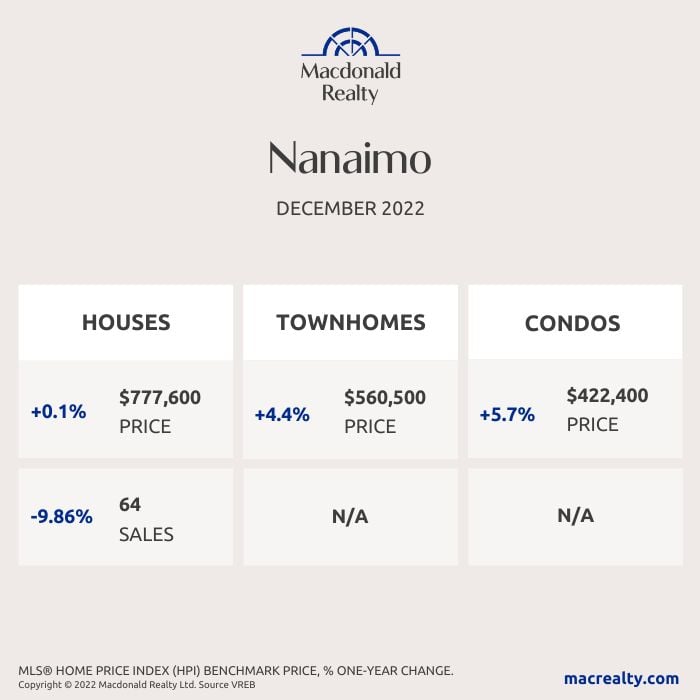 Parksville / Qualicum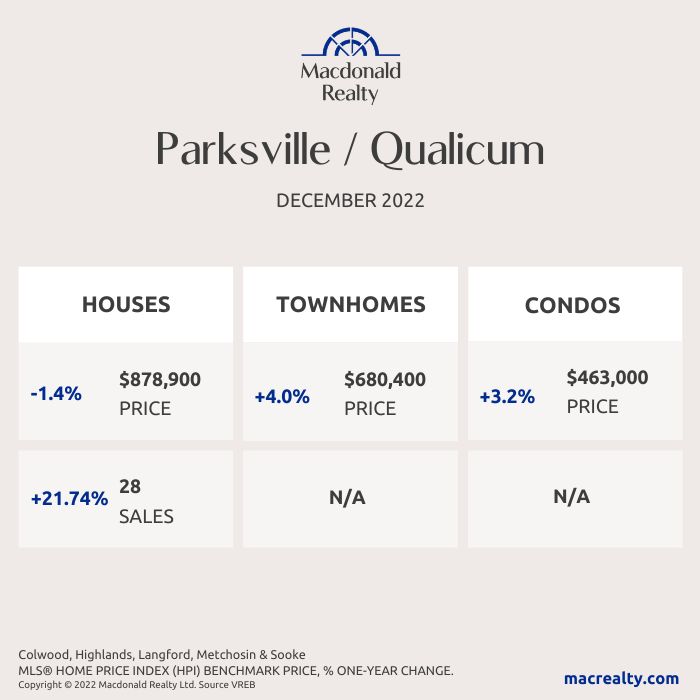 Looking for more information about the real estate market in specific neighbourhoods in Victoria, Saanich Peninsula, Parksville, Nanaimo, Vancouver Island and the Gulf Islands? 
Macdonald Realty has offices in downtown Victoria, Sidney, Parksville and Salt Spring Island. Please email macrealty@macrealty.com or call 1-877-278-3888 to be matched with a REALTOR® working in your area.
MLS® Home Price Index (HPI) Benchmark Price
Average and median home prices are often misinterpreted, are affected by change in the mix of homes sold, and can swing dramatically from month to month (based on the types and prices of properties that sold in a given month). The MLS® HPI overcomes these shortcomings and uses the concept of a benchmark home, a notional home with common attributes of typical homes in a defined area. Visit www.housepriceindex.ca for more information.
This blog post is based on market data provided by the Victoria Real Estate Board (VREB) www.vreb.org and the Vancouver Island Real Estate Board (VIREB) www.vireb.com. Market data from the VIREB includes listings and sales in Campbell River, Comox Valley, Cowichan Valley Nanaimo, Parksville/Qualicum, Port Alberni/West, North Island, and the Islands.