Here are the latest real estate market statistics from Macdonald Realty on Greater Victoria, Saanich Peninsula, Parksville/Qualicum, and Nanaimo listings and sales in February 2023. Find all the infographics related to the February Market Statistics by visiting the Facebook Album.
Winter real estate market wraps with improved consumer confidence and more stable pricing.
A total of 460 properties sold in the Victoria Real Estate Board region this February, 35.9 per cent fewer than the 718 properties sold in February 2022 but a 65.5 per cent increase from January 2023. Sales of condominiums were down 39.7 per cent from February 2022 with 161 units sold. Sales of single family homes decreased 28.8 per cent from February 2022 with 220 sold.
"Last month we talked about the optimism building in the local market that our REALTORS® saw, and now we can see it in the market statistics," said Victoria Real Estate Board Chair Graden Sol. "We can confirm the return of buyer confidence by the increase in sales through the late winter. The market is seeing some positive growth as we move into springtime, which is traditionally the busiest market for home sales. Inventory levels are starting to increase, a welcome trend when compared to the record lows of last year. We're also seeing a stabilization at some price points and properties that are priced in accordance with current market conditions are selling at a good pace."
There were 1,809 active listings for sale on the Victoria Real Estate Board Multiple Listing Service® at the end of February 2023, an increase of 4 per cent compared to the previous month of January and a 113.1 per cent increase from the 849 active listings for sale at the end of February 2022.
"The market today is different than we have seen in recent years," adds Sol. "There's plenty of demand from buyers, and we are still low in inventory, but there are opportunities in a less pressurized environment for consumers to get into a new home. Most buyers will find they have more time to view homes, make decisions and do their due diligence in this somewhat more relaxed market. Of course, we are heading into a new season which is typically very active. The statistics in this report reflect what happened last month. Prudent buyers and sellers will seek the knowledge of their Realtor to determine the up-to-the-minute conditions and how to best navigate the market."
Greater Victoria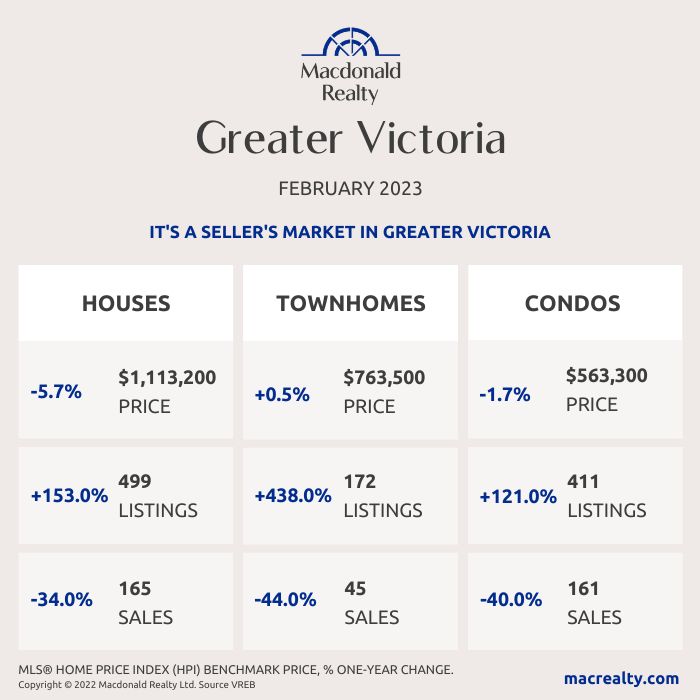 Saanich Peninsula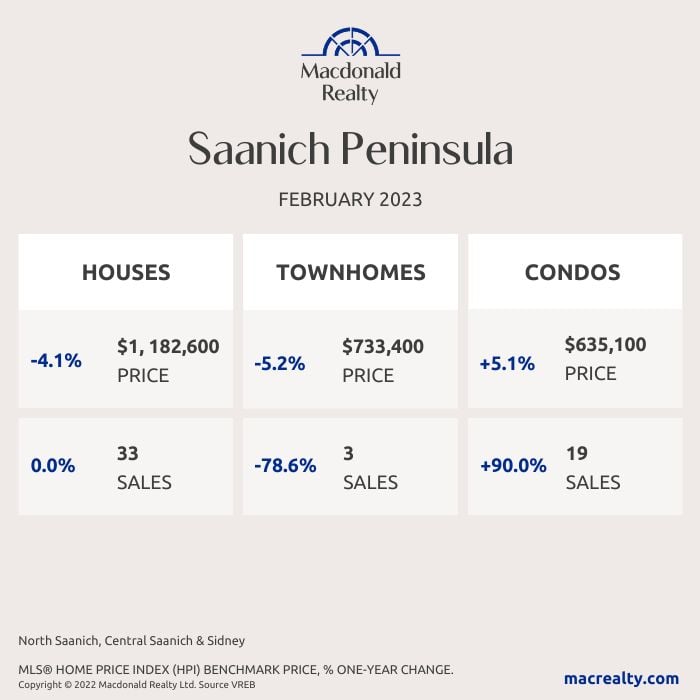 Nanaimo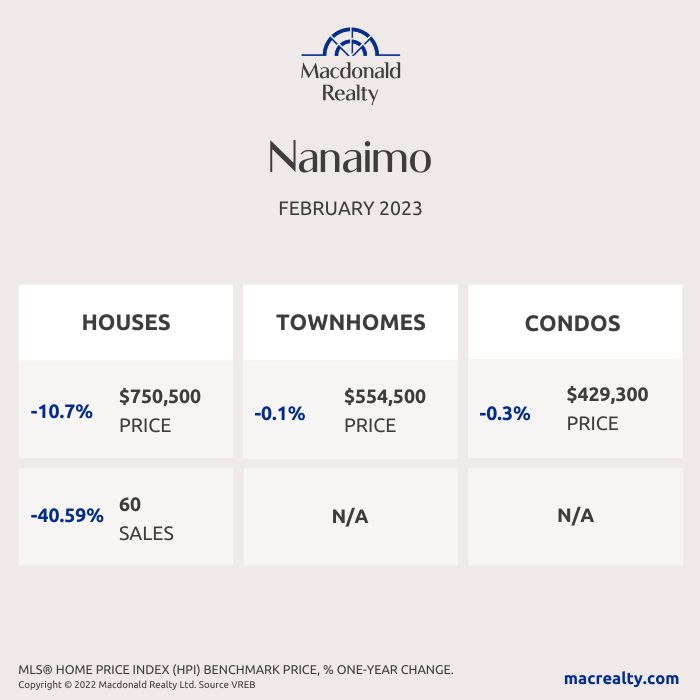 Parksville / Qualicum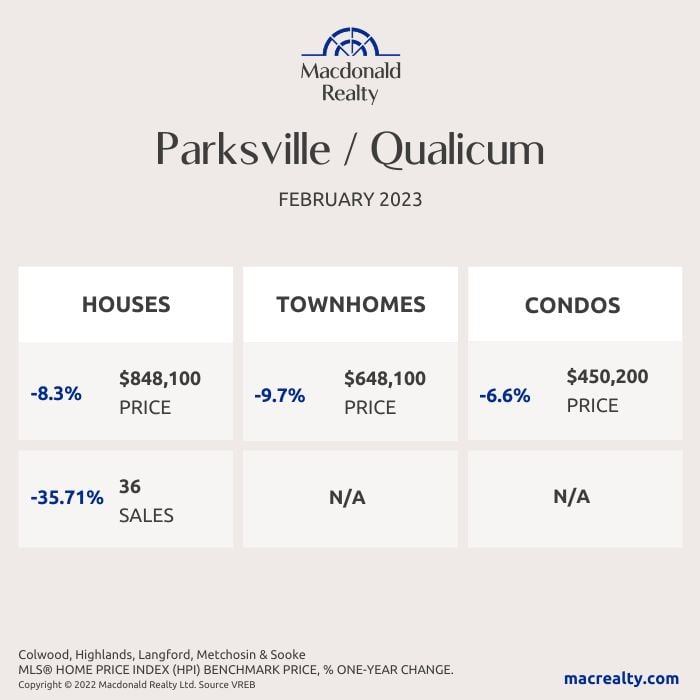 Looking for more information about the real estate market in specific neighbourhoods in Victoria, Saanich Peninsula, Parksville, Nanaimo, Vancouver Island and the Gulf Islands? 
Macdonald Realty has offices in downtown Victoria, Sidney, Parksville and Salt Spring Island. Please email macrealty@macrealty.com or call 1-877-278-3888 to be matched with a REALTOR® working in your area.
MLS® Home Price Index (HPI) Benchmark Price
Average and median home prices are often misinterpreted, are affected by change in the mix of homes sold, and can swing dramatically from month to month (based on the types and prices of properties that sold in a given month). The MLS® HPI overcomes these shortcomings and uses the concept of a benchmark home, a notional home with common attributes of typical homes in a defined area. Visit www.housepriceindex.ca for more information.
This blog post is based on market data provided by the Victoria Real Estate Board (VREB) www.vreb.org and the Vancouver Island Real Estate Board (VIREB) www.vireb.com. Market data from the VIREB includes listings and sales in Campbell River, Comox Valley, Cowichan Valley Nanaimo, Parksville/Qualicum, Port Alberni/West, North Island, and the Islands.