Here are the latest real estate market statistics from Macdonald Realty on Greater Victoria, Saanich Peninsula, Parksville/Qualicum, and Nanaimo listings and sales in January 2023. Find all the infographics related to the January Market Statistics by visiting the Facebook Album.
A total of 278 properties sold in the Victoria Real Estate Board region this January, 41.4 per cent fewer than the 474 properties sold in January 2022 and a 13.1 per cent decrease from December 2022. Sales of condominiums were down 46.3 per cent from January 2022 with 101 units sold. Sales of single family homes decreased 33 per cent from January 2022 with 120 sold.
"If you're looking at the statistics, this January was one of the slowest we've seen on record," says 2023 Victoria Real Estate Board Chair Graden Sol. "However, we did see a mid-month surge in activity as buyers seemed to regain confidence after the rapid interest rate increases of last year. It may be that consumers are moving past the market shock of the rate increases and economic uncertainty and that our market is regaining its equilibrium. What the data doesn't show is the optimism that many of our REALTOR® members are noting from their buyers and sellers, who remain active viewing homes and making offers. Interest rates, continued low inventory and the greater economic situation in our area will determine what our early spring market will look like."
There were 1,739 active listings for sale on the Victoria Real Estate Board Multiple Listing Service® at the end of January 2022, an increase of 3 per cent compared to the previous month of December and a 133.7 per cent increase from the 744 active listings for sale at the end of January 2021.
"Despite the slower start to the market in January, and our constrained inventory levels, some consumers still found themselves in multiple offer situations, particularly on the types of properties that represent the crucial missing middle segment of our market. The Victoria City Council voting to move forward with their missing middle housing program is a great step in the right direction when we are considering how low inventory has impacted the attainability of housing in the CRD," adds Sol. "But this is one step in a marathon of work to be done to increase housing opportunities to meet our community's short- and long-term needs. Each municipality must keep their focus on adding gentle density where they can so that we do not face another swift increase in values when our market demand increases again."
Greater Victoria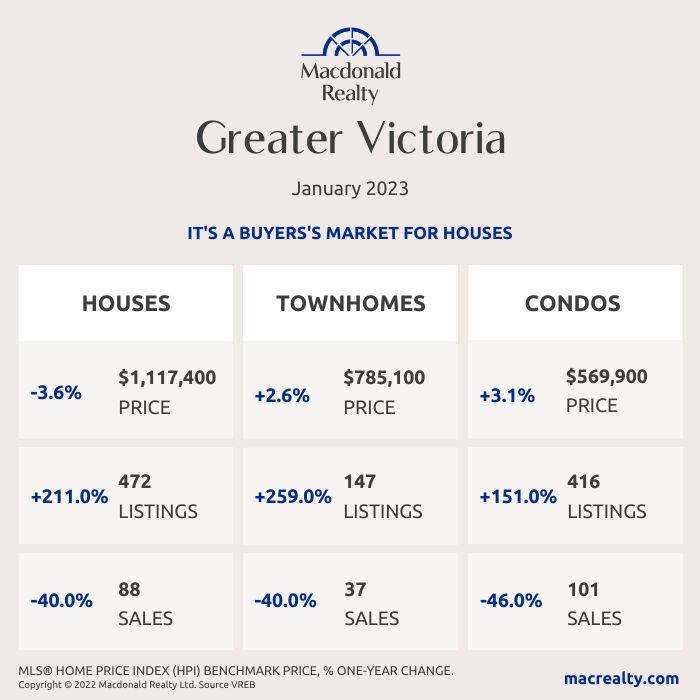 Saanich Peninsula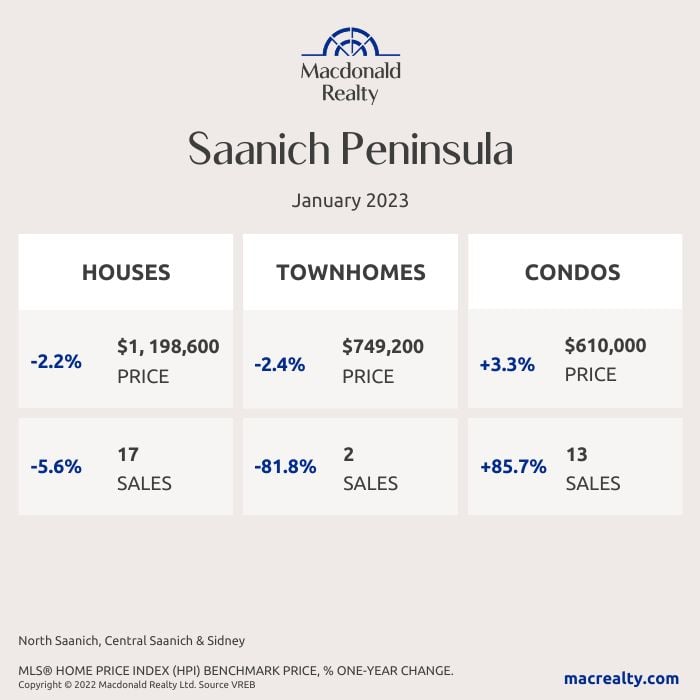 Nanaimo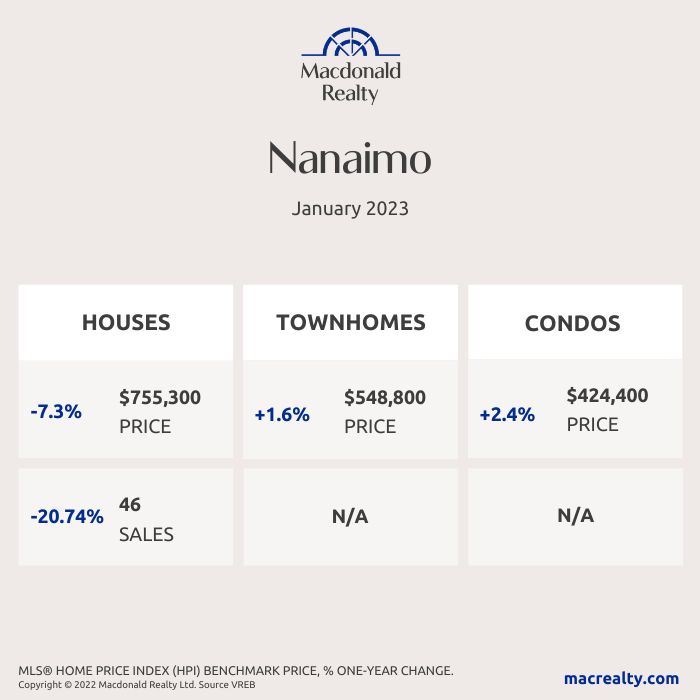 Parksville / Qualicum
Looking for more information about the real estate market in specific neighbourhoods in Victoria, Saanich Peninsula, Parksville, Nanaimo, Vancouver Island and the Gulf Islands? 
Macdonald Realty has offices in downtown Victoria, Sidney, Parksville and Salt Spring Island. Please email macrealty@macrealty.com or call 1-877-278-3888 to be matched with a REALTOR® working in your area.
MLS® Home Price Index (HPI) Benchmark Price
Average and median home prices are often misinterpreted, are affected by change in the mix of homes sold, and can swing dramatically from month to month (based on the types and prices of properties that sold in a given month). The MLS® HPI overcomes these shortcomings and uses the concept of a benchmark home, a notional home with common attributes of typical homes in a defined area. Visit www.housepriceindex.ca for more information.
This blog post is based on market data provided by the Victoria Real Estate Board (VREB) www.vreb.org and the Vancouver Island Real Estate Board (VIREB) www.vireb.com. Market data from the VIREB includes listings and sales in Campbell River, Comox Valley, Cowichan Valley Nanaimo, Parksville/Qualicum, Port Alberni/West, North Island, and the Islands.