Here are the latest real estate market statistics from Macdonald Realty on Greater Victoria, Saanich Peninsula, Parksville/Qualicum, and Nanaimo listings and sales in June 2022. Find all the infographics related to the May Market Statistics by visiting the Facebook Album.
Victoria's hot housing market levels off, supply still important for long-term attainability.
A total of 612 properties sold in the Victoria Real Estate Board region this June, 35 per cent fewer than the 942 properties sold in June 2021 and a 19.6 per cent decrease from May 2022. Sales of condominiums were down 40.2 per cent from June 2021 with 202 units sold. Sales of single family homes decreased 31.4 per cent from June 2021 with 302 sold.
"The market feels a bit more normal right now," says Karen Dinnie-Smyth, 2022 Victoria Real Estate Board President. "We have seen more inventory come onto the market to the extent that we are back to numbers closer to those which we saw in pre-pandemic 2020. This is good news, as more inventory provides more choice and builds in more time for consumers to work with their REALTORS® to make decisions."
There were 2,059 active listings for sale on the Victoria Real Estate Board Multiple Listing Service® at the end of June 2022, an increase of 15.9 per cent compared to the previous month of May and a 49.7 per cent increase from the 1,375 active listings for sale at the end of June 2021.
"It may seem counterintuitive to continue to talk about the need for supply at a time when inventory is rising," adds President Dinnie-Smyth. "We must keep the conversation alive, and we urge all levels of government to continue to aggressively address the housing supply situation. We need more supply of all types of housing. Not only do we remain on the lower side of longer-term historical averages of homes for sale, but there will be future challenges – changing interest rates, supply chain and labour constraints will hamper the ability to create new homes at a pace to meet future growth. New supply will be the key to future housing attainability in our community."
Greater Victoria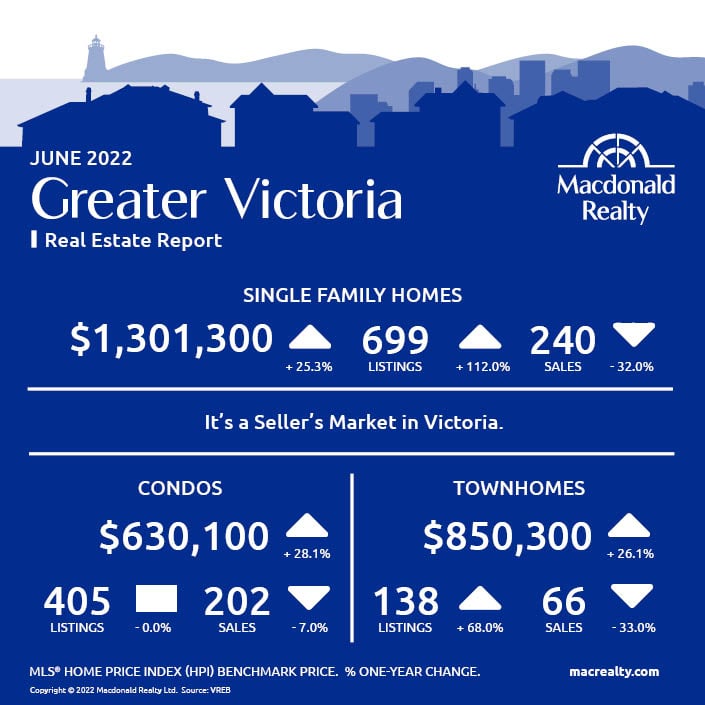 Saanich Peninsula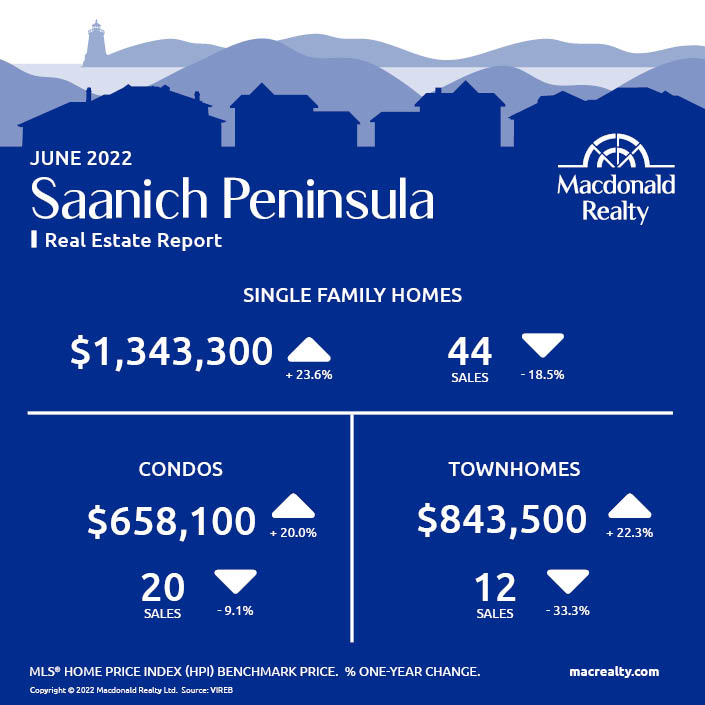 Nanaimo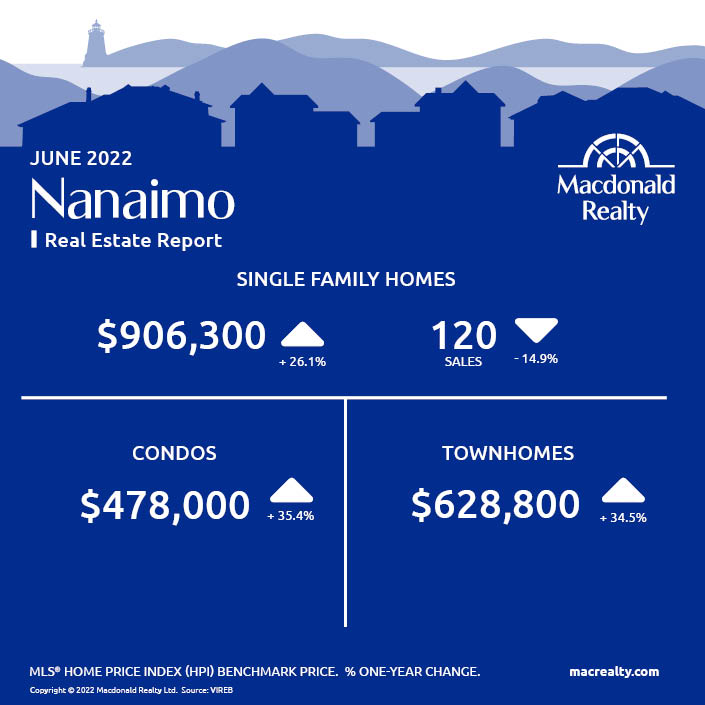 Parksville / Qualicum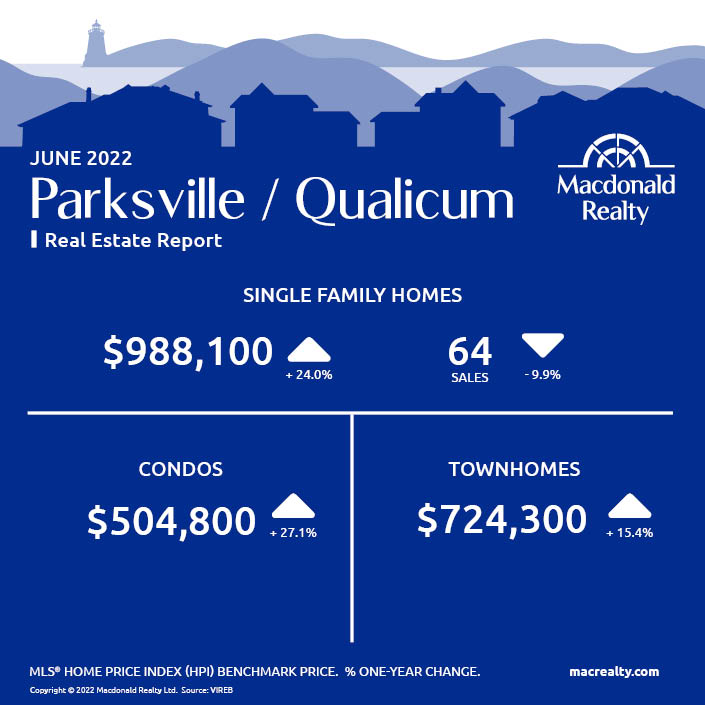 Looking for more information about the real estate market in specific neighbourhoods in Victoria, Saanich Peninsula, Parksville, Nanaimo, Vancouver Island and the Gulf Islands? 
Macdonald Realty has offices in downtown Victoria, Sidney, Parksville and Salt Spring Island. Please email macrealty@macrealty.com or call 1-877-278-3888 to be matched with a REALTOR® working in your area.
MLS® Home Price Index (HPI) Benchmark Price
Average and median home prices are often misinterpreted, are affected by change in the mix of homes sold, and can swing dramatically from month to month (based on the types and prices of properties that sold in a given month). The MLS® HPI overcomes these shortcomings and uses the concept of a benchmark home, a notional home with common attributes of typical homes in a defined area. Visit www.housepriceindex.ca for more information.
This blog post is based on market data provided by the Victoria Real Estate Board (VREB) www.vreb.org and the Vancouver Island Real Estate Board (VIREB) www.vireb.com. Market data from the VIREB includes listings and sales in Campbell River, Comox Valley, Cowichan Valley Nanaimo, Parksville/Qualicum, Port Alberni/West, North Island, and the Islands.