Here are the latest real estate market statistics from Macdonald Realty on Greater Victoria, Saanich Peninsula, Parksville/Qualicum, and Nanaimo listings and sales in March 2023. Find all the infographics related to the March Market Statistics by visiting the Facebook Album.
Early spring market reflects consumer confidence and growing demand.
A total of 590 properties sold in the Victoria Real Estate Board region this March, 29.2 per cent fewer than the 833 properties sold in March 2022 but a 28.3 per cent increase from February 2023. Sales of condominiums were down 29.4 per cent from March 2022 with 197 units sold. Sales of single family homes decreased 31.8 per cent from March 2022 with 281 sold.
"We've seen our sales numbers this month almost double from January," said Victoria Real Estate Board Chair Graden Sol. "As we move further into spring, we expect that the return to confidence we've seen in the market will continue. What we can't predict is what the overall impact on pricing will be if we continue to see quite low inventory across our community. Some pockets of our market are busier than others – by working with your REALTOR® you can better understand the market you are in."
There were 1,970 active listings for sale on the Victoria Real Estate Board Multiple Listing Service® at the end of March 2023, an increase of 8.9 per cent compared to the previous month of February and an 85.3 per cent increase from the 1,063 active listings for sale at the end of March 2022.
"Demand is recovering," adds Sol. "Compared to the end of 2022, prices have firmed up and interest rates have become normalized. Consumers are more active, and we are seeing quite a few multiple offers on well-priced properties. Inventory continues to trend lower than long term averages. As our spring market continues to strengthen, we may start to experience some upward pressure on pricing again. We have been talking about the need for supply to help moderate pricing for a long time. Premier Eby's announcement this week about the provincial government's Homes for People action plan reflects an increasing awareness of the importance of supply. We need all levels of government to continue to focus on solving our market housing crunch, so we do not return to the high-pressure markets of the recent past."
The Multiple Listing Service® Home Price Index benchmark value for a single family home in the Victoria Core in March 2022 was $1,387,200. The benchmark value for the same home in March 2023 decreased by 10.9 per cent to $1,236,200, down from February's value of $1,247,200. The MLS® HPI benchmark value for a condominium in the Victoria Core area in March 2022 was $616,400, while the benchmark value for the same condominium in March 2023 decreased by 9.1 per cent to $560,300, down from the February value of $568,200
Greater Victoria
Saanich Peninsula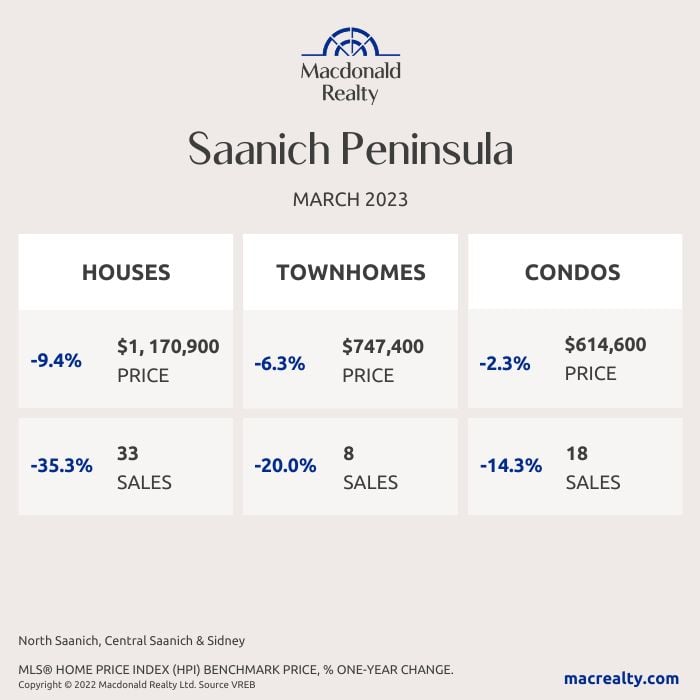 Nanaimo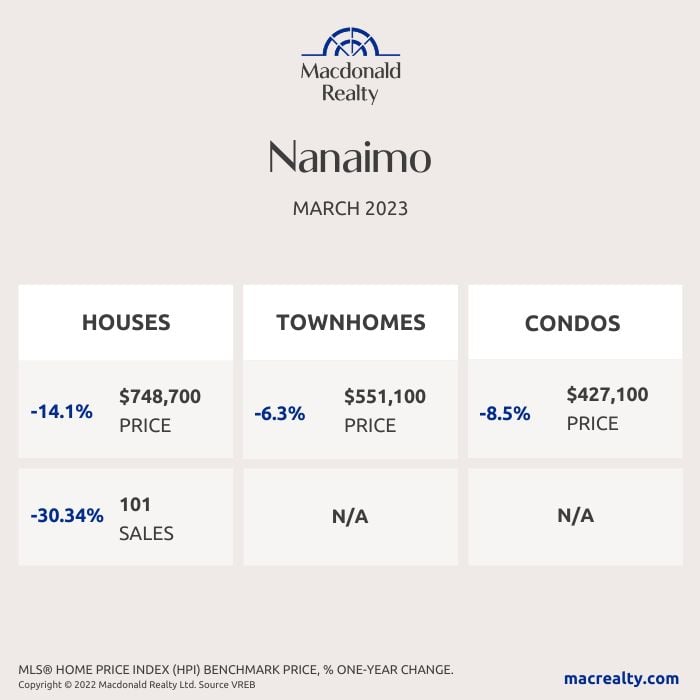 Parksville / Qualicum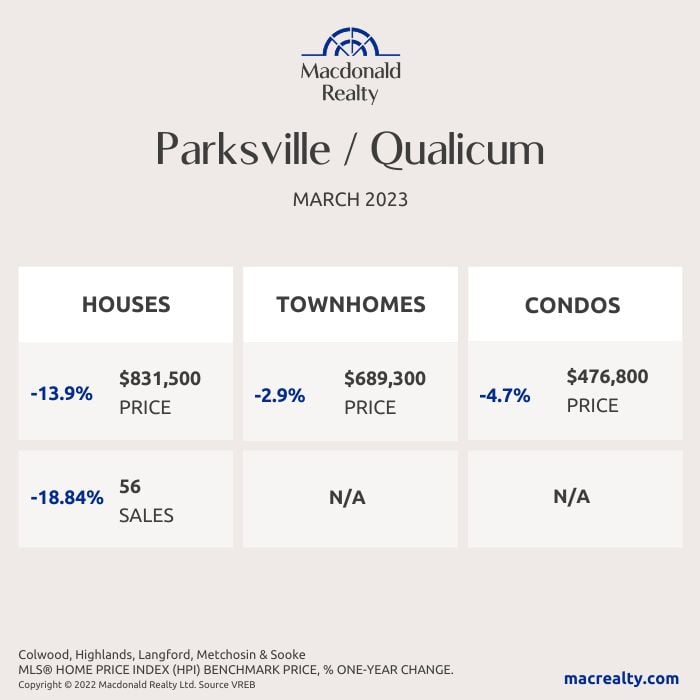 Looking for more information about the real estate market in specific neighbourhoods in Victoria, Saanich Peninsula, Parksville, Nanaimo, Vancouver Island and the Gulf Islands? 
Macdonald Realty has offices in downtown Victoria, Sidney, Parksville and Salt Spring Island. Please email macrealty@macrealty.com or call 1-877-278-3888 to be matched with a REALTOR® working in your area.
MLS® Home Price Index (HPI) Benchmark Price
Average and median home prices are often misinterpreted, are affected by change in the mix of homes sold, and can swing dramatically from month to month (based on the types and prices of properties that sold in a given month). The MLS® HPI overcomes these shortcomings and uses the concept of a benchmark home, a notional home with common attributes of typical homes in a defined area. Visit www.housepriceindex.ca for more information.
This blog post is based on market data provided by the Victoria Real Estate Board (VREB) www.vreb.org and the Vancouver Island Real Estate Board (VIREB) www.vireb.com. Market data from the VIREB includes listings and sales in Campbell River, Comox Valley, Cowichan Valley Nanaimo, Parksville/Qualicum, Port Alberni/West, North Island, and the Islands.