Here are the latest real estate market statistics from Macdonald Realty on Greater Victoria, Saanich Peninsula, Parksville/Qualicum, and Nanaimo listings and sales in November 2022. Find all the infographics related to the November Market Statistics by visiting the Facebook Album.
A total of 384 properties sold in the Victoria Real Estate Board region this November, 41.2 per cent fewer than the 653 properties sold in November 2021 and 20 per cent fewer than in October 2022. Sales of condominiums were down 42.4 per cent from November 2021 with 136 units sold. Sales of single family homes decreased 34.1 per cent from November 2021 with 182 sold.
"November saw a significant decrease from last year in the number of home sales recorded, but this was expected as the market continues to settle after the record setting pace of 2021," says Victoria Real Estate Board President Karen Dinnie-Smyth. "With a small month over month decrease in price, the autumn market has returned to its traditional rhythm as we approach the holiday season. Inventory levels dipped slightly but remain well above this time last year, which is providing buyers with more options."
There were 2,111 active listings for sale on the Victoria Real Estate Board Multiple Listing Service® at the end of November 2022, a decrease of 3.7 per cent compared to the previous month of October but a 138 per cent increase from the 887 active listings for sale at the end of November 2021.
"Premier Eby's rapid introduction of changes to the Strata Property Act which remove rental restrictions and age restrictions other than 55 and older from strata developments is raising questions within strata communities. It remains to be seen what effect this may have on the strata market," adds President Dinnie-Smyth. "It is an open question whether these changes will bring any additional rental stock to the market – with BC's complex Residential Tenancy Act not all homeowners of vacant strata homes have a desire to become landlords and current interest rates are less attractive to investors who may want to purchase strata rental properties. It is also possible that these measures will contribute further to eroding housing affordability as older stratas with rental restrictions were generally valued lower than their rentable counterparts."
Greater Victoria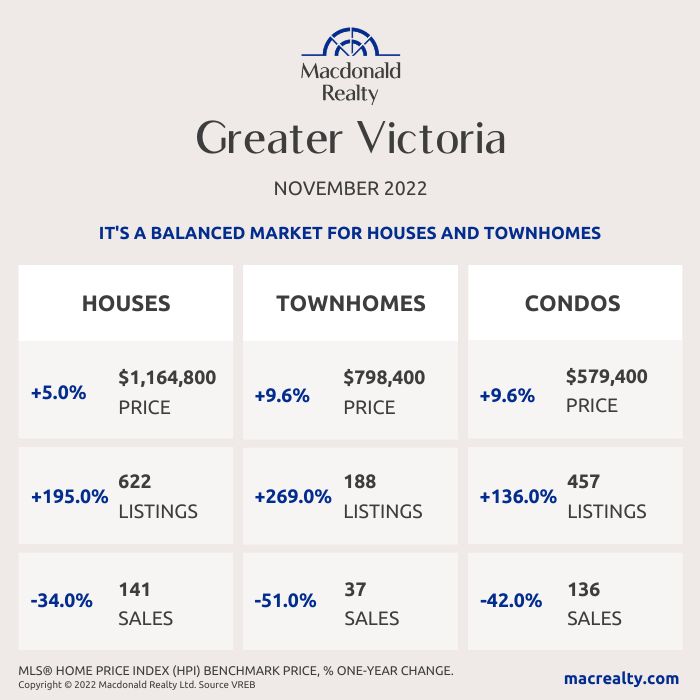 Saanich Peninsula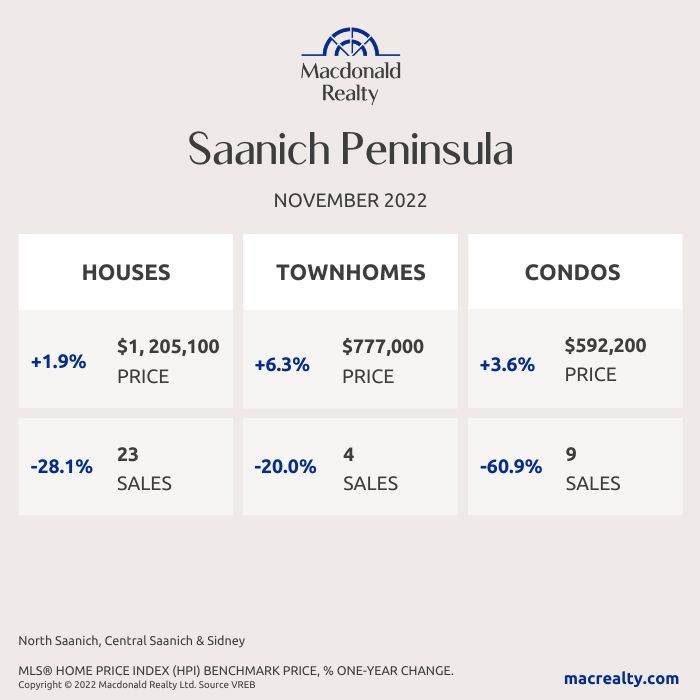 Nanaimo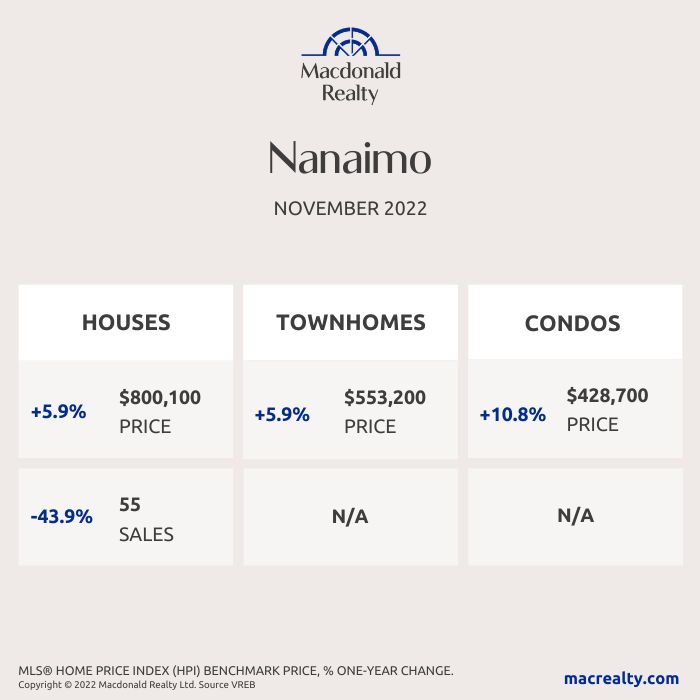 Parksville / Qualicum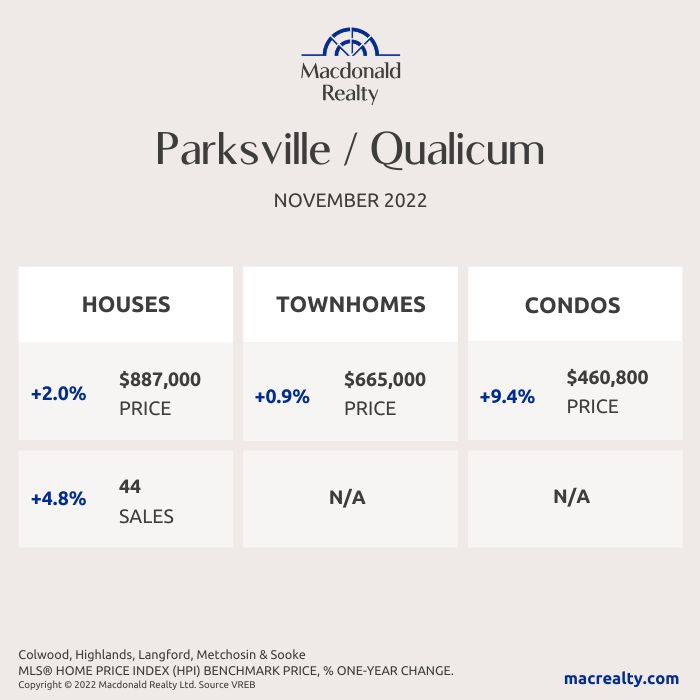 Looking for more information about the real estate market in specific neighbourhoods in Victoria, Saanich Peninsula, Parksville, Nanaimo, Vancouver Island and the Gulf Islands? 
Macdonald Realty has offices in downtown Victoria, Sidney, Parksville and Salt Spring Island. Please email macrealty@macrealty.com or call 1-877-278-3888 to be matched with a REALTOR® working in your area.
MLS® Home Price Index (HPI) Benchmark Price
Average and median home prices are often misinterpreted, are affected by change in the mix of homes sold, and can swing dramatically from month to month (based on the types and prices of properties that sold in a given month). The MLS® HPI overcomes these shortcomings and uses the concept of a benchmark home, a notional home with common attributes of typical homes in a defined area. Visit www.housepriceindex.ca for more information.
This blog post is based on market data provided by the Victoria Real Estate Board (VREB) www.vreb.org and the Vancouver Island Real Estate Board (VIREB) www.vireb.com. Market data from the VIREB includes listings and sales in Campbell River, Comox Valley, Cowichan Valley Nanaimo, Parksville/Qualicum, Port Alberni/West, North Island, and the Islands.