Here are the latest real estate market statistics from Macdonald Realty on Greater Victoria, Saanich Peninsula, Parksville/Qualicum, and Nanaimo listings and sales in October 2022. Find all the infographics related to the October Market Statistics by visiting the Facebook Album.
A slight uptick in sales and inventory, but Victoria market still requires commitment to homes.
A total of 480 properties sold in the Victoria Real Estate Board region this October, 35.6 per cent fewer than the 745 properties sold in October 2021 but a 17.1 per cent increase from September 2022. Sales of condominiums were down 39 per cent from October 2021 with 152 units sold. Sales of single family homes decreased 32.2 per cent from October 2021 with 230 sold.
"Inventory has remained stable this month and for the first time since May 2022, we see a slight increase in the month over month sales," says Victoria Real Estate Board President Karen Dinnie-Smyth. "We noted last month that the number of sales for September did not necessarily reflect the on-the-ground activity in the marketplace. October sales have shown what the industry has been experiencing, an increase in activity, more sales and well-priced homes receiving plenty of attention — some receiving multiple offers. If you are considering selling a property, the continually evolving market conditions this month reinforce the need for up-to-date analysis of how to price your home during this type of market. With many micro-markets within the Greater Victoria area conversations with your local REALTOR® on how the housing market is performing in your specific area will be crucial to your success."
There were 2,192 active listings for sale on the Victoria Real Estate Board Multiple Listing Service® at the end of October 2022, a decrease of 4.7 per cent compared to the previous month of September but a 111.6 per cent increase from the 1,036 active listings for sale at the end of October 2021.
"With new mayors and councillors heading to work in several of our municipalities, we hope to see strong commitments to positive ways to manage the current and future housing needs of our communities high on council agendas," adds President Dinnie-Smyth. "The future cost of housing is at stake. The pressure on pricing and in the market overall will not resolve until we see material improvements in the number and types of properties available in the Greater Victoria area. Rentals, townhouses, duplexes, triplexes and beyond are all needed to help ensure that we do not face another cycle of rapid price increases due to lack of inventory in the future. We hope that all municipalities will be looking at gentle density improvements that will ensure more homes for more people in their community planning."
Greater Victoria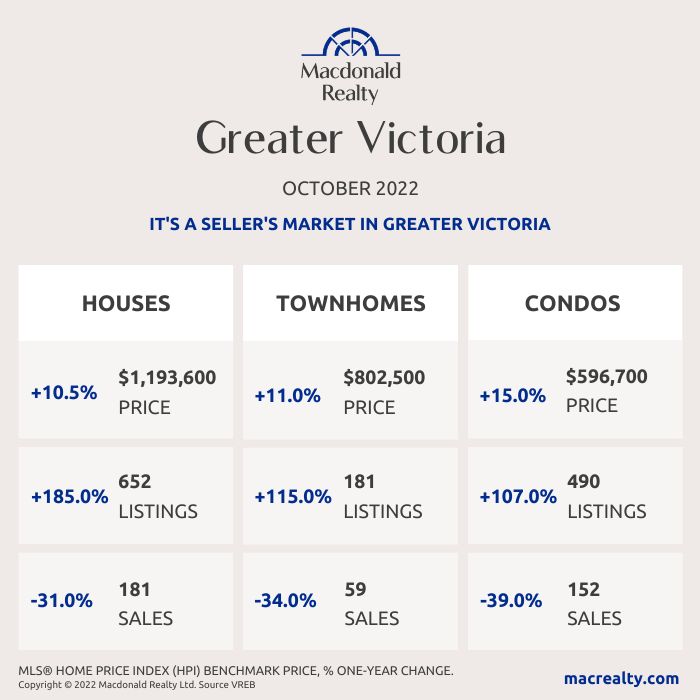 Saanich Peninsula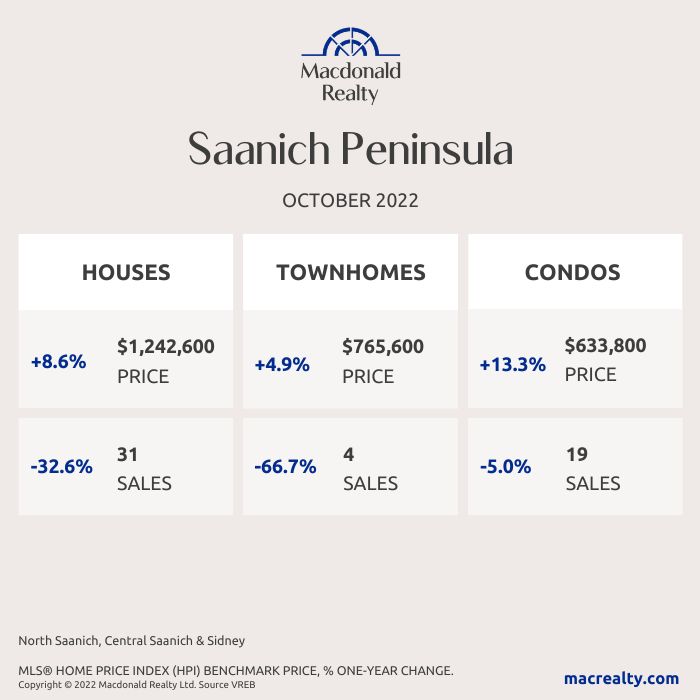 Nanaimo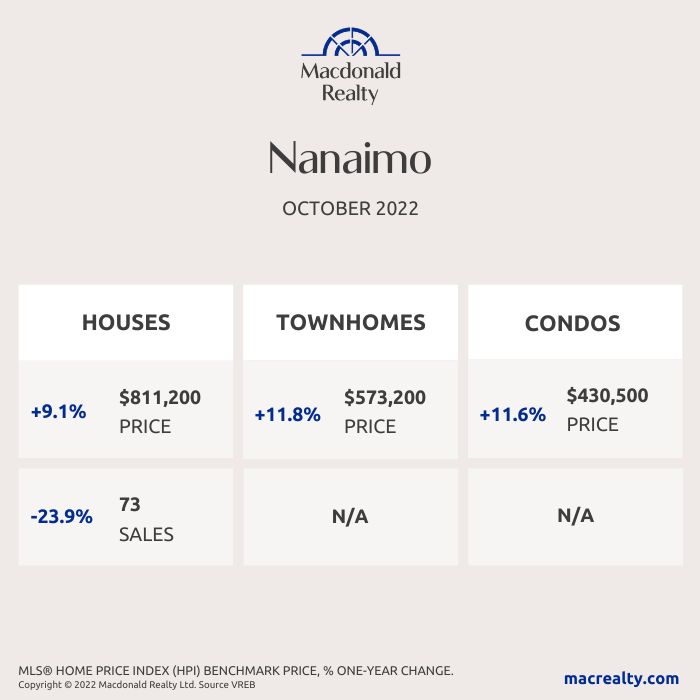 Parksville / Qualicum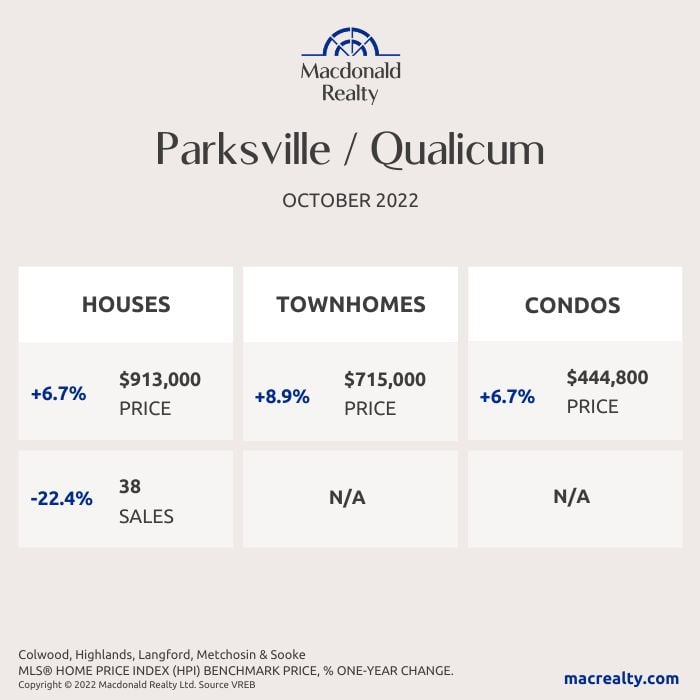 Looking for more information about the real estate market in specific neighbourhoods in Victoria, Saanich Peninsula, Parksville, Nanaimo, Vancouver Island and the Gulf Islands? 
Macdonald Realty has offices in downtown Victoria, Sidney, Parksville and Salt Spring Island. Please email macrealty@macrealty.com or call 1-877-278-3888 to be matched with a REALTOR® working in your area.
MLS® Home Price Index (HPI) Benchmark Price
Average and median home prices are often misinterpreted, are affected by change in the mix of homes sold, and can swing dramatically from month to month (based on the types and prices of properties that sold in a given month). The MLS® HPI overcomes these shortcomings and uses the concept of a benchmark home, a notional home with common attributes of typical homes in a defined area. Visit www.housepriceindex.ca for more information.
This blog post is based on market data provided by the Victoria Real Estate Board (VREB) www.vreb.org and the Vancouver Island Real Estate Board (VIREB) www.vireb.com. Market data from the VIREB includes listings and sales in Campbell River, Comox Valley, Cowichan Valley Nanaimo, Parksville/Qualicum, Port Alberni/West, North Island, and the Islands.